Student crashes into SRJC fence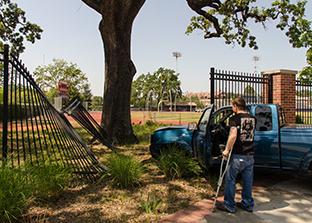 A Santa Rosa Junior College student driving a pickup truck collided with a section of the fence lining Bailey Field on Bear Cub Way April 22.
The student, who preferred to be named Brett W., said he was driving around the corner of Bear Cub Way when he became dizzy and fainted.
"Next thing I knew, I jumped the curb," he said. Brett W. said he has a history of medical conditions.
Police Officer Anthony Gregori said the student will be required to have his license reviewed at the department of motor vehicles.  He may get his license revoked.
According to Darth Elledge, SRJC groundskeeper, the panels involved in the collision were damaged beyond repair and would need to be replaced.
Elledge also said that similar incidents had occurred involving the same student in other parts of campus.