Permaculture garden to sprout at SRJC Petaluma campus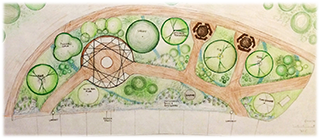 The apples taste like apples, the figs taste like figs and the snozzberries taste like snozzberries.
Despite the snozzberries, the Santa Rosa Junior College's Petaluma campus is currently taking steps to implement a permaculture garden stocked full of various edible fruits.
Permaculture, a design derived from Australia, basically means a "permanent culture." If conducted correctly, the garden will work in a symbiotic relationship with itself to produce a larger scale impact that benefits the entire ecosystem.
This permaculture garden, projected to be located right off of the parking lot closest to the student fitness center, will not only be drought tolerant, but will have an edible landscape requiring minimal maintenance.
"In a couple of years we will potentially turn off the drip irrigation and sprinkler system because the organic features will allow it to retain water," said SRJC Professor David Kratzmann, one of the project's key spearheads.
Kratzman teaches environmental science, geology and the associated geology lab on the Petaluma campus. In his lectures, he enlightens the coming generation to best preserve the future of our environment. 
According to Kratzmann, this is only the beginning. The permaculture garden is a small scale proof of concept, or example, that will demonstrate to the district that it is possible to put in place a drought tolerant, non-lawn garden that is aesthetically pleasing, functioning and costing little-to-nothing monetarily.
The community and the district have both placed a lot of support into the garden, giving rise to widespread momentum. The local non-profit known as Daily Acts, among many others, agree to partner with the school to implement the garden. Not only have they agreed to run the building during the day, but they also have extended an invitation to the community to help construct the garden and teach them how the various features of a garden work.
"Daily Acts can run the garden or we can use the horticulture department community events in order to properly maintain its features," Kratzmann said.
The goal is to make the garden welcoming, low maintenance and able to provide food for students to pick whenever they please. Kratzmann hopes to encourage experiential learning with the conducive environment created for people to study and ultimately stay and enjoy the Petaluma campus.
Potentially, by changing the learning environment, the garden will in turn reduce the carbon footprint, acting as a location where students can hang out at instead of leaving the campus immediately after class.
"This will elevate student success," Kratzmann said. "Students won't be running home to watch television or whatever; they will be here and focused on their education."
Swale and sheet mulching of the garden begins Saturday, May 9 from 10 a.m. to 3 p.m. at Campus Circle off of Sonoma Mtn. Parkway in Petaluma.