Honoring 39 years of service: Executive Assistant to president receives 40th Bailey Award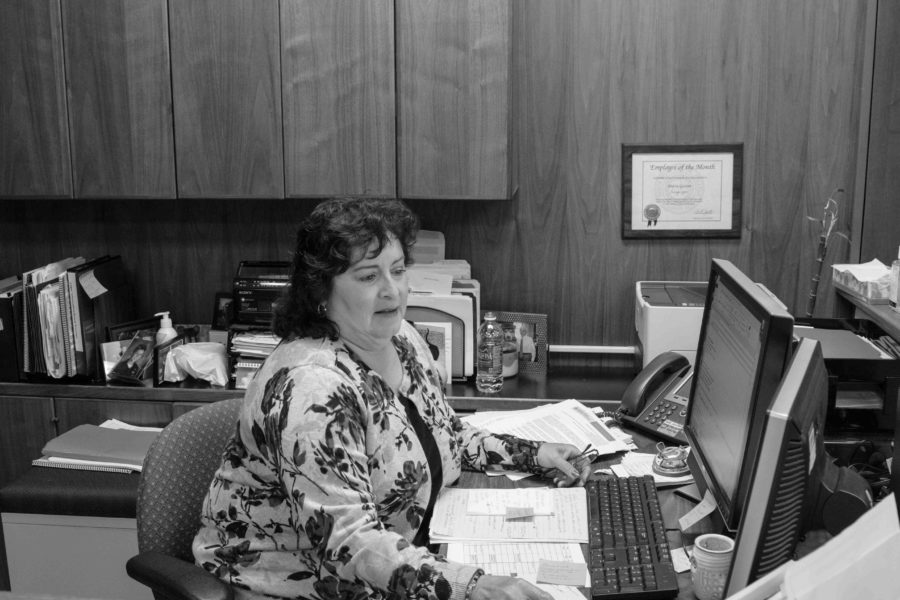 Hard work doesn't go unnoticed, even if it is behind the scenes. And sometimes it takes a decade, or four, of hard work to get noticed.
Executive assistant to the president and Board of Trustees Maria Gaitan won the Bailey award this year.
The Floyd P. Bailey Award is named in honor of the college's first president. It first started in 1971 and 39 people have been a recipient.
"It's used to acknowledge and honor individuals who have made significant contributions to the betterment of the SRJC," said Sarah Laggos, director of Alumni Relations who is in charge of the award.
According to Laggos, the award could go to a faculty or staff member or someone in the community who has been working really hard, like a volunteer or student.
Gaitan came to SRJC as a student in 1973 and graduated with A.A. in business and a certificate in secretarial studies.
In 1975 she worked for the Extended Opportunity Programs & Services for two years before assisting the dean of instruction in 1977.
Eventually she became executive assistant to the vice president of Academic Affairs and worked there for 15 years.
In 2003 she became executive assistant to SRJC President Robert Agrella and the Board of Trustees.
Today she assists SRJC President Dr. Frank Chong. She has been at SRJC for almost 40 years and is retiring in August.
"I was thrilled and delighted to hear that she was selected," Dr. Chong said. "There's no person more deserving."
Gaitan said she was surprised to receive this award because of the past individuals who have received it. These recipients include Dr. H. Randolph Newman, Albert A. Maggini and Larry Bertolini.
"I guess I never realized how much I really do because so much of what I do is behind the scenes and at my desk that I don't think I understood how much people know about the amount of work that I do," Gaitan said. "I am really honored
and appreciative of being recognized in this way and that my work is noticed."
To win the award, one must be nominated, and then the SRJC Alumni & Friends organization reviews the nominations. Laggos received six different nominations this year.
"We actually had a number of folks nominate Maria," Laggos said. "She's just a really great individual and we were thrilled to give her this award."
Laggos said it was some retirees and some current faculty and staff that nominated Gaitan.
"Very rare do you go somewhere where nobody has anything negative to say about somebody, and Maria is one of those people," Dr. Chong said. "She just takes care of everybody; she's the greatest caretaker in the world."
Gaitan will be presented the plaque at SRJC's Day Under the Oaks at noon on May 4.
"She's an extraordinary person, a great worker, a great confidant, a very wise person, and she's a great wife, a great mother, a great grandmother and a great colleague," Dr. Chong said. "She loves the JC so much; she's our biggest booster."

Past Floyd Bailey Award recipients:
2013 – Jessica Jones
2010 –  Will Baty
2009 – Ben Benson
2008 – Curt Groninga
2007 – Byron Craighead
2006 – Bob Flores
2005 – Margaret Ling
2004 – Kenneth Howe
2003 – Steve Morris
2002 – Ann Callahan
2001 – Richard Thomas
2000 – Joan Borecky
1999 – Albert Maggini
1998 – Charles Lahm
1997 – Evelyn Pollard
1996 – William Race