Generally Excellent: Oak Leaf receives highest honor at state convention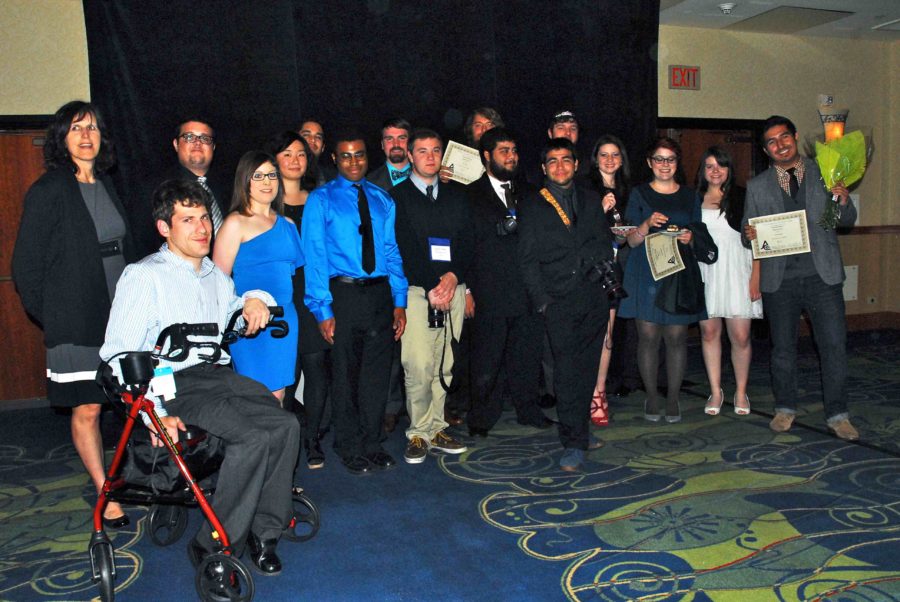 Santa Rosa Junior College's very own newspaper The Oak Leaf won the General Excellence award for the seventh time in the past eight years at the Journalism Association of Community College's State Convention April 3-5.
General Excellence is determined on three consecutive publications. Only 15 other community colleges won the award.
"I feel really good about winning General Excellence," said former co-Editor-in-Chief Darcy Fracolli. "Frankly I'm just glad we didn't drop the ball."
Former co-Editor-in-Chief William Rohrs said, "I'm just relieved. Basically last semester was a rebuilding year for us. We had a lot of new people, but we stepped up to the challenge."
Eighteen Oak Leaf students traveled to the three-day conference in Burbank to attend workshops and compete in on-the-spot competitions.
JACC also presented mail-in awards for work published in 2013. Features editor Julie Lee won second place in the profile feature category.
Fracolli won third place in the editorial category.
Graphic designer Daniel Barba-Almeida won honorable mention in the illustration category.
During the conference, multiple Oak Leafers participated in on-the-spot competitions. Fracolli won second place in the on-the-spot opinion after attending a press conference. She only had an hour to write the article.
Barba-Almeida won third place in news judgement/layout by taking a schedule of stories in the first round and making a sketch for a front page in an hour an a half. In the second round he had to complete the design in Indesign in an hour.
First semester staff writer Nate Voge won honorable mention in on-the-spot features writing when he was dropped off at the Gene Autry Museum in Los Angeles, given a little more than 90 minutes there to find a feature story and then an hour to write the story.
Another first semester staff writer, Matt Fowler, won honorable mention in the broadcast newswriting competion. He was given a schedule of stories and had to write a seven-minute radio broadcast script.
Photographer Erik Ramirez won honorable mention in the feature photo competition.
Rohrs won a $750 journalism scholarship, the highest awarded.
"Although not everyone brought back an award, I personally feel like I came back with lots of new, fresh ideas for the paper," said layout designer Chantelle Bogue.
"I'm especially proud of the General Excellence award because of all the awards; it represents the hard work of the entire staff," said Oak Leaf advisor Anne Belden.