In Memoriam: Charlotte Granderson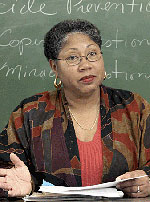 A former CALworks counselor for Santa Rosa Junior College died from a stroke a little after noon Sept. 5.
Charlotte Marie Granderson came to SRJC in 1990. She was hired to work for the CALworks program, a program funded to provide services to assist welfare recipient students and those in transition off of welfare to have a successful college experience. She was 62.
Susan Amalia, another counselor, remembers interviewing Granderson for the job back in 1990. "She always had a great sense of humor and was always able to reach people in a profound way," Amalia said. "She brought out the best in people…just by her presence."
Students and staff both loved Granderson.
"Upset students would calm down just by talking to her," Amalia said.
Martin Lee, dean of counseling and support services, came to SRJC at the same time as Granderson and worked with her ever since.
"I would send new counselors to her because she would be a great example," Lee said.
Granderson changed many students' lives. Lily Hunnemeder-Bergfelt, director of CALworks, said many of Granderson's students she called to tell the news are coming back for the memorial service.
Kasia Morales was a student in Granderson's counseling class many years ago. Now, she has Granderson's job, and teaches the same class she taught her those many years ago.
"Charlotte was important to me in a lot of ways. She was a mentor, friend, and colleague," Morales said. "She helped me grow personally and professionally and helped put me in the chair I'm in today."
Several people described Granderson as kind, passionate, gracious, funny, professional and compassionate.
"She always had a smile on her face," Hunnemeder-Bergfelt said. "She was passionate about helping others."
In March 2006 she received the Elizabeth Carlson Memorial Award for Outstanding Contributions by an SRJC Female Employee.
"There are just no words to describe her: just an amazing person," Lee said.
Granderson is survived by her husband, four children and five grandchildren. She retired from SRJC in 2011.
A memorial honoring Charlotte will be held at 11 a.m. Sept. 28 in Newman Auditorium.