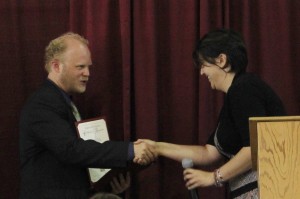 Before a crowd of 200 packed into Shone Farm June 9, former SRJC Associated Students President Jessica Jones became the youngest award recipient at the 18th Annual Sonoma County Conservation Action Awards Ceremony.
"I'm excited to have received the first youth award from SCCA. I hope that SCCA will work to expand its advocacy work and dedicate resources to training youth on policy development in Sonoma County," Jones said. "The youth award is a great step toward recognizing the importance of young people's work in our community."
Jones received the youth award for her work in sustainability and environmental policy within Sonoma County. This includes her work as an executive committee member of the Sierra Club and as the student body president at SRJC.
Despite Jones' achievements in sustainability, she believes SRJC has work to do in terms of becoming sustainable.
"While we have a declaration of sustainability that was signed in 2011, we still have a long way to go," Jones said. "We need to collect our baseline data (such as) water, energy usage, track our food, miles, in order to set goals," she said.
State Senator Noreen Evans kicked off the event as the keynote speaker. She spoke about her upbringing as an environmental advocate, and how she believes people like Jones show a promising future for sustainability.
"It makes me feel optimistic to see all of these people here in attendance today, especially all the young people who are ready to take over," Evans said. "We have come a long way, and people like Jessica [Jones] give me a lot of hope for the future."
Jones plans to continue her work over the course of the summer. She will lobby against Assembly Bill 955 at 8 a.m. June 11 in Sacramento.