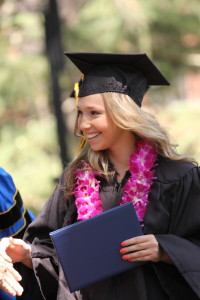 The largest graduating class in Santa Rosa Junior College history walked the stage May 25 for the 94th annual graduation ceremony.
The event kicked off with school President Dr. Frank Chong leading the Pledge of Allegiance for thousands of family and friends in attendance. A booming rendition of the National Anthem, sung by SRJC Choir soloist Mara McLeester, followed after the pledge.
Chong opened up the ceremonies with an address to the Class of 2013 and faculty, sharing humorous anecdotes and words of encouragement for all.
"It was an exhilarating and inspirational ceremony this afternoon," Chong said. "This is the moment we all work for, and seeing the largest amount of graduating students and audience members makes us feel like we are accomplishing something special."
After Chong's speech, he introduced student speaker Sylvia Bracamonte.
Bracamontes speech focused on how she turned her life around at SRJC by taking her education seriously, kicking her addictions, conquering substance abuse and surviving homelessness all while raising her young son.
"The speaker [Bracamonte] was so inspirational," said former SRJC ASB President Jessica Jones. "It was critical for us to have a bilingual speaker at the ceremony, it shows how long we have come as a school and her story was incredible for everyone to hear."
Once Bracamonte finished her speech, Chong introduced commencement speaker Celestiano Fernandez. Fernandez's speech focused on his journey at SRJC and his experiences afterward which lead him to become a Ph.D. and professor at the University of Arizona.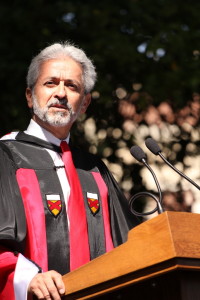 Fernandez engaged the crowd by reflecting on his endeavors, and disengaged with humor. At the end of his speech, he asked the crowd to stand, stretch out their arms and clap three times. Once the crowd did so, he thanked the crowd for fulfilling a claim he made to Chong, saying he would get a standing ovation at the end of his speech.
Academic Senate President Robin Fautley took the stage shortly after, and called the Class of 2013 to rise and prepare to receive their diplomas.
Fautley spoke about the Class of 2013, and what participating in the ceremony means to her:
"It is always an honor for me to be here when our students graduate," Fautley said. "It is the culmination of all of our hard work as both faculty and students, and it means the world to us teachers. We all have a lot of hope for them going forward."
After students received their diplomas, they gathered in Bertollini hall for the reception where they celebrated with their families.
"I am feeling so good right now, man," said SRJC graduate Dawit Legesse. "Taking photos with my family right now makes me feel like all of my hard work has paid off. I feel like this is something that everyone looks forward to."