Deanda-Vargas Sentenced: Receives up to Three Years; DA Wants More Jail Time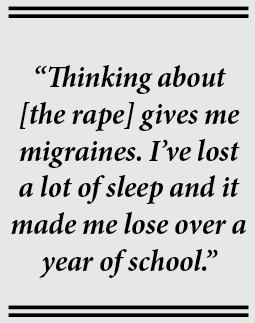 Marco Deanda-Vargas received three years in state prison without probation for the March 15, 2012 rape of a Santa Rosa Junior College student.
Judge Robert LaForge sentenced Deanda-Vargas April 3 after hearing a prepared speech from the victim.
Assistant District Attorney Barbara Nanney and defense attorney Joe Bisbiglia met with LaForge to determine the sentencing for Deanda-Vargas after he pleaded guilty to repeatedly raping a woman inside the Quinn Swim Center March 15. Deanda-Vargas pled shortly before his trial was set.
By pleading before his trial, Deanda-Vargas traded a potential 24-year maximum sentence for multiple counts of rape for six years in a state prison. The time Deanda-Vargas spent in custody between his arrest by the Santa Rosa Junior College District Police and his conviction spanned more than a year.
While sitting on the defense stand awaiting his sentence, Deanda-Vargas listened to a pre-written speech from the victim. "Lately I've been thinking about the rape and I can't stop crying," she said. "I feel like I need to tell the truth about Marco [Deanda-Vargas]."
The victim, who remains anonymous, gave her account of what happened the night she was raped.
"He seemed normal, then all of a sudden he changed. He got angry," she said. The victim described bruises she suffered on her back and knees when Deanda-Vargas forced himself onto her, and said she was initially afraid of the wrath she would face if she couldn't keep her silence.
The victim said Deanda-Vargas touched her inappropriately a week before the rape, but didn't call the police. Her boyfriend confronted Deanda-Vargas about it, and the victim said the confrontation could've angered him enough to commit the rape.
She never looked at Deanda-Vargas during the hearing, instead focusing on the judge. "I think he's capable of hurting other women because he shows no remorse for his actions. What he did was pure evil, and I can't believe he did it," she said.
Bisbiglia pushed for a minimal sentence because of several circumstances for mitigation. "I believe my client is not a public menace because of two factors. He has no prior arrest record, and on a behavior evaluation test he scored a two out of four, the lowest score that predicts whether he would be a public menace."
Bisbiglia also said the District Attorney's office made no offer of a plea bargain, and Deanda-Vargas' early plea was unjustly pressured because of the potential 24-year sentence. He said Deanda-Vargas' Miranda rights were violated upon his arrest, which the judge acknowledged.
Deanda-Vargas did not speak at the sentencing.
After considering both the prosecution and defense, LaForge ruled that the mitigating circumstances and the Miranda violation were enough to justify a three-year sentence without the possibility of probation. He also ruled that Deanda-Vargas should pay more than $3,200 in court fees and reparations.
Deanda-Vargas accrued 438 total prison credits during his custody period, which will reduce his sentence time by over a year.
SRJC student Leah Gerber, a friend of Deanda-Vargas' for six years, doesn't believe he could have committed rape. "He doesn't deserve the prison sentence. He's a gentle person," she said. Gerber said she didn't know the victim.
In addition to serving time in prison, Deanda-Vargas is permanently registered in the state of California as a sex offender.
"I personally believe he should've gotten six years, but I respect the court's decision," Nanney said.