Diaz upsets McGregor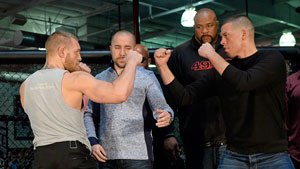 Nate Diaz shocked the Ultimate Fighting Championship on Saturday night when he beat Conor McGregor by submission via a rear naked chokehold in the tail end of the second round, ending the Irishman's 15-match win streak.
Many people predicted the fight would end with a first-round knockout, especially after all the trash talking that led up to this fight. Both fighters wanted to tear each other apart.
McGregor, who is still the UFC's Featherweight champion [136-145 pounds], originally moved up one weight class to fight the Lightweight champion [146-155 pounds], Rafael dos Anjos, until dos Anjos injured his foot and backed out of the fight just weeks before it was supposed to take place.
Various fighters were considered to replace dos Anjos, but many fighters were not willing to fight on such short notice. The most willing candidate was Nate Diaz.
Many fans wondered what weight this fight would be fought at. Diaz is a Welterweight fighter [156-170], significantly heavier than McGregor. McGregor tried to get Diaz to agree to 160 pounds, which was still a huge jump up from 145. Diaz said he could not make 160, so McGregor ended up giving Diaz what he wanted, a fight at 170 pounds.
Putting the fight at 170 gave Diaz a huge advantage in this fight because McGregor had to gain 28 pounds to make weight. You may think 10 pounds doesn't make a difference, but it does. An extra 10 pounds changes the speed of your feet and also the dynamic of your power.
With McGregor jumping 28 pounds, fans knew this was going to be a difficult fight for him.
This fight undoubtedly humbled the cocky fighter. He knew it was a risk to take a fight at 170, but he had the bravery to do it anyway.
"I'm humble in victory or defeat," McGregor said. "My respect to Nate. He came in and took the fight on short notice, came in at a higher weight and did the job. He was efficient. I wasn't efficient."
McGregor will lose the weight he gained over the last few weeks and set his eye on the Lightweight belt he was looking to acquire in the first place. McGregor is still a champion in his main weight class and I believe he will soon be champion in the Lightweight division as well.
This fight just goes to show, no matter how dominant you are in this sport, fighting outside your weight class is no simple task.