So Long, Dr. Chong
After 12 years at Santa Rosa Junior College, Dr. Frank Chong jokes, "I'm going to try the occupation of 'retired.'" He even speculates he might have entered stand-up comedy — "I love that stuff" — if he hadn't entered the career he was "destined for": college president. 
Through economic instability, multiple catastrophes, and a pandemic, he remains able to light up a room with his quick, dry humor, always delivered with a light smile and a twinkle in his eye. 
Chong might describe his role as president as being a "collaborative dictator," but his mindful approach to leadership through solving problems as they arise, fostering inclusion and having a sense of humor has helped SRJC thrive through difficulties, both seen and unseen, and helped to construct the framework for the college's next episode. 
One could say that Chong was raised to become a leader. Born in New York City's Chinatown in 1957 to two Chinese immigrant parents, Chong, the youngest of five siblings, grew up in a household centered around hard work. 
At age 5, Chong's family unexpectedly lost their father to an aneurysm, and Chong came to believe that he needed to grow up quickly. "There were opportunities to lead, and I felt because I didn't have a father to lean on, that I had to grow quicker and assert myself in a certain way," he said. 
Several opportunities to grow presented themselves to Chong, including becoming captain of his neighborhood's basketball team and president of his class in grade school. 
Growing up during the peak of the Civil Rights Era influenced Chong politically; leaders like Malcolm X, Dr. Martin Luther King Jr. and Robert Kennedy inspired him. Seeking a career in social work and public policy, he followed his older sister, Joyce, to California for college in 1975. 
The same year, Chong entered UC Berkeley, and eventually earned a bachelor's in social welfare and Asian American studies. Following graduation, he worked as a social worker in Oakland's Chinatown, providing individuals with mental health services. 
Chong worked as a special assistant with former Speaker of the California Assembly Willie Brown and helped create legislation focused on advancing higher education and mental health. "I still call him Speaker Brown," he said. 
Chong became emotional when mentioning how Brown's leadership influenced him. "He taught me what it's like to be a leader of color, to be uncompromising and also to understand that everything in life is political," he said. 
A key aspect of Chong's leadership philosophy, that he credits to Brown, is simply to "get things done" and admit mistakes. As he looks back on his time at SRJC he acknowledges the worst of times, such as the vote of no confidence during the 2018 spring semester after a hasty decision to cut the majority of summer courses to offset a projected $6.5 million budget deficit, or his decisions on how to handle social distancing during the COVID-19 pandemic. 
"A lot of people disagreed with decisions I made and I had to walk back, but that's all about solving problems, and people want to see a leader who is going to be decisive and not be analysis paralysis," Chong said. "I think that's sort of the Buddhist in me … You do your best and you own it. When it's successful, 'we' made it, or when it screws up, 'I' made it." 
Following his work with Willie Brown, Chong became the dean of student affairs at San Francisco City College, but he was set on becoming a college president. Six months after receiving his doctorate from Harvard University, he became the president of Mission College in Santa Clara in 2003. 
Three years later, after a difficult divorce, he left Mission College and headed to the East Bay to become president of Laney College in Oakland in 2006. 
Chong's career at Laney College was short lived though, because in 2009 he received the offer of a lifetime. Martha Kanter, a fellow administrator from the Bay Area, was named the U.S. Under Secretary of Education for the Obama administration. She called Chong, who was under the impression she was looking for his recommendation for someone for a position within the education department. She offered him the job instead. Kanter then appointed Chong as the deputy assistant secretary for community colleges in the U.S. Department of Education. Chong began his new duties in Washington, D.C., on Jan. 4, 2010. 
"I leave with a sense of accomplishment and an abiding appreciation for the college community," Chong said in an article he wrote for the East Bay Times. "To have a chance to replicate some of what's been accomplished at Laney on a national basis is very exciting." 
Chong said no one could ever be prepared to get the call to work for the acting U.S. President's administration. "Was Brock Purdy ready to get the call to step in as quarterback [of the San Francisco 49ers]?" he asked. Despite having only six years of experience as a college president, he felt his time with Speaker Brown gave him the experience he needed to succeed at the job. 
His run in D.C. was challenging, because Obama had just lost his Democrat majority in Congress. However, they were still able to pass the Trade Adjustment Act for Community Colleges and Career Training (TAACCCT), which gave each state funding for each of the four years totaling $1.9 billion — during a recession. 
When Chong became president of SRJC in January 2012, his late sister, Joyce, had just retired from running Sonoma State's Extended Opportunity Program. "So there's kind of a tradition of Chongs being in Sonoma County," he said. As SRJC's first president of color, he feels he came to the right place at the right time, during a moment when the community was starting to change. He arrived at SRJC with plans to make students of color, veterans and first-gen, homeless and LGBTQIA+ students feel as essential to the college as the rest of the community. 
"If we're an institution about inclusion, then we can't say we include everybody, but …[t]here's no 'but,' it's everybody," Chong said. "There's always more work to do, but I think we've made some great strides in hiring faculty, staff and administrators who are dedicated, hard working and also reflect the diversity of the community."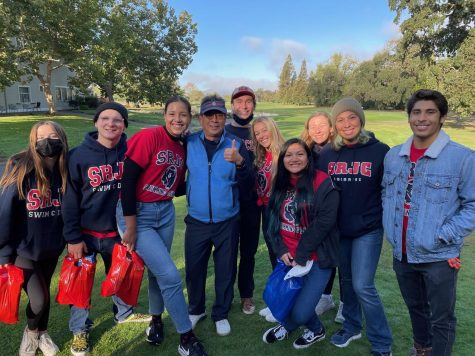 He feels Frank and Polly O'Meara Doyle had a powerful vision when they began creating SRJC. "I think they call it the pixie dust," Chong said, referring to the uniqueness of SRJC. His mantra as president has been to respect SRJC's 105-year traditions but also understand that the world is changing and institutions need to shift and pivot with it. 
"I like to use that analogy that Wayne Gretzky uses. He tries to not be where the puck is, but where the puck is going," Chong said. 
As a "collaborative dictator," Chong believes decisions needed to be made, but he tried to listen to students, faculty and classified professionals as much as possible. He said that during the George Floyd and Black Lives Matter protests of 2020, the SRJC community had a chance to oppose what protesters in communities across the nation were saying, but instead embraced their message of eradicating white supremacy. 
"I think we learned together and tried to be active listeners of what students wanted and what their vision was of the college, and it became a welcoming place," he said. 
When it comes to his legacy, Chong said most people think about his campaign for Measure H, which pushed the redesign of SRJC's older buildings, but he hopes they also remember him as a fearless and courageous leader when it came to conversations about diversity, equity and inclusion. 
"It's not easy to do these days, when you have so much polarization, and people have such strong feelings about transgender, pro-life and sustainability issues. You have all of these different things coming at you and I think we handled it well," he said. "And it wasn't just me. I think a lot of credit goes to my cabinet, my executive leadership team and my administrative team. They all went along and tried to support what we're doing." 
When he first met Chong in 2012, Robert Ethington, SRJC interim vice-president of student affairs, felt Chong's combination of "an amazing political IQ" and college administrative experience was key in helping SRJC rise from the impacts of the 2008 recession. 
Over time Ethington learned how much Chong's ability to form strong relationships was integral in his effectiveness as a leader. 
"I have come to appreciate his huge heart for people and how he is able to share the love to all areas of the college, all employees, students, and the larger community of Sonoma County," Ethington said. 
Despite his ability to show humanity, Ethington said Chong was always able to make difficult presidential decisions on the fly, which kept the college successful during his tenure. 
"I will miss him and our friendship… he is a person of integrity and always sought to align his actions with his values, " Ethington said. "His leadership from the top was critical as we have navigated many crises over the past 5-6 years…because of that, we are stronger and in a good place as we welcome his successor, Dr. Garcia." 
Pedro Avila, who is now president at Gavilan College after serving as SRJC vice president of student services, worked with Chong for six years at SRJC. Avila said Chong was always approachable and had a big heart for students and staff. Out of the seven college presidents Avila worked with, Chong was the strongest at creating relationships with community members, like local politicians and non-profit leaders. 
"Everyone knew him. He was like a celebrity in Santa Rosa," Avila said. 
Avila seconds Chong's notion that he could have been a comedian in another life, because he always inserted comedy into his speeches. 
"He's a very funny person. He makes everyone laugh and feel comfortable," he said. "If you look at our [SRJC] Foundation, he had a lot of support. A lot of people wanted to donate money to Santa Rosa because of how he made them feel." 
As the first president of color Avila reported to, he felt Chong understood and supported him on a level he hadn't had before. 
"His friendship and mentorship was very special, and I felt very comfortable working with him. I'm never going to forget that and I'll always be appreciative of that," Avila said. He still considers Chong a close friend and speaks to him on the phone at least once or twice a month. 
Dorothy Battenfeld, president of the SRJC Board of Trustees, said it was an honor and a privilege to work with Chong. Chong always kept his focus on the democratic mission of community colleges and always put students first, Battenfeld said. 
Battenfeld attributes much of SRJC's recent achievements to Chong's leadership, such as the development of new student housing and improved sustainability projects, Measure O, which increased funding for student mental health services including hiring new therapists. 
"It has also been invaluable to have his contacts and standing in the community. SRJC students, faculty and staff have benefited from his local, state and national advocacy on our behalf," Battenfeld said. "Even in retirement, I look forward to him staying an energetic and positive force in the community." 
Chong feels now is the right time to pass the presidential torch to someone younger with newer ideas. 
"I'm thrilled Dr. Garcia is coming in," he said. "She's someone I really admire and get along with. She's the right person for now, I think, as I was 12 years ago. I will support her to make sure she is equally, if not more, successful than me, in what she intends to do." 
He said he's always been told to leave on his own terms, on the top of his game and not to hang on because of money or prestige. At 66, he sees himself in the "last quarter, if you look at basketball," and wants to make the most of his retirement. 
"I've seen a lot of my friends after COVID who, you know, got really sick or have passed on, and it was a real wake up call for me," Chong said. 
His first move will be to catch a plane to New Zealand with his wife and a few buddies. "It's on the bucket list, so now the bucket is getting emptied. It's a big bucket," he said. 
Golfing is also at the top of the list, and Chong said one of his goals is to get his handicap down to single digits "before it's all said and done." 
His favorite golf course is the Half Moon Bay Golf Links Old Course. He also said that Sonoma County is blessed with a lot of great courses, like the Sonoma Golf Club and the Mayacamas Golf Club in Santa Rosa. "And Northwood is a really cool course. I love that course. It's very spiritual and you feel like you're in this kind of Zen of golf when you're amongst the redwoods. It's hard to beat," he said. 
When it comes to course designers, Chong said he's partial to Alister MacKenzie, who designed Pasatiempo in Santa Cruz, Sharp Park in Pacifica, Claremont Country Club in Oakland and Northwood Golf Club in Monte Rio. 
Chong stressed that his retirement doesn't mean he's leaving the college leadership game entirely. He'll continue to work with the UC Davis School of Education at its Wheelhouse Community College Leadership Institute, where he'll offer advice and support for incoming college presidents based off of his years of administrative experience.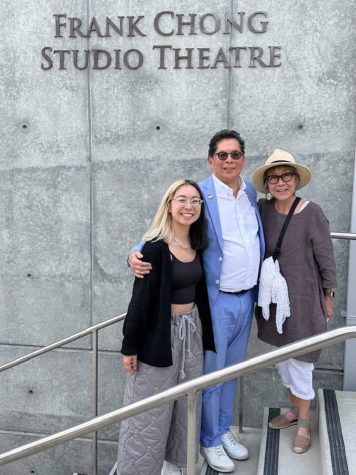 "I was one of 10 [college] presidents in California who retired this year, and the year before that there was another 10," he said. "It's predicted there's going to be continued graying out of presidents for the next five to 10 years. So you're going to have a lot of newbies who don't have the benefit of experience." 
Dr. Chong also plans to continue his work in promoting National Science Foundation STEM grants for community colleges. 
Dr. Chong hopes students feel as fortunate as he has to be at SRJC. "I would put us up with any community college across the nation," he said. He understands students are facing a nation with escalating gun violence, polarity in politics and climate change. However, he continues to be the eternal optimist because his optimism is based on the growing intelligence of young people. 
"My parting words are 'don't stop here. Just keep going. Education is lifelong," Chong said. "We need a well-educated future generation to help unscrew the things that my generation screwed up and fix those problems. Because it's needed. The planet really is at stake. The future, not just of this country, but the world."