Gabbing with Garcia: An interview with SRJC's incoming president
Giving a nod to her "athletics junkie" sports background, Dr. Maria Angélica Garcia describes her leadership style as building a varied team with complementing strengths.
"Cultivated teams are far better than any one star," Garcia said.
This is part of the philosophy she hopes to use as Santa Rosa Junior College's next president to help carry it into its next episode.
Garcia grew up in Fresno in a "can't even be described as low-income" household, one so bad she now believes her purpose in life is to disrupt generational poverty. A cycle she thinks is tied to historical racism, sexism, homophobia and legislation that favors the status quo.
Leaving the helm of Berkeley City College for SRJC, a college with about three times the student population, Garcia will have a "bigger footprint" serving a community that represents all of Sonoma County, beginning July 1.
The Oak Leaf interviewed Dr. Garcia to ask questions about her favorite sports, childhood, story about coming out as a lesbian and hopes for SRJC students.
Editor's Note: Answers have been edited for next president to help carry it into its length and clarity
The Oak Leaf: Are you a coffee or tea person? How do you take it?
Garcia: Coffee in the morning, and my preference is to use a non-dairy creamer known as Nutpods, my favorite. Then I'm a tea drinker in the afternoon, herbal with honey. My favorite right now is one called Honey Lavender. Apparently, it's supposed to help with stress.
OL: Favorite sport?
Garcia: I just really appreciate athletics and the role it plays for young people. I prefer basketball, but only collegiate ball. I've always loved [the] Olympics for swimming. Because my oldest daughter is on a competitive team, I've had to learn to be a swim weekend mom.
My youngest is into gymnastics so we are always into gymnastics. And growing up – soccer. I like football, but it makes me cringe because I feel like bones are breaking all the time.
OL: Favorite sports team?
Garcia: I'm kind of drawn to the '80s-'90s era of collegiate basketball. I really loved the UNLV-Duke showdown [in the 1990 NCAA Men's Basketball Tournament Championship]. I really enjoyed when Coach Jerry Tarkanian was at UNLV. I liked his coaching style.
OL: What was your most interesting job before entering college administration?
Garcia: While I was in college I worked in the dining hall, and it was Marriott affiliated. So in the summer when I went back home to Fresno, the company said, "We can place you as a hospitality hostess at the Residence Inn in Fresno." I met people from all over the world. They were on their way to Yosemite. They were going to do a California tour. And I got to learn a lot about the hotel industry, really getting to connect with the cooks behind the scenes, with the housekeeping, [and] agents in the front.
OL: What was it like growing up in Fresno, and what sort of family life did you have?
Garcia: I was born in Fresno Community Hospital and pretty much lived around that area for most of my life. I'm second generation, born in the U.S., and my family immigrated from Mexico. So my mom is one of a very large family. She grew up [as] one of 16. My parents split up when I was around 12, so my dad wasn't around much. I say I'm a product of a single-mom household. We were not wealthy. Definitely on government assistance. I still remember [that] food stamps were those little paper booklets. I did have the opportunity to attend Catholic school. My mom took another job and put me at St. Helen's [school], and I went there from K-8. It was there that I started playing basketball and volleyball. I would say working, helping out the family and sports became what I did.
OL: During the Q & A section of your presidential candidate forum, you said being a part of the LGBTQIA+ community was a big part of your identity. What is your coming out story?
Garcia: My current wife is the only relationship that I've had with a woman. Until then I've had plenty of boyfriends, so my coming out was when I was much older. I was already out of college. I grew up in a large Mexican and Catholic family, so it was a bit hard. My mom and I went through about a year [where] the most we could get were conversations about the weather, because that's what we could handle and still be in communication. With some time, my oldest sister — I'm one of four — sat us down and was like, "All right, we need to hash this out because this isn't working."
What I have learned is it's part of my identity, that it's not one that I always lead with, but I'm intentional to include it for what it means to others. I can't tell you the number of times I've had students at community colleges come up to me after a conference and they're like, "I can't believe you said you have a wife. Like, how does that happen, you're Latina?" So I think there's this sense of "it can get better." I have a beautiful wife. We've been together for 24 years, [and] we have two lovely daughters.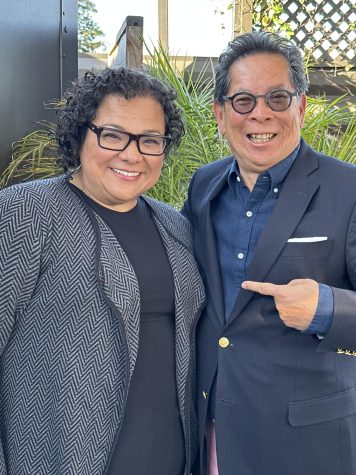 OL: How would you describe your leadership style?
Garcia: I'm a social worker by training, so hard conversations don't scare me. As a matter of fact, oftentimes you have to go through really tense, uncomfortable moments to get to the other side from a leadership perspective.
I do like to have fun. I will often participate if there is a campus theme party, I'm just terrible at planning them. So I hope someone on my team is the innovative party planner.
Lastly, I would say in my leadership, my role, and the role we should be asking ourselves, is "How is what we're about to do or not do going to impact students?" And whatever the answer is, we have to be OK with it before we can move on.
OL: Who are you inspired by?
Garcia: I feel like the answer is supposed to be like Cesar Chavez or Martin Luther King Jr. and then I think "Oh, my mom."
[But] I'm inspired by those many moments where we connect with someone, especially with students. You get to see that they are happy and they feel empowered and they're ready to go to the next point in their life. Just yesterday there was a student who was sharing with me that he got his acceptance letter both for UC Berkeley and UC Davis, and he really thought "I didn't have a prayer of a chance, and now I have both of these schools to think about, and I can't believe that I'm here." So watching him was like "that's why we do this."
OL: Any last words for SRJC students?
Garcia: My family and I were up here a couple of weekends ago, and we were just walking around the campus. It was so great because the baseball team was out there, the softball team was out there practicing, there was music playing and we got to go into the museum and see the Pomo artifact exhibit. My [teenage] daughter said, "Mom, this is really cool, because you have sports and there's music playing and then you have a museum, and it's a pretty campus." So this is a kid who's lived on two college campuses already and has seen me in higher ed, and she goes, "This is my favorite. This is the prettiest campus of all the ones that you have been at." My family is just super excited.
What I would say to students is, regardless of which campus it's on, I really hope to connect and create a space where I could get to know students and hear what the experience is like for you and what you hope to get out of the college. So that I can make sure that I do my part to make it happen.