SRJC's Gallagher and Handron join Sonoma Stompers
Two star Santa Rosa Junior College baseball players could be one step closer to the big leagues.
On March 27, the Sonoma Stompers of the California Collegiate League signed catcher Jack Gallagher and infielder Max Handron to play across California against other collegiate amateurs who have played at least one season and have at least one year of eligibility remaining on their NCAA Division I teams.
The Stompers' league acts as a pipeline to the majors. "This league is rated number six in the entire country out of 48 collegiate leagues," said Sonoma Stompers General Manager Eddie Mora-Loera. "The league has about a 50% draft rate."
For both Gallagher and Handron, an opportunity to play for the Stompers will be pivotal in their career development. For Gallagher, he will be able to perfect his power-hitting craft and find out what it is like to catch for other talented pitchers; and for Handron, he will learn how to continue impacting games with his at-bats and infield at the next level's faster pace.
Both players' improvement will come on the back of the opportunity they have already seen with the SRJC baseball program. They are both on a roll this season for the Bear Cubs, leading the team to a 25-12 overall record through 37 games and a 13-9 record in conference play.
"Getting the experience of playing at the college level and playing for some amazing coaches has been very influential on my development as a player," Gallagher said.
Gallagher and Handron are not the only ones to benefit from their relationship with the Stompers. SRJC baseball's reputation will also get a boost as prospective players hoping to be drafted will see Gallagher and Handron's path through the JC to the Stompers as a different way to make it to the big leagues instead of going through a Division I program.
Top local talent have used SRJC's baseball program as a springboard to the MLB, often through transferring to universities including Hawaii, UC Berkeley and Sacramento State. Most notable is two-time World Series champion Jonny Gomes, who spent two years with the Bear Cubs before joining the Tampa Bay Rays, Cincinnati Reds, Washington Nationals and other teams, including the series-winning 2013 Boston Red Sox and 2015 Kansas City Royals.
MLB currently has two former Bear Cubs under contract, Miami Marlins pitcher Anthony Bender and Los Angeles Dodgers pitcher Justin Bruihl. Bear Cubs alumni also fill-out coaching staffs in Baltimore and Seattle; Brandon Hyde is the Orioles' manager and Tony Arnerich is the Mariners' hitting coach.
Sonoma Stompers
The Sonoma Stompers are the California Collegiate League's 11th franchise. The league's North Division includes the Stompers, along with the Healdsburg Prune Packers, Lincoln Potters, Walnut Creek Crawdads and Solano Mudcats, while six teams compete in the South Division from Compton, Santa Barbara, San Luis Obispo, Conejo and Orange County.
The Stompers haven't revealed their full roster for the 2022 Summer season, but GM Eddie Mora-Loera is excited regardless. "We are going to have a competitive bunch here at Sonoma," he said. "Adding an additional 45 games this summer is what they need to sharpen their skills."
The Stompers' first home game of the season will take place June 2 at Arnold Field against the San Francisco Seals.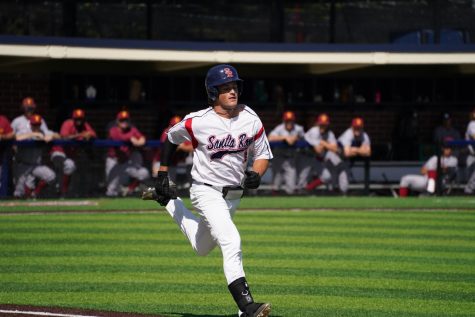 Max Handron
Handron played varsity ball for Sonoma Valley High School, graduating in 2019. As an extra source of pride, Handron will spend his summer on the same infield he roamed as a high schooler; the Sonoma Stompers share the Dragons' home field, Arnold Field.
"Max was our first player signed for this upcoming season. He's a phenomenal player, obviously," said Stompers' manager Mora-Loera. "It only makes sense we bring him back to Sonoma on the high school field that he played on."
Handron shifts momentum by leading off games at the top of the batting order. He recorded a .311 batting average, one home run, 20 RBIs and 41 hits so far this season. He is looking forward to the Stompers' regular season, which fills a gap when he wouldn't otherwise be on the field. "I think playing with the Stompers will expose me to some great pitchers and great players," Handron said. "It will be great to further my game."
Handron is excited about the opportunity to play for the Stompers, but his eye is still set on finishing this season for the Bear Cubs. "Ultimately, it is a championship ring that we want but we're taking it one game at a time," he said. Handron is committed to UC Berkeley, where he will need to compete for his spot in the Golden Bears' batting order.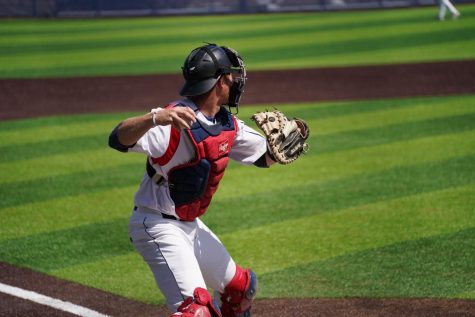 Jack Gallagher
Gallagher played four years of high school baseball for the Petaluma High School Trojans before SRJC recruited him in 2020. Gallagher is a huge source of offense for the Bear Cubs and leads the team in home runs and RBIs. He recorded 12 home runs and 41 RBIs in 37 games and posted a .364 batting average.
"He's really caught fire this year. He's dominating at his position, just really putting together solid at-bats for Santa Rosa," Mora-Loera said.
The Bear Cubs will need Gallagher to continue his hot streak if they want to make it deep into the playoffs. "As a team, our goal for the rest of the season is to…find success in the playoffs and go as far as we can," Gallagher said. After what he hopes will be a successful summer season with the Sonoma Stompers, Gallagher plans to transfer in the fall to a four-year university, but is unsure where.