Wax nostalgic: The resurgence of vinyl
Novato residents Ryan Kendall and Elaine Kuo browsed through boxes of albums, each searching for very different vinyl treasures at the Sonoma County Record Swap at Santa Rosa's Shady Oak Barrel House in early April.
Kendall looked for albums with songs he can't find on Spotify or YouTube. "There's an enjoyment of just putting the record on and forgetting about it," he said. "Now you've got the needle on, so you're not going to go and jump the needle and move it to the next song or find the next album."
Kuo often comes across rare albums, but she's more interested in whether she likes the music than if it has collector's value. "I make fun of [Kendall] because I think for a lot of this, you have to have a collector's personality," Kuo said. "I personally don't, and so a lot of times he'll tell me, 'This one's so rare! And this one's hard to find!' And for me, I'm like, 'Do I actually like that?'"
Although music streams onto portable devices in seconds, Kendall and Kuo mirror a larger trend of music lovers returning to old-fashioned vinyl albums.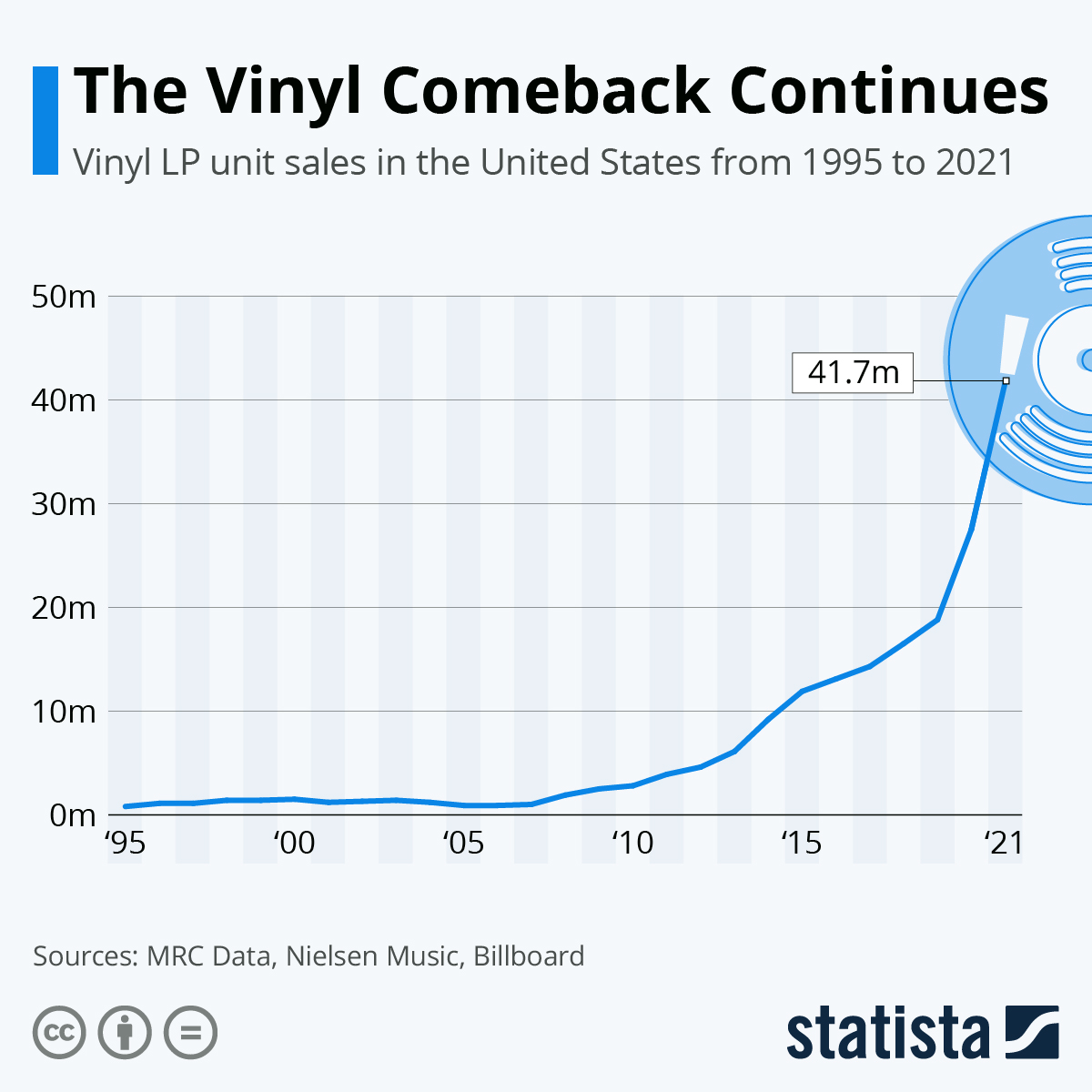 In 2021, the Recording Industry Association of America evaluated that vinyl albums outsold CDs for the first time since the '80s, and in data compiled from MRC Data's 2021 Year-End Music report, vinyl LPs specifically made up 38% of album sales in the U.S.
Since 2020, at least three new record stores have opened up in Sonoma County, including Radio Thrift in Santa Rosa, Rain Dog Records in Petaluma and Spinning Threads in Sebastopol.
James Florence, owner of Rain Dog Records, said his store has been successful since it opened its doors a year-and-a-half ago. "We've had a lot of new customers," he said. "We had a lot of business. We had success and we just started out. We hope to keep growing."
Florence's business partner, John Del Bueno, has been collecting albums since he was 16. "There's definitely been a lot more people into it," he said.
"COVID definitely spiked it up more, but [interest in vinyl] has been gradually growing for the last like eight to 10 years for sure, definitely more a crescendo," said Sergio, an employee at Spinning Threads.
Others, like Next Record Store employee Estefany Gonzales, have a different take. "I don't really think it ever went away." she said. "That's probably why the store has been open for as long as it has. It's exciting to see young people come in and ask about record players, or see people buy their first one."
Jason Lindell opened Radio Thrift, a record store and vintage clothing shop in Santa Rosa in spring of 2020. "There's this famous quote: nobody wants to see your collection of MP3s, right?" he said.
Lindell, who grew up in Sonoma County, recalled that when he was in high school and college, he could buy music from nine area stores. "Then all of a sudden, when the MP3's came, it was all gone," he said, noting the new record stores create a cultural venue to meet other like-minded people interested in music and collecting vinyl.
In addition to opening a new store, Radio Thrift also co-hosted the April record swap, complete with multiple DJs, pinball machines, food and hundreds of Bay Area-wide collectors.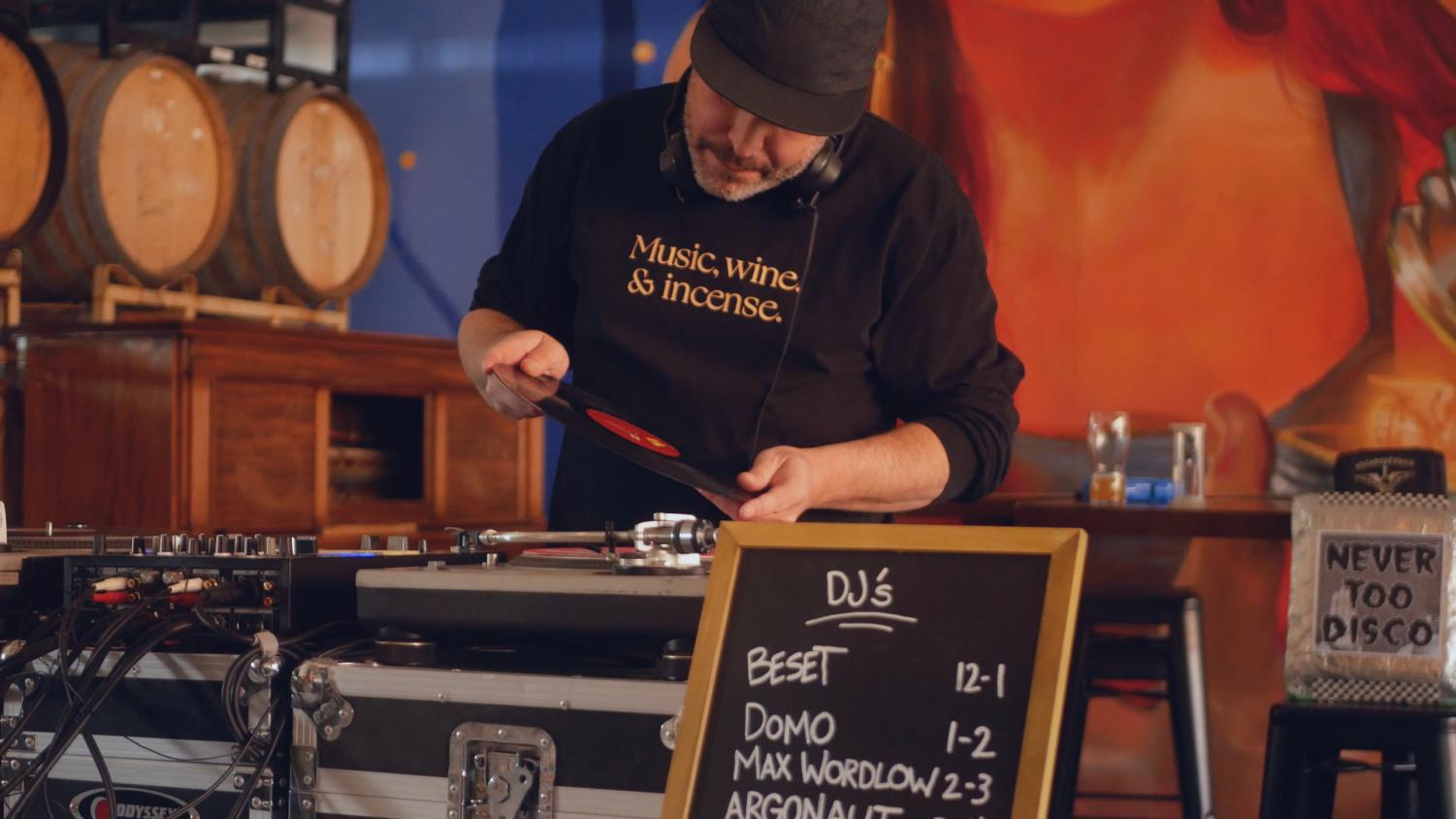 Attendees helped answer the question of why vinyl is resurging in the all-digital streaming era, and why the music medium is on the rise.
"As the world becomes increasingly more digital, the sub-market for people who are interested in analog products and physical tangible products becomes more of a consolidated community," said Evan Phillips, a local DJ and community organizer at the Record Swap event.
"There's always going to be a market of people who want to collect and people that also want tangible products and goods," he said.
Zack, a record swap attendee, thinks the reasons might be both commercial and artistic. "Once everything became available through streaming, for bands, it was easy to figure out what they could actually sell that people would want to buy," he said. "So I have seen a resurgence and interest in vinyl, kind of more of an underground level, just with people self producing, or doing small runs of records that they make themselves just to give something more of an artistic kind of value."