Disneybland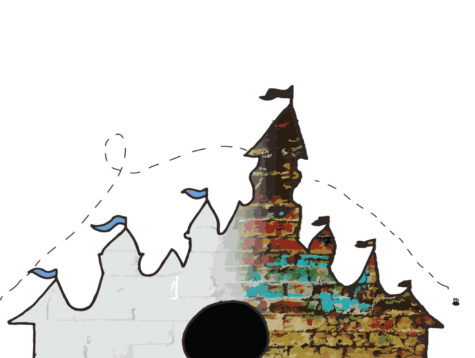 The most magical place on Earth? The Magic Kingdom? With all the hype surrounding  Disneyland, I had to cough up the $104 to see what it's all about. Characters and whimsical adventures awaited, but would I feel the magic?
After I sat in traffic to get into the Magic Kingdom parking lot, fought through a massive crowd of impatient park-goers to board the Magic Kingdom tram and waited in line to get into the park, I finally got through the gate. I hadn't even spent five seconds in the park before being bombarded with survey takers.
I still hoped to feel the magic.
I walked down Main Street USA, surrounded by even larger crowds and more pushing and running around than the mosh pit from my last punk rock concert.
I finally made it to the first attraction: the fast pass dispenser for Indiana Jones Adventure because the ride was down until further notice.
I still hoped to feel the magic.
I segued to a nearby ride, Pirates of the Caribbean, and waited in a line of people standing so close to me I felt they should've taken me out to dinner first. The immersion of the dark-water ride was completely shattered as an ecstatic park attendee began to take photos — with the flash on. Blinded, I still hoped to feel the magic.
Now it was time for a personal favorite — Splash Mountain. My friends could not believe the expression on my face when I saw it was shut down for maintenance.
So to compensate (sort of), we went on Winnie the Pooh's adventure ride, which was just as exciting as standing in line.
The magic? Still nowhere to be found.
Two rides down and it was time for lunch at the anticipated Pizza Planet, the gag of Pixar films.
However, I was an alien to this planet because the pizza was out of this world, in the worst way. As I was downing antacids, I felt something, but it definitely wasn't magic.
We passed the one-hour wait to drive a car going less than 10 mph and headed towards Fantasy Land.
We waited 30 minutes in line to ride a slow boat with cult-like chanting about how the world isn't as big as we imagine.
No magic, but it's a small world after all.
Toontown was next. Maybe I could take some photos with my favorite Disney characters.
Nope, I'd have to wait in an even longer line for one shot of Mr. Mouse.
Leaving Toontown, I still wondered where the "magic" came from in this so-called "Magic Kingdom."
Next was an interactive shooting ride themed after Buzz Lightyear, with frantic friends shooting all the targets for the high score in a spinning car. This was actually fun — except the ride broke every two minutes.
Stranded, I don't think the magic could have saved me, so I left to see what else was in store.
We went into a few shops to see if we could buy some magic to take home. For $24.99, I found a souvenir with velvet ears that was falling apart at the seams.
Maybe I'll feel whatever magic these ears have at home.
The day grew as long as the lines on what the employees called a "slow day." My stomach ached for more food, and I was worried. I thought I'd get a light snack until we left for dinner. I passed the popcorn machine and thought "Hey, popcorn can't be made too terribly." I handed over $12.
Stale corn and dry mouthed, I was coughing up the magic feeling.
Then a trickle of hope, Space Mountain was as exciting as it always had been, Indiana Jones was told a great two-minute story, Big Thunder Mountain was a heart-pumping ride and Matterhorn was one of my favorites. 
Things were starting to look up — and then the park closed. My friends and I were waiting to see if they would do the usual fireworks, but park attendants  pushed us out. The journey leaving the park was just as exhilarating as the park entrance sequence.
After waiting to get onto the "magic" tram the fireworks started once everyone was outside of the park. Unfortunately, all I saw were flashing lights in the cloudy sky behind the big construction wall covering the park.
Finally, after what felt like an hour of just trying to get back on the freeway, I started analyzing my trip. I paid $104 for park admission, and the money I spent for just one meal and a cookie was roughly $50.
So, for those saving up for this trip and those who cannot wait to see their favorite Disney characters, I'm still waiting for that magic. I doubt it'll ever come.
Leave a Comment
About the Contributor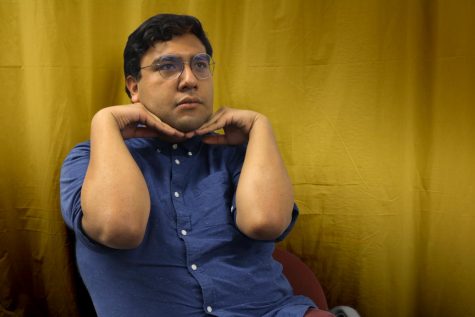 Edgar Soria Garcia, Magazine Editor
Edgar Soria Garcia is in his final semester at The Oak Leaf; he is the magazine editor for Spring 2020. He hopes to transfer to Cal State Fullerton in...