Former SRJC students to star, direct in upcoming feature-length film: "The Haunting of Hype House"
Two former Santa Rosa Junior College film students will begin producing their first feature-length film Jan. 15, thanks to crowdfunding, their SRJC education and childhoods obsessed with filmmaking. 
Mahlon "Zach" Tracy and Brandon Douglas met in elementary school and both developed a passion for making movies, but they spent their childhoods doing so on their own. Tracy recreated "Indiana Jones" scenes with LEGOs while Douglas started making videos for family and friends, charging money for his teenaged work. 
Though they knew each other, Tracy, 24, and Douglas, 27, didn't work together until attending SRJC. Their first collaboration was for a short, "Resume," which was filmed by Douglas and starred Tracy. They both have spent most of their free time in life creating short films or acting in them, and now, they are embarking on their first feature film project.
The crowd-funded project, "The Haunting of Hype House," is about a guy whose friends like him better when he's possessed by a ghost. Tracy and Douglas plan to begin filming in January.
As a child, Tracy was a fan of "Wallace and Gromit," and it motivated him to create claymation-based short films. "For as long as I've been strong enough to hold the camera, I've been doing stuff with friends," said Tracy, "which is kind of funny, because it wasn't until I came to the JC that I really figured out, 'Oh, this is what I'd like to do.'"
Tracy also enjoyed acting in front of the camera.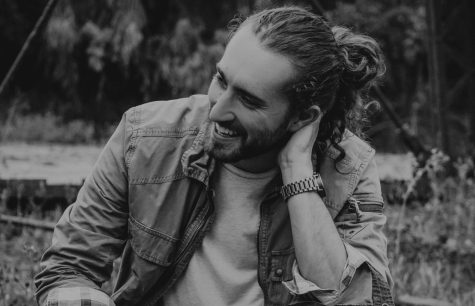 "I was like 7 years old and I knew OK, Rambo is ripped, so he's got to take his shirt off for show. He's a strong guy. So I did that at, like, 7. I would hide in a TV box and jump out shirtless, with absolutely no muscle, but I'm just as cool as Rambo now. I am Rambo," he said.
In high school, Tracy tried to convince his teachers to let him create videos instead of writing papers, and he didn't back down from presenting those videos to the class. 
"A lot of why I wanted to do it on video wasn't because I was afraid of presenting in front of people, but it was because I wanted to do different jokes, like cut-aways and things like that, stuff you just can't do in person," he said. "I really liked it; my classmates didn't. They hated a lot of it, but it was fun."
For Douglas, creating content was a mix of a hobby and a way to make money. He picked up his parents' mini DV tape recorder at 9 and started making movies by 11. 
"I started doing video recordings for family, friends and everything else," said Douglas, who started getting paid for his work around age 14. "And then I realized that this was something that I wanted to do for basically the rest of my life, and I went to school for it." 
Douglas viewed going to college for a film degree as an excuse to use class time to make the stuff of his dreams, mainly with a camera in-hand.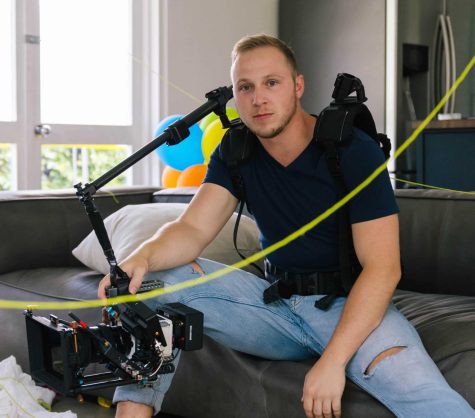 Writing scripts or operating the camera behind the lens is Douglas' passion. He always pushed himself at the JC to go as "out-of-the-box" as possible, even if it was ill-advised. 
Brian Antonson, Douglas' film production instructor at SRJC, advises his movie-making classes to keep it simple. He tells student-producers to make films low in special effects and action sequences. 
"So what does Brandon do?" Antonson said. "He brings in a script for a short named 'Reset' with all action, all special effects, and his script got chosen to be made in his Media 20 class. And I warned him about the failure rate of making a short like this." 
But Douglas was up for the challenge. Antonson said Douglas returned with an "amazing shootout short with amazing special effects."
"And I asked him," Antonson said. "How did you do that?"
Douglas replied candidly. "It was a bitch." 
After SRJC, Douglas transferred to Biola University, where his next big short was his senior thesis, "Hexit," which included Tracy as an actor. 
In May of 2021, three years out of Biola, Douglas teamed up with a high school friend, Sonoma County writer and director Matthew Farren, 23, on a short film titled "Johnny," in which Douglas served as director of photography and special effects.
During production, Farren approached Douglas with an idea for a feature-length film. The premise: What if your friends like you more when you're possessed by a ghost than when you're not?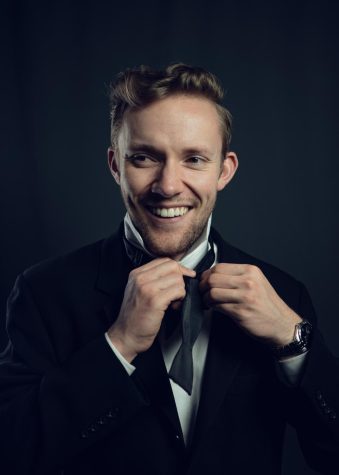 That's when the idea of "The Haunting of Hype House" hatched. It had been in Farren's head since 2019, but he knew it wasn't feasible because it would require a large budget and a lot of time, so he shelved it. Until now.
Farren isn't new to the short filmmaking business. He has released a plethora of short films, such as "Cannibal Ken" and "Damien," which had Douglas as the director of photography, and "Caviar" in 2021 to prepare for his first feature-length film. 
"When I was a child, I remember other kids saying they wanted to be superheroes or astronauts, and I always said I wanted to be an actor, because an actor can be all of them," Farren said. 
When it came time for Farren to assemble a cast for "The Haunting of Hype House," he knew right away that he wanted Tracy to star as the character Mike. 
"I wrote the character Mike as this very deadpan comical guy that Tracy is just so perfect acting as. He's got a natural talent for it," he said.
The project is still finding its footing, however, as Farren and Douglas have started a social media campaign to draw attention to a Seed & Spark project, a funding campaign specifically for film, to centralize their donations.
Farren and Douglas will co-direct "The Haunting of Hype House" with Farren, Sarah Casey and Ben Danielson producing. Douglas will also serve as director of photography.
"I want this film made regardless, but I know it would be tremendously easier if we had the funding to truly push our talents behind the camera by having proper equipment, feeding the actors and having perfect props for the sets," Farren said. 
The trio are eager to start filming in both Los Angeles and Sonoma County locations.  Their deadline to fund the project is Jan. 9, 2022 and they are set to start production on Jan. 15.