The new normal: Three front-line workers describe their lives during the coronavirus emergency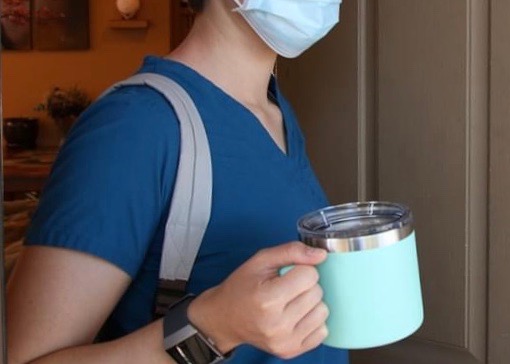 A restaurant worker, class valedictorian and a nurse all come from different worlds, but are brought together by one thing: how the reality of their lives and jobs changed during the COVID-19 health and economic emergency.
"Something like this is scary," said furloughed restaurant worker, Tyler Bellen, 26, about the pandemic. "It sets a large new precedent to how things could be."
The world has definitely changed and these three people share a unique perspective on one of the greatest national emergencies that has ever hit our country and the world.
Tyler Bellen, restaurant worker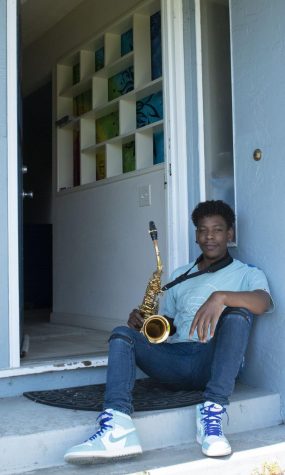 Usually, working in a restaurant may not be the most glamorous job, but it pays the bills and can be a lot of fun. But at the beginning of March 2020, the world of food service took a dramatic turn.
Almost overnight, some of the busiest restaurants in Sonoma County went from bustling to eerily quiet. Sonoma County is known for its food and wine businesses, and when people were afraid to go out, these were the first companies that were affected by the COVID-19 pandemic.
Restaurant server and former SRJC student, Tyler Bellen, 26, was one of the first ones to see this effect at his work in Healdsburg. Bellen began seeing small shifts from closing the restaurant's bar to then limiting the number of tables. 
Before the restaurant and bar were closed to the public, Bellen and his co-workers tallied their hand washing count and wiped down the tables religiously. Workers left to go take care of their children because they were scared to work and childcare places were closing down.
"This is something straight out of some science fiction movie: bodies are piling up globally, stocks are on the verge of collapse and global leaders are falling ill," Bellen said.
Bellen didn't realize the gravity of the situation until two days before the shelter-in-place order was issued when he saw how the number of cars in the parking lot had diminished. 
"Usually in the early afternoon, there would be a lot of hustle and bustle in the center of the square, but there was none of that," he said. "I immediately knew every one was camped out in their homes."
Although surprisingly, he remembers taking orders and the business being consistent during the first two weeks of the shelter-in-place. It didn't last for long. Bellen was furloughed shortly after. 
"That unexpected twist was really painful, because I was expecting another paycheck," Bellen said.
He takes care of his parents and grandma by making weekly grocery deliveries. When he's at home he tries to maintain normalcy by checking Instagram, Reddit and SportsCenter to look for relief.
Although Bellen is currently not working, he is still in school. Bellen is in his last semester at Sonoma State majoring in international business. 
Bellen mentions his fear for smaller businesses in contrast to online businesses. There is more of a safety for online, because everyone is based at home at the moment. 
"I feel like the whole business landscape in a lot of global areas are going to look different after the COVID-19 thing has passed," Bellen said.
This economic crisis that is unfolding is different then anything we have seen before.
"Every link in the chain is being affected," he said.
Bellen's attitude toward being stuck at home without a job is reserved and collected. He has faith that society will return to normal.
He hopes that his 78-year-old grandma will be able to go out of her apartment soon. Bellen would also like to go to see his friends and eventually start singing in his local choir again.
Class valedictorian and essential grocery worker: Jessica Seibold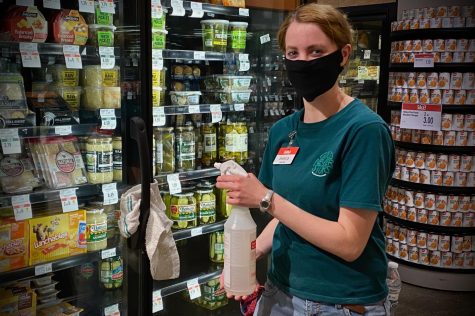 For the high school graduating class of 2020, senior year in Sonoma County was plagued by fires, power outages, and now the worst global pandemic in 100 years.
Rancho Cotate High School senior Jessica Seibold, 18, has fared well during these difficult times, but has still lost a lot. Despite maintaining her spot as class valedictorian and keeping her job as grocery store courtesy clerk, she has lost music recitals, senior week and her prom.
"In the beginning, it didn't seem quiet as real," Seibold said about her initial response to the growing emergency of the outbreak.
Seibold's routine quickly changed. She went from being in school everyday and also being a part of her school's choir to sitting in Zoom meetings. She finds herself turning in a video for her final instead of performing her songs in front of an audience. 
As a grocery store courtesy clerk, Seibold is often tasked with sanitizing the surfaces in the store. It was a bit of a shock to her, but she adapted and took the precautions she needed by wearing a mask even before the county-wide mandate.
"It can be overwhelming at times," Seibold said about balancing her work, family and plans for collegiate education. "I try to work on being focused on what I'm dealing with in the present."
Despite it all, Seibold has adjusted well to her new life under the quarantine restrictions during the pandemic. She walks her two dogs with her twin sister, she video chats with friends and she watches movies with her family.
Even though work and school are more stressful and she is disappointed about missing out on fun things, she tries to keep it all in perspective. She admits that prom isn't as big of a deal considering what others are losing.
"It seems a lot smaller given the grand-scale of everything that's going on," Seibold said about prom.
Seibold was planning on presenting an in-person speech in front of classmates and family members as many valedictorians do for their graduations. Due to the quarantine, she will be doing a pre-recorded speech that will be included in a virtual graduation presentation.
In the fall, Seibold will continue her education at SRJC. She is ready to move on despite the rocky end to her high school years.
Seibold believes that connecting with her family and focusing on school has helped her deal with this impossible circumstance. She has also seen others around her grow closer despite being physically separated.
"I hope that we hold the importance of the importance of the human connection, and not lose sight of how important it is to maintain the relationships that we have," Seibold said. "I don't want us to start taking them for granted again."
Cardiac nurse: Maddison Jones
In the precisely calculated world of medicine there is no room for error. When a pandemic hits, suddenly the organized world of the health care system becomes stressed.
Maddison Jones, a 27-year-old Sonoma County cardiac nurse who preferred her real name not be used, saw first-hand the unfolding of a once-in-a-lifetime health emergency, the COVID-19 virus. Although she has only been a registered nurse for three years, she was never prepared for what was happening to the stable medical world in the early days of March.
"My first response was fear, total fear," Jones said. "I never anticipated a pandemic."
She was concerned by the virus' unknown capability. Like many in the medical profession, Jones was affected by how devastating the virus is within communities and how little anyone could do to protect people. 
Jones saw the stress take a toll on the health care systems — through mask and equipment shortages. Hospital officials are on high alert to prevent the virus' spread within their walls, but all of a sudden the simple necessities like a mask were nearly impossible to come by.
"We couldn't just call another hospital and say 'Hey, send us some masks'," Jones said.
All hospital personnel are required to wear masks, even those not in the emergency room or COVID-19 treatment areas, according to Jones. Many people are forced to reuse masks or wear homemade masks, which aren't as effective as the N95 mask.
The masks can cause irritation of the face and jaw pain from talking with the material held tight on the chin. Some medical staff even use above the shoulder isolated respiratory helmets called CAPRs, Jones said.
She said she often looks around and realizes, "This is not our normal."
After a few weeks in early April, Jones' fear began to subside, and she was able to focus on her main focus: her patients. Jones reams steadfast at keeping her patients healthy, but sometimes contrasts where she is now with why she got into the healthcare field.
Jones became a nurse because of a personal experience with a nurse when she was hospitalized for heart problems at age 8. She was recovering from a heart procedure at University of San Francisco medical school hospital when she met a "super amazing" nurse who took care of her.
After 15 years, she was finally able to reach her dreams of becoming a cardiac nurse, just like her childhood nurse, DeeDee. Jones received a pre-allied health nursing degree from SRJC and graduated in 2016 from Sonoma State University with a nursing degree and public health certification.
As the pandemic develops, Jones is continually given new information everyday. In May, she was trained in the intensive care unit, a specialty that varies greatly from her current role.
Outside of the hospital, Jones and her husband try to spend time together focusing on each other and not on the current crisis. They exercise inside and outdoors, watch movies and play video games together.
Jones and her husband have been married less than a year. Together they have seen a fire disaster, mass power outages and now a global pandemic, but they remain optimistic and light-hearted.
They find some dark comic relief in games like "Left 4 Dead." This game is about surviving a zombie outbreak renders a post-apocalyptic world with writing on the walls that say things like "it's not airborne" and "wearing a mask won't help."
Despite her initial fear, Jones believes the best response is a middle ground. She has sanitizing equipment throughout the house, sits and sleeps next to her husband, changes clothes at home, but doesn't share mouth kisses.
According to Jones, it has been difficult on all her hospital co-workers who have taken different levels of precautions. The creativity has ranged from changing in the hospital or on the front porch of their houses to keeping personal items in a jar during their shift.
The patients also deal with high levels of stress, Jones says. 
"When you have a life changing diagnosis, it's hard not having your family's support," she said.
Health care practitioners have to maintain a level of professionalism that draws certain boundaries only families can bridge. Under the COVID-19 county-wide lock down, only patients are allowed inside. This makes it impossible for family members to comfort their loved ones.
Jones is hopeful about the future and looks forward to things returning to normal. She wants everyone to learn from the connectivity we've fostered in these stressful times.
She is proud of her personal developments she has made through prayer, communicating with her husband and maintaining her fitness. According to her, the community is also making positive strides throughout this uncharted territory.
"We have to work together to battle this as a community," Jones said. "Right now, I think we're doing a pretty darn good job."