Taking matters — and scissors — into their own hands
Santa Rosa Junior College student Isabella Natalini, 17, felt the pandemic shelter-in-place time was the perfect opportunity to do something drastic.
She decided to dye her blonde hair blue. 
"Being in the house for a long period of time got pretty boring for me, so I wanted to spice it up a bit," Natalini said. "I wanted to go all out because even if it turned out poorly, I knew it wouldn't matter since I wouldn't be seeing many people."
Not only are the days growing longer but so is our hair, and since nobody can go out and get  haircuts, people have decided to take matters — and scissors — into their own hands.
While toilet paper and hand sanitizer sales have skyrocketed as the months progress, so have household beauty items. According to Nielsen data, sales of at-home hair color spiked 23% over last year, and people are buying more razors and hair-cutting supplies as well. 
Everyone from celebrities to civilians are cutting, dyeing or growing out their natural hair. Their home hair care experiments don't always turn out as expected, as was the case when Natalini reached for the blue dye.
Things didn't go as planned. 
"My blue ended up looking more green over time, which I wasn't a huge fan of. So next time I will probably tone my hair [first] so it turns out better," she said.
 Yet despite the outcome, she was at peace with her decision. "This was unlike anything I've ever done before, but it felt good to have this drastic change in my appearance."  
If dyeing your hair is on your quarantine to-do list, perhaps consider advice from a professional stylist to avoid Natalini's results. 
Santa Rosa stylist Kelsey Marie, 31, provided pointers for people who may be hesitant about making a big change. 
"When you're dyeing your own hair, if it's permanent box dye, be cautious of pre-existing damage from bleach," Marie said. "Remember, color doesn't lighten color, so whenever you're going darker it will always work but if you're going lighter it is not always the case. Baking soda can be your best friend to scrub out those unwanted colors from your hair in the shower." 
While some students have leaned toward the bottle, others reach for a pair of scissors to shed some weight off their heads for summer.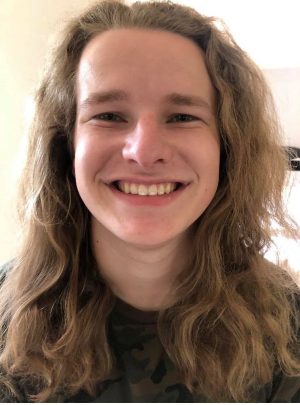 Boredom prompted Sonoma State student Logan Knowlton, 19, to make the big chop. 
"I wanted to change my hair during quarantine because, first, it's a great story for later, and secondly because I feel as though I am such a different person than I was when I grew my hair out," he said. "So I figured it was due for a change." 
Without any hesitation Knowlton picked up a set of shears and chopped off 10 inches.
"I definitely would do it again," he said. "I've gotten nothing but compliments from my friends and family on how good my short hair looks. On top of that it is much easier to dry off after a shower."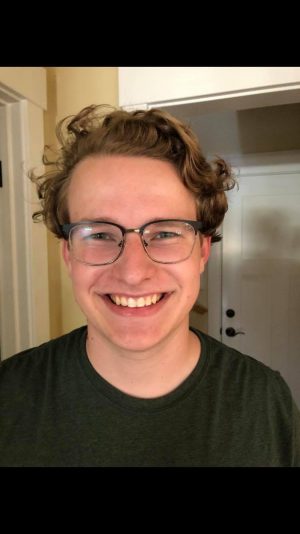 Cutting hair can be challenging for first-timers, so Marie offered some professional pointers to achieve the best cut. 
"To anyone cutting their hair, it's honestly not that difficult if you don't scare yourself first, and  there's always going to be a friend or roommate to help you even out what you have already done," Marie said. "But your best bet for a good cut is to use an accordion style mirror where you can see the back of your head and always remember to cut under your fingers and not above."
While quarantine has caused a lot of people to change their hairstyles, others have decided to take this time to go all natural. 
SRJC student Kimberley Keisel, 19, has been actively dying her hair since the fifth grade but felt like she was due for both a color change and a big cut as well.    
"I'm actually letting my natural hair color grow out because I am starting my student-teaching position soon, and I didn't think that blue hair would be a good choice for that," she said. 
 Keisel also decided to lop off four inches to give herself a pixie cut.  
"I have never tried a true pixie cut, but I absolutely love it! Cutting and dyeing my hair is a huge part of my self expression," she said. "I love changing up my hair."
Even if the finished look doesn't turn out as expected, hair styling can be a fun family event. 
Priscilla Navas, 20, decided to shave her head and inspired a couple other family members to do so too. 
 "I did the shaved head semi-impulsively, and I wanted to try a short hair cut after I butchered the first one. I called it my Britney Spears moment. But the boys were inspired by my decision," Navas said, referring to her partner's sons, Leo, 6 and Odin, 4.  
One boy ended up with a mohawk and the other a shaved head.
"I was definitely self-conscious about it for a while, but I've gotten more used to it," she said. "I actually like it now, and I like the simplicity of it because there's no maintenance. And the boys are enjoying their new looks as well." 
So whether you're considering making the big chop, changing up your color or letting your hair go all natural, there are plenty of options and plenty of time to experiment during quarantine. 
Despite her hair turning green, Natalini encouraged others to dye their hair. "I think if you are thinking about dyeing your hair, do it," she said. "If you're not happy with the way it turns out, hair grows back in no time and you can always fix it with another dye. There is no better time than right now to experiment with your hair."