Turning over a new leaf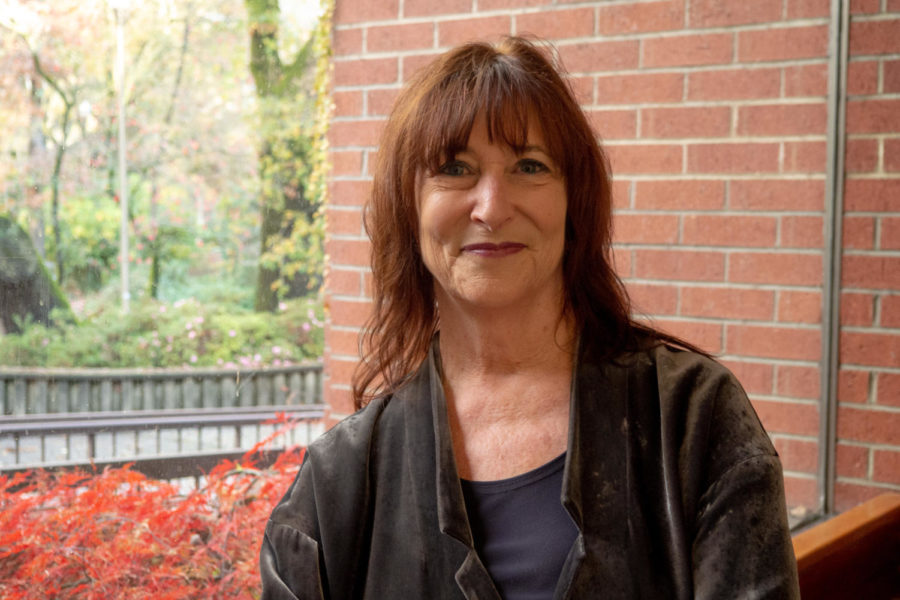 Jane Saldaña-Talley begins every morning with meditation. Using a phone app, she dedicates part of her morning routine to collecting her thoughts and finding peace. Meditation allows her to be more present in the moment and furthers her ability to listen. She's committed to the ritual and believes her conviction improves her performance as SRJC's new interim Vice President of Academic Affairs.
Saldana-Talley's relaxed mood is a calming influence on SRJC's management, drawing a stark contrast to last semester. She replaced Dr. Mary K. Rudolph in the second-in-command role, a position that attracted a lot of attention in spring amid the budget crisis and cancellation and   subsequent reinstatement of summer courses.
Salary increases for management and stalled contract negotiations with the All Faculty Association over proposed faculty pay cuts created a climate of mistrust towards SRJC's senior management. The AFA, the Academic Senate and the Student Government Assembly approved  votes of no confidence in SRJC President Dr. Frank Chong and the school's senior administration.
Saldaña-Talley is approaching this semester with a friendlier stance, focusing on a bottom-up leadership style.
"If we are actually going to do the best work that we can do for students and the community, we work in partnership, not in silos from each other," she said. "So it really matters a lot that we work together, that we design together, that we are in conversation with one another, that we don't make changes without letting the other know that we are doing that."
Saldaña-Talley started as vice president of the Petaluma campus, where she served for 12 years.
She was hired as the Measure H bond was coming into effect and had to adjust to a changing climate within Santa Rosa Junior College.
After serving for five years with the administration's negotiating team, Saldaña-Talley earned a reputation for being collaborative and easy to work with. "She's a very good listener," said President Chong. "She's collaborative. And she's authentic. I think she has a lot of integrity. When she says shes gonna do something, she'll do it."
Saldaña-Talley said it's a privilege to be on the team. "It's given me an opportunity to really sit and listen carefully to what matters to faculty with regards to not just how they are compensated, but what their working conditions are and what matters to them as faculty," she said.
Working with faculty in a tense climate has fostered within her a sense of cooperation and a better understanding of how faculty members feel. "We all want the same thing in life," she said. "We want to be compensated fairly and well. We want to be regarded for the work that we do and what we contribute to the organization. We want to have great working conditions."
Faculty members recognize Saldaña-Talley's willingness to collaborate and listen to feedback. "I am experiencing her as a breath of fresh air," said Dr. Brenda Flyswithhawks, behavioral sciences department chair and faculty member. "I think she has made quite a difference. Ask any faculty member."
Drawing a sharp contrast to last semester, Saldaña-Talley is recognized for taking a measured approach to leadership.
Saldaña-Talley's style of leadership differs greatly from her predecessor's, a fact that Rudolph has acknowledged. Saldaña-Talley believes there is a delicate balance between the two camps, and it's important not to force issues through without faculty collaboration.
Saldana-Talley's strategy is taking a slower approach to make sure everything makes sense and works. "My style is not to talk down; my style is consultative. I listen to people. I confer with people."
Flyswithhawks described her as genuine, humble and good at listening. "If she doesn't agree with you, she knows how to tell you in a respectful way," she said.
Saldaña-Talley believes students should be included in the conversation. She said administration hasn't been as consultative with students as it could be. Student involvement is taking the spotlight across campus, with a marked resurgence within the Student Government Association, with President Frank Chong opening up his office hours to the student body.
In the aftermath of the Vote of No Confidence, Chong also created the President's Consultation Council designed to focus accountability within the president's office.
Chong has also started speaking in classes, department meetings and walking the campus to interact with students. He finds that this 'barbershop view' makes him easier to communicate with. "We really want to track back and put the focus, not on administration, but on students," Chong said.
Flyswithhawks serves on the council. "This is an opportunity for us to be a better institution and an opportunity for Dr. Chong to be a better president," she said.
Saldaña-Talley is a key player in creating that better institution. She takes the first step towards meeting these challenges at home. In addition to enjoying her morning meditation, she professes a love for yoga. "There's kind of a concept in yoga that when you're in a certain pose, you can deepen that pose a little bit. So I always think about it that way, that I can always deepen my understanding, my connection and my relationship with people and this organization."