Miss Sonoma County: Volleyball Edition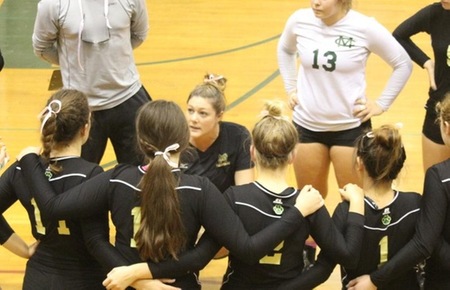 For Ally Deal, volleyball and Sonoma County continue to go hand-in-hand.
A local high school standout who crushed records at the college level, Deal is entering her first season as head coach of the Santa Rosa Junior College women's volleyball team. She hopes to leverage her well-recognized profile in the county to vault the college's program to the next level.
SRJC Athletic Director Matt Markovich is thrilled to have someone with Deal's history take over the volleyball program. "Coach Deal has been involved with volleyball at all levels in this county for a long time," Markovich said. "She brings successful coaching and playing experience to the job."
Deal's connection to the county puts SRJC's program and recruiting potential on an upward trend, thanks to her name recognition with players and parents in the area. "It's fun to have that bridge between the local high school talent and getting to talk to them about the future and playing at the next level," Deal said.
Freshman setter Ingrid Jungfreman was one of those players. She played for Deal as a teenager and has returned to Deal's roster — this time for SRJC.
"She's super great with bringing her players back down to earth," Jungfreman said. "She keeps us grounded and makes practice and games purely about the volleyball."
Ally Deal née Sather played outside hitter at Maria Carrillo High School from 2005-2008, earning All-Empire MVP her senior year. After graduation, Deal joined Sonoma State University's women's volleyball team where she broke the university's records for career kills. She still holds record for most kills by a freshman.
After her illustrious college career, Deal returned to her high school alma mater as coach. She led Maria Carrillo High School's varsity team for five years, earning All-Empire Coach of the Year honors in 2014. In her five years coaching at Carrillo, Deal's teams appeared annually in the California Interscholastic Federation's North Coast Section Tournament and won four North Bay High School Athletic League championships.
Deal is looking forward to the transition from coaching high school-aged to college-aged players. "I'm excited to start fresh with the program," she said. "I'm excited to get in the gym with an older group of girls that's more mature and ready for the next level."