Stitching with style
Buttons, bustles and bustier. Clothing construction can seem impossible when looking at something off the rack. Instructors at Santa Rosa Junior College show that making clothes isn't as hard as it "seams."
The instructors teach students that it takes more than talent to make it in the industry; but also responsibility, professionalism and ethics.
The fashion department is planning a fashion show and reveal at Day Under the Oaks May 1.
Students express their personalities with their own unique styles. Some want to express themselves further by blossoming their creativity in fashion, and take classes.
Lyra Bobo, an SRJC adjunct instructor for 19 years, is in her first as the fashion studies program coordinator. She describes her style as eclectic and a little romantic. She's known since high school she wanted to pursue fashion. She graduated from the Fashion Institute of Design and Merchandising in 1979. Throughout the years she has seen different trends.
"Styles are interesting, because sometimes when you're first exposed to them, can seem really cool," Bobo said. "But as they reach their peak and they decline, they're not so great anymore."
A trend she's seen lately are high-low dresses, where the dress is short in the front and long in the back. She's seen the style on celebrities like Lady Gaga and American Idol singer Fantasia.
Bobo said she learns from her students as much as they learn from her.
"It's very important to stay relevant when you're teaching something like fashion that changes so quickly, and my students bring that to the table," she said.
She stays connected to help her students find jobs. Six of her students are currently employed, getting their first part-time position or internships which helps her maintain contacts in the industry. A former student of hers has a wedding detailing business and has employed three current students. Another former student designs clothing for female wrestlers and bikinis for bodybuilders.
Bobo has seen many unique styles from her students. One wants to start a clothing line inspired by music festivals, with colorful neons and boho fashion.
There are days where Bobo is so busy and tired, but when she goes to her classes, her spirit is renewed seeing her students creativity. She hopes her students leave the class with a trade or a skill that sustains their passion and love throughout their life.
"I still remember talking with my parents and they wanted me to pursue something that I was going to make money doing," she said. "And I felt like I could do both and that's what I tell my students. Work at something you love."
A previous student of Bobo's, Hilary Heaviside, is a new instructor in the fashion department at SRJC. Heaviside 15 years of experience in the fashion industry as a product engineer at Marmot. She has her degree in apparels and experiences with many outlets, which lead to the beginning of her SRJC career. From working for Marmot to creating a line of bridal wear, Heaviside loves to be creative. SRJC fashion classes gave her a way to express that creativity.
"Fashion design really attracted me because I love the feeling of being able to make people feel good and confident, and you can see that when they're wearing something that fits them well," she said.
She focuses on the fun, dying skill of alterations. She reminds people not everything fits right off the rack. She hopes to have a class based on revamping old clothing and build attire in Sonoma County.
In the 1950s, factories in Sonoma County made clothing for locals, and now a lot of clothing comes from overseas due to lower labor costs. She stresses that people should know where their products come from as it brings respect to the pieces they are buying.
"I don't want to move to New York. I don't want to move to L.A. I want to build the industry here," she said.
Heaviside lives and breathes fashion. All of her clothes have her personal alterations and twist on them. She said her style is titled 'chameleon.' With a mixture of thrift store pieces making them contemporary to classic, she changes it up. She is inspired by colors and fabrics with a variety of textures.
Heaviside is excited to be a part of the fashion program and respects Bobo.
"She is really taking the fashion program in this exciting direction that is more industry focused," she said.
Heaviside she is a part of growing the industry in this area, and understands it all starts with training student here at SRJC. She urges students to sign up for fashion classes sooner than later, as class survival depends on enrollment. The program is changing and growing. It used to be home economics based, but now it's heading towards the actual industry, training students and setting them up for success.
Garcia Hall isn't the only place to find fashion inspiration. At the theater arts department in Burbank, Maryanne Scozzari has taught costume and makeup design for 28 years. She describes her style as colors, textures, scarves and bling.
As a costume designer, her job is to study all styles to understand and appreciate their origins and purpose. She observes different styles around campus as inspirations for costume designs.
Scozzari's always been fascinated by theatre since kindergarten. Her mom and grandmother made all her costumes through elementary school. She won her first recognition for costume design in high school, and received an AA in theater arts for the pacific conservatory from the Performing Arts at Alan Hancock College and a BA and MFA in theater design from Humboldt State University.
She was thrilled to be hired as the first full-time faculty position at SRJC because of its state wide reputation for excellence in educational standards.
Scozzari is always amazed by her student's creativity and the hard work they put into their projects. Over the years, she has seen multiple students become finalists in the region seven and eight in the American College Theatre Festival. She's had many costume and makeup design students receive awards as well as offered scholarships and internships. She believes participating in any area of theater brings out students' creative juices. From extensive research to creative problem solving, costume and makeup design compel them to think outside the box and use their imaginations, while learning new skills and inventing techniques.
Scozzari learns from her students when she teaches them. "It's one of the many reasons I love to teach. I learn so much about myself and how I share and communicate information from them," she said. "They are a constant inspiration."
Students with Style
Geno Smith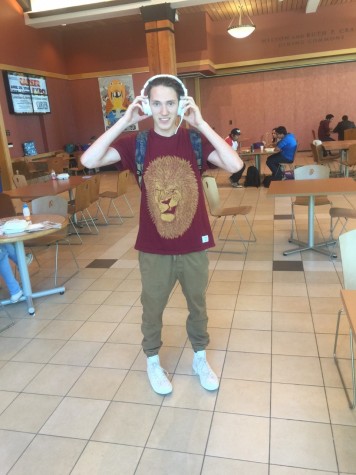 Geno Smith, 18-year-old Santa Rosa Junior College neuro-technology major, describes his style as "different," but it truly screams "swag." During the spring season, he rocks big, blunt white headphones, a maroon tee with a fierce golden lion, green-fitted pants and white, high-top chucks.
He travels to San Francisco every four to five months with $800 in his pocket with intentions to find random pieces of clothing that he likes.
Smith's cousin is a fashion designer and owner of a downtown boutique called Punch. His cousin has strongly influenced him his whole life and takes him shopping, giving him advice on how to put things together. Smith enjoys the experience of shopping and is up to throw down cash on pieces he likes so his ensemble will stand out amongst the crowd.
"If I look good, I feel good and I do good," he said.
Most guys he knows don't care about how they dress, but it's clear he feels enthusiastic about what he wears on a daily basis.
Doreen Mukama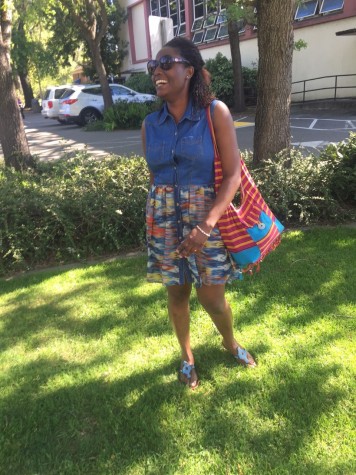 Thirty-six year-old nursing major Doreen Mukama's style is effortless, comfortable and flirty. Mukama is a busy mom, SRJC student and overnight nurse.
"I don't aim to dress up, I just look in my closet and see what I find," she said.
Mukama has become more aware of her style ever since her 7-year-old fashionista daughter denied relation to her when picking her up from school one day.
"I put on this very long dark skirt and a long-sleeved purple shirt, and when I went to go pick up my daughter, she told me to never ever pick her up dressed like that," she said with an amused smile on her face.
Mukama's daughter inspires her as she tells if she approves of her mom's outfit to keep her looking her best. Also, Mukama's mother and sister are shopaholics and will find pieces for her on their shopping sprees. She will occasionally go to the store Ross, but overall she allows the women in her life to guide her on the correct path to being fashionable.
Jack Yaeger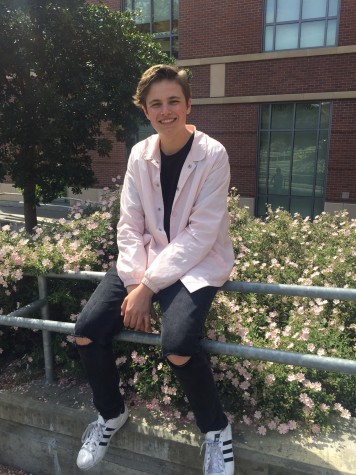 Jack Yaeger, 18, an acting major, titles his style as street wear. He embraces spring fashion with a black tee, distressed black jeans and white Adidas finished off with a baby pink jacket.
"If you picture Kanye West in a white form, that's what I base my outfits off of," Yaeger said.
He gets most of his inspiration from rap culture and recognizes rappers are fashion forward. He loves winter and fall months because he is into layering his clothing. Yaegar has been stressing out about summer coming up because he is in need of some new pieces. This means it's time to go shopping, spending at least $300.
He's not afraid to admit that he judges what people wear on campus. Just imagine 'SRJC's what not to wear.' As he walks from class to class, he sizes students up and criticizes how they put their ensembles together. Yaegar feels that people criticize him when he is in public, mostly people of the older generation unable to grasp that guys can wear pink and skinny jeans.
"I think a lot of people have a preconceived notion that if you dress nice, you are gay. Just because I dress nice doesn't mean I can't steal your girl," he said confidently.
He is going to study abroad in London next semester and is excited to go shopping and see what people in London are wearing.
Taylor Kelly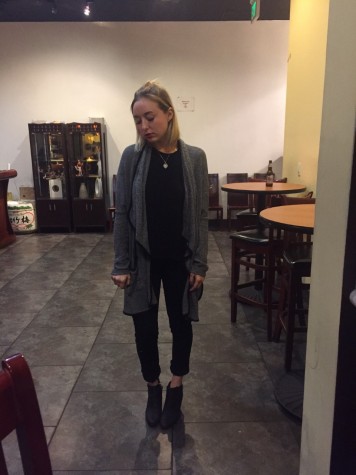 Comfortable – this is what 18-year-old SRJC student and Dutch Bro employee Taylor Kelly's style embodies. Kelly is intuitive when it comes to what she is wearing. How she feels is reflected in what she wears. Her celebrity inspiration is "the old Miley Cyrus."
"I don't think fashion should be about runaways and what's new; it's about what's going to let you express yourself," Kelly said.
Kelly advises all students to wear what makes them feel comfortable, whether it's sweat pants or high heels with a mini skirt. Being true is key.
As the weather warms up here on the SRJC campus, it's important to remember to be confident and be true to whatever style works best. It's not about having designer brands or a closet full of expensive clothes, but about channeling that inner rapper or fashionable mom. Whether you're a student or instructor, inspiration is everywhere.