Assessments, orientations and education plans: Three important steps to unlock future success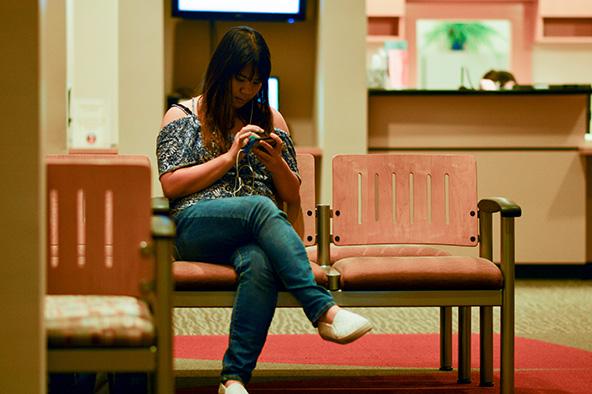 Kenneth Chase, 26, loves SRJC and believes it is a great school to transfer from and attend if you're just looking for a vocational degree or certificate. He says that students should go and see a counselor to make a plan or you'll end up like him, going to SRJC for seven years. "The conundrum is that we are lucky because SRJC is such a great school and offers so many different classes. But then you end up taking all these classes that you are interested in and some of them don't transfer, I'm like 'am I a culinary major or a sustainable age major? Or what? ' " Chase said
Whether it is your first semester at Santa Rosa Junior College or your seventh, goals are the key to your educational success.
Buying books, finding a parking spot, figuring out where your classes are and making time to study are all stressful in the first few weeks of school.
SRJC has a three-step plan to ease the process and help students create a strategy for their time spent at SRJC's beautiful oak tree-filled campus. Before the next semester starts or during this semester, make time to complete your assessments, orientation and education plan.
Assessments show students where they should be placed in different departments. The testing center helps figure out student's math and English scores and is located in Plover Hall. It offers a variety of scheduled times to take the tests. Study guides are also available to help students brush up their skills and score higher. Students are allowed to take the both test twice and use the best score.
Orientation is available online or in person. SRJC's campus is huge and if you've never been on campus, you're likely to get lost. Orientation makes students aware of different programs, departments and learning communities on campus and provides a sense of comfort for students so they don't feel lost.
The most important of these three steps is creating an education plan. Anthony England, Program Specialist of the Student Success and Support Program, says students can make an abbreviated plan, one or two semesters of planned classes to give them a start and help them to begin carving out a goal, or a comprehensive education. The latter shows which classes students need to complete for their transfer major or which classes they need for one SRJC's certificates.
Students who complete an education plan have priority registration. "Those first three steps are crucial. For all students I would encourage them to take care of them right away for registration purposes," England said. "Here is where you can control your own destiny and make sure you get your classes. At least give yourself the best opportunity to get in the classes you need."
Part of student success is to get an assessment, orientation and education plan. Once students have those things, ideally they will have a goal in mind, and will know the campus. Once they are connected they are more likely to complete their goals, earn a degree and transfer or get a certificate, England said.
Student Carina Brambila, 23, made an education plan to transfer to a university as a history major. "I think having a plan is a must. I feel that without having a plan you're definitely going to take a bunch of courses that are not needed for your major, because I did that at the beginning," Brambila said. She said the counselors did a good job informing her of classes for transfer and the counseling department has a text back option so she didn't have to wait inside to see a counselor.
SRJC Tips:
Schedule a meeting with a counselor before drop-in lines, which are so crazy not even Hermione would wait in them.
Student Health Services are part of your enrollment fee. If you're sick,visit the Race building and see a nurse practitioner. A note will excuse any missed classes. They also have mental health services, at Plover Hall.
Visit Plover Hall for financial aid, assessment testingand scholarship information.
Check out the theoakleafnews.com or the BearFacts newsletter to see what exciting social events are happening on campus.
Doyle Library is a mecca.
Join a club. It's a great way to meet like-minded people and be social with other students.