Beyond stereotypes: Homeless yet hopeful in Sonoma County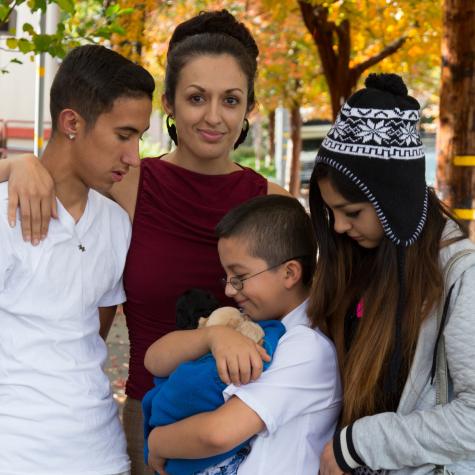 Photo by: Jeanine-Flaton Buckley
On a rooftop near downtown Santa Rosa, Benjamin "Brutus" Gruey, a former Santa Rosa Junior College student and co-editor-in-chief of The Oak Leaf, pulled a queen-sized mattress up with a rope and made himself at home with blankets and pillows. For two years this was his favorite sleeping place.
"Most people live in two dimensions and so they don't look up," Gruey said. "There was a parking lot nearby where people in suits parked and went to work. I'd watch in the morning so I could get down without being seen, and I don't think anyone ever looked up at me."
After a falling out with his family, a two-month backpacking trip in Southern California near the Joshua Tree National Park and a break-up with his girlfriend in fall 2009, he used his limited savings to attend SRJC, instead of trying to find housing and a 9-5 job.
Gruey mostly ate leftover muffins from various coffee shops and grabbed recently expired food from a few unlocked grocery store dumpsters. After finding 30 avocados one time, the hungry student decided that he liked avocados.
"A nice classmate bought me a bunch of Ramen noodles, too, one time. That was nice for a change," he said.
With only a few exceptions, Gruey kept his living situation secret. "It immediately put me in a different class of people," he said. "Even though I was getting As in most of my classes, the fact that I was homeless either meant people avoided me or looked at me as a curiosity when they found out."
Gruey, now pursuing a double major in physics and math at UC Santa Cruz, recalled that he was not treated much differently. "Well, except from cops who would demand that I have a job and pay Sonoma County house prices, or else they'd give me a ticket," he said. "I stayed away from them as much as I could and thankfully succeeded."
While Gruey did not seek outside help for his situation, both Sonoma County and SRJC offer a myriad of resources — from shelters and rehabilitation programs to free food and psychological counseling — but funding levels are nowhere near adequate to serve the county's homeless population, which is more than double the national average.
For homeless students like Gruey, the criminalization of homelessness deepens the entrenched stigma against them and compounds the stress of college with the stress of homelessness.
A Systemic Problem
A 2014 report by the National Law Center on Homelessness and Poverty found the criminalization of homelessness is increasing throughout the country based on the surveyed 187 cities' municipal codes.
Citywide bans on fundamental human activities effectively criminalize a homeless person's very existence, according to the report.
For example, citywide bans on sitting or lying down in particular public places have increased by 43 percent, while bans on sleeping in vehicles have increased by 119 percent since the Law Center's previous report in 2011.
Meanwhile, 74 percent of homeless people do not know a place where it is safe and legal for them to sleep.
Nine percent of cities even ban sharing food with homeless people, said Dr. Solen Sanli Vasquez, an SRJC sociology instructor, referring to the same report.
Criminalization, the most expensive way of dealing with homelessness, also makes homeless people's situation more difficult. "If a homeless person is arrested due to such behaviors, their chances of finding housing or employment in the future are lowered because of their criminal record," Sanli Vasquez said.
She also said people need to get rid of their preconceived notions about the homeless, like that homelessness is the result of substance abuse. "Many homeless people become addicts and/or mentally ill after becoming homeless," she said.
The report proposed constructive alternatives such as affordable housing, citing that more than 12.8 percent of the nation's supply of low-income housing has been permanently lost since 2001.
Family homelessness has been on the rise since the inception of the foreclosure crisis in 2007, according to the National Law Center study.
The U.S. Department of Housing and Urban Development budget has been reduced by more than 56 percent since the 1970s, cutting approximately 10,000 assisted housing units per year in the stock of publicly assisted housing. This reduction denies federal housing assistance for 75 percent of low-income households that are income-eligible.
Utah's Housing First program has proven to be a success model, reducing chronic homelessness in the state by 74 percent since 2005.
"This program is more cost-effective than criminalization," Sanli Vasquez said. "It cost taxpayers $11,000 per homeless person in 2013 in the cost of an apartment and a social worker, whereas without the program, the state would have paid $16,670 per person in the cost of emergency room visits and jail stays."
She encouraged individuals to contact their representatives and advocate for policy change, in addition to donating to or volunteering for individual homeless shelters or soup kitchens.
"Homelessness is unconscionable in the wealthiest nation in the world," she said, "and the misconceptions about the homeless need to change."
Catholic Charities Family Support Center
Malee Rodriquez's husband Chris is a U.S. Army veteran who served honorably in Guatemala, but because her husband was active in the military for less than two years, the family — including their three children, ages 15, 14 and 9 — doesn't receive health or housing benefits.
While on a three-month waiting list from May to August to get a room at the Catholic Charities Family Support Center, the family commuted between a hotel in Santa Rosa and Sacramento, where Chris worked in a warehouse and Malee attended Folsom Lake College.
The cost of gas and a hotel room caught up with them and they got behind on their bills. Some nights the family of five had to sleep in their car.
But it wasn't always like this. For 14 years they paid for housing and health care without any financial aid from government or the U.S. Department of Veterans Affairs.
The Rodriguez family left their Sacramento apartment in May only after they discovered their landlord was using the same key on their door as the key to the laundry room door. When confronted, the landlord asked them to leave.
"It really wasn't our fault," Rodriguez said.
Due to the overcrowded state of homeless shelters in Santa Rosa, the three-month waiting list the Rodriguezes endured is considered normal. A family can expect a three-month wait, a six-month stay to take required classes and to fill out paperwork, another three-month wait and then a final six-month stay during which they can receive credit help and vouchers for affordable housing and wait for housing to open up.
She hopes her family will be able to find a place to live once their first six months are up in February. She feels more optimistic now that her husband has a job at the post office in Santa Rosa.
Although things have now settled down for the Rodriguezes, living in a homeless shelter with 38 other families has not been easy. There is an 8 p.m. curfew and a computer lab that closes at 5 p.m. with no Wi-Fi. Rodriguez said completing homework assignments within those limited hours is nearly impossible and she has heard of people in the shelter dropping classes because they could not switch their work shifts.
According to Allison MacDonald, a supportive services manager at Catholic Charities, three families staying at the shelter have members who attend SRJC, and 85 percent of them work.
Rodriguez plans to attend Santa Rosa Junior College in spring 2015. A speech major, she is also interested in international economics and political science. Her current living situation partially fuels her academic interests. She added that one of her goals is to get more funding for affordable housing for other families in similar situations. She also believes a college education is the way out of homelessness for her family.
Tolls on Individuals

SRJC psychology instructor and psychologist Dr. J. Davis Mannino, who has taught several homeless college students in his 42-year teaching career, said a recent student reported her homelessness in his "Getting to Know You" assignment.
"The student lived day to day on living room couches of friends she'd met at college," Mannino said.
The events that led to her homelessness followed the typical pattern of domestic violence, deterioration of social support, loss of stable housing, substance abuse and sale of drugs. The student's mother had been jailed for dealing drugs, he added.
Mannino recalled that the student often arrived first to class. "It provided some of the only stability she had known in many years," he said.
He said mental health issues among the homeless often reveal a dual diagnosis, involving a comorbid substance abuse problem.
"The stress of homelessness may lead to posttraumatic stress disorder (PTSD), which a student may then try to 'self-medicate' through use of alcohol and substance abuse," Mannino said. "Studies show the homeless have three times the rate of PTSD and twice the rate of substance abuse."
Alternatively, people with disabling health conditions become chronically homeless once stable housing becomes too difficult to maintain without help, according to the National Alliance to End Homelessness.
Mannino said homeless people are four times more likely to show delayed development and twice as likely to have learning disabilities compared to the non-homeless. "The data is clear, whether one uses the Department of Health or Education, academic research or nonprofit research institute data," he said. "Just one of the aforementioned conditions is enough to affect academic success."
Despite the odds, the homeless student earned As.
Redwood Gospel Mission
Though many consider a college education important to long-term success, it's not a priority for others under different circumstances.
Jeff Wright, 26, said he'd like to eventually study music theory at SRJC, but his immediate goals are to stay sober and finish the New Life program at the Redwood Gospel Mission in downtown Santa Rosa.
Addicted to prescription pills and alcohol from the age of 15, Wright spent a month in jail in Santa Rosa, then spent another month on the streets. He grew up in West County and did not return home after his release from jail.
Santa Rosa Fire Department Captain Matt Dahl said he has witnessed a trend of people who are released from the jail and walk 2.5 miles on Mendocino Avenue to downtown, where many homeless services are located.
After Wright's month of homelessness, he had an altercation with the police that left him hospitalized, and the judge allowed him to join a six-month program at Salvation Army Transitional Housing.
He disliked the program, so he left and joined the New Life program at the Redwood Gospel Mission.
"It's much more like home. There's couches; I can wear my sweatpants," Wright said.
As part of the New Life program, Wright must start working or attending SRJC before his six-month stay is over. He plays bass guitar in the Worship Team, a four-person band at the Mission. "I think that's one of God's gifts: the music," Wright said.
Though Wright has set an education goal, he knows he won't reach it right away. He lives life one day at a time.
MacDonald of Catholic Charities said Maslow's hierarchy of needs, a psychological theory, best illustrates the challenges facing homeless students. The most basic levels of human needs — food, water and shelter — must be met before someone can do anything else. The essay due next week means nothing when there is no roof to stay warm, no food to eat.
Sonoma County Task Force for the Homeless
Georgia Berland, executive officer of the Sonoma County Task Force for the Homeless, said the biggest misconception about homelessness is that it's an intractable problem that cannot be fixed and should be accepted.
"That's a myth," Berland said. "We know how to fix it. There just aren't enough resources."
She said those born after 1967 — when governor Ronald Reagan's public policy closed all mental hospitals in California, evicting patients back on the streets — have always known homelessness.
"It's not a natural product of capitalism," she said. "Society doesn't have to accept that we have people sleeping outside on the streets."
Berland said providing affordable housing and services for people with disabilities who struggle to retain housing is a cheaper solution than perpetuating homelessness, which costs $9 million per year for law enforcement, emergency room services and more.
Before her ask force position Berland was the executive officer of the Sonoma County Human Services Commission 1981-94.
"There were no shelters in those days, at all, for anyone," Berland said.
The commission has since founded numerous programs, such as the Family Support Center, Children's Trust Fund and Redwood Empire Food Bank.
Unfortunately, shelters are still overcrowded — and with historically high rents and a vacancy rate of less than 1 percent in Sonoma County, there simply is no housing available.
The California State Budget 2014-15 includes a $100 million General Fund for the Multifamily Housing Programs, half of which goes to the Supportive Housing Program required to designate at least 40 percent of the units in each development to those experiencing chronic homelessness, homeless youth and individuals leaving institutional settings.
Berland said the average number of deaths on the street was 30.8 per year in Sonoma County, according to a 2006-10 public health epidemiology survey.
"This year we've lost 11 in Petaluma alone," she said.
She said SRJC could create a safe parking program, open a bathroom or allow people to camp. "I mean, where else are they going to live?" she asked. "They're local people. Their only family is here. Their only jobs are here. There isn't another place where they'd be better off."
The task force is adopting Santa Barbara's scattered site model, a safe parking program that has been successful for over a decade, assigning individual spots for a designated time period.
Berland said this model is more cost-effective than renting the county fairgrounds lot for $90,953 for three months. The program, with a 50-vehicle capacity, was underattended with an average of 18.
She added that 20 percent of the homeless population owns a vehicle.
Minors, who cannot legally stay in an adult shelter, tend to camp outside. "But look at the weather. It's cold, wet, dangerous," she said.
SAY Dream Center
One out of 45 children in the U.S. is homeless, which equates to 1.6 million homeless children, according to the National Law Center on Homelessness and Poverty's "No Safe Place" study.
"Sonoma County has the highest rate of youth homelessness for a non-urban county in the United States of America," Berland said, citing the Department of Housing and Urban Development (HUD). A third of those living outside are under age 24, and youth constitute a quarter of the county's homeless population.
The Social Advocates for Youth (SAY) offers housing, supplies, counseling and job support to Sonoma County homeless youth ages 12-24.
SAY served 1,800 meals in 2013 and provided jobs and paid internships for 196 youth.
Tamayo Village, on Yulupa Avenue in Santa Rosa, houses many SRJC students who are over 18. It offers affordable rent, education, job support and counseling referrals. SAY communications manager Caitlin Childs said many SRJC students staying at Tamayo Village are financially putting themselves through school.
Childs said most homeless young adults in Sonoma County are locals.
About 50 Sonoma County youth age out of the foster care system annually. In most cases, individuals who age out of the foster system are first-generation college students who often take longer to complete college and need more counseling and financial aid.
The SRJC Foster and Kinship Care Education Program is a resource for students who have aged out of foster care and refer students to SAY.
The Dr. Coffee Teen Shelter, near the SRJC campus on Ripley Street, provides supplies like food, tents, clothing and toiletries for anyone under the age of 24.
According to the 2013 Sonoma County Homeless Point-in-Time Census & Survey Comprehensive Report, 95 percent of unaccompanied minors and single transition-aged youth, ages 18-24, were unsheltered and comprised 26 percent of the total Point-in-Time homeless population in Sonoma County in 2013.
To further combat this issue, SAY plans to begin construction on the SAY Dream Center, a proposed 63 unit housing facility, within the month of December. They want to raise $8.5 million and are currently at $6.6 million, with over 40 donors including major support from Bill Friedman of Friedman's Home Improvement and Connie Codding of Codding Enterprises.
Campus Resources
The Sonoma County Task Force for the Homeless' annual 80-page "Sonoma County Homeless Resource Guide" provides information on 22 different sections, including alcohol and drug recovery, emergency shelters, health care, immigration services and youth services.
The SRJC Student Health Services offers this guide to homeless students, said Dr. Bert Epstein, licensed psychologist and assistant director of Mental Health Programs.
Epstein said Student Health Services was instrumental in starting the Food Pantry on the Petaluma campus this year, complementing the existing food distribution on the Santa Rosa campus.
Redwood Empire Food Bank provides a weekly drop-off including produce and bread, depending on what is available. "Last week they gave us 250 pounds of potatoes," said Cindy Dickinson, an SRJC college nurse practitioner. "We also would like to have a source of protein, like beans, rice or nut butter."
The Food Pantry serves about 100 students each week, including those who are homeless but also those with very limited financial resources. "All find that food is one of their major expenses," Dickinson said.
Dickinson said she has formally met about four homeless students since January. "There have most likely been more, but they don't often share that information," she said.
Two students shared with Dickinson that they had recently lost their places and were living in a car.
The high prices of housing is one of the biggest challenges to student success, Dickinson said. "It's a little easier to live in your car in Santa Rosa, as they've passed an ordinance that allows sleeping in a parked car," Dickinson said. "The ordinance wasn't countywide."
She added, "This time of year gets harder for people."
Epstein said Student Health Services — located in both Santa Rosa and Petaluma campuses — also provides a free therapy assessment to all SRJC students taking at least one for-credit class.
"We have provided mental health services to many homeless students since there are a significant number who attend SRJC," he said. "Most have similar issues to other students, but the challenge of being homeless adds significant stress to any other situation."