World Class: Study Abroad with SRJC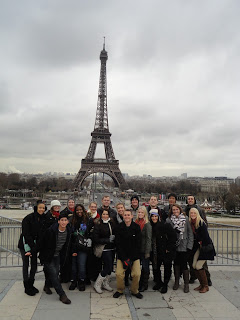 Hang on for a minute...we're trying to find some more stories you might like.
Prepare to jet off and learn about wine history, study art appreciation in front of the Mona Lisa and sip white wine under the Tuscan sun in the world's most romantic city.
Santa Rosa Junior College's study abroad program brings students a one-of-a-kind learning experience. SRJC offers a unique program that is offered by only four other Northern California community colleges.
Currently, SRJC students are studying abroad in Florence, Italy. In Fall 2013, the program will journey to London and return to Florence in Spring 2014. The program previously traveled to other major cities like Paris, Barcelona and Madrid.
SRJC is also re-launching the summer study abroad program that visited places like Costa Rica. Study abroad is designed to give students the opportunity to learn as much as possible inside and outside of the classroom.
The location and diversity of these cities allow students to obtain a global understanding not easily learned by sitting in a classroom.
SRJC is one of four local community colleges providing students the opportunity to study abroad in London next semester.  SRJC students will travel and study alongside students from Cosumnes River College and Diablo Valley College.
While studying abroad, students take classes taught by professors from the three participating schools inside of the University of London's student union building. Classes offered for study abroad are generally geared toward humanities and social sciences, depending on which teachers will be involved in the program.
In London, teachers offer psychology, communications, anthropology and English classes. Students are required to take British Life, a culture class that covers all aspects such as pop culture, politics and the monarchy.
Classes are held Monday afternoon through Thursday evening, giving students a long three-day weekend to explore and travel. Teachers may choose to teach classes at the University of London, the British museum or anywhere else in the city where they feel they can help bring the experience to life.
Students can spend their free time as they please, although there are a few scheduled field trips during the 12-week semester. The regular three-day weekend allows students to attend every theater and gallery in London, visit Shakespeare's home, see Stonehenge and hop on a few short flights to Germany or Scotland, should they wish to do so.
During their stay, students can share a room with one other student in a homestay with a British family, or share an apartment with four to six other students near downtown London.
Students can mix and match from different schools or request to be matched with friends. The location of the apartment makes walking to national landmarks and discovering the fun spots of downtown easily.
There's no getting homesick with the homestay option because a home-cooked breakfast is provided every morning and students have the comfort of living with a real "Brit" host family.
So what's the catch? Such a grand endeavor must be costly.
The minimum cost to study abroad in fall is $8,125, but you'd be getting the bang for your buck. This fee covers medical insurance, membership to the University of London Student Union clubs and societies, cultural programs, an orientation program and a transport pass for unlimited use on public transit.
The solution to the expensive fee is to apply for as many scholarships or loans as possible. One scholarship could score you anywhere from $100 to $5,000 to cover costs. Students have been creative with fundraising in the past, holding bake sales, asking relatives and looking for any other way to score some extra cash.
The most important perk of study abroad is that the experience is truly irreplaceable. Take it from Nikki Slovak-Villano, an SRJC staff member who will be teaching in London next semester. She studied abroad as an undergraduate student and recalls her experience.
"I studied abroad almost 15 years ago and I still think about it on a daily basis," Slovak-VilIano said. "I had the time of my life. Study abroad is one of those opportunities that builds character and affects you in so many qualitative ways that it's hard to measure."
So whether it's visiting Florence, Madrid, Costa Rica or London; the world is your oyster and SRJC's study abroad program is the first step to getting out of the daily grind and discovering the beauty our spectacular Earth has to offer.