Hurricane Sandy ravages East Coast, students greatly affected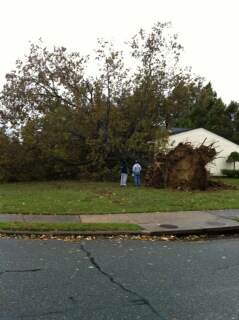 Broken trees and yellow caution tape outline the thrashed Abington campus of Penn State University during the aftermath of Hurricane Sandy.
This is an uncommon sight to SRJC students who are preparing for the Dec. 1 college application deadline, but natural disasters and Hurricane recovery have become familiar for students on the East Coast.
Hurricane Sandy has inflicted an estimated $20 billion worth in damages, but students are being affected by the hurricane in more ways than one.
Amongst the students who suffered from the hurricane is Penn State student Angela Plachkov. Plachkov has endured storms before, but Sandy has put her though an academic burden she has not experienced in the past.
"The hurricane caused power outages for a bunch of kids in my class," Plachkov said. "They can't access any of their online assignments or tests, so they cant turn anything in before deadlines."
It's difficult to imagine what it would be like for 20-year-old students having to live with no Internet in this day and age, but now that it impacts their schooling it has become increasingly stressful. Especially since professors show no mercy when it comes to the missed assignments students can't access.
"The teachers aren't taking students seriously," Plachkov said. "Telling them you can't access the Internet is the same thing as telling them a dog ate your homework, they just won't believe you."
In addition to not being able to turn in online assignments, students were unable to attend classes as school was closed for several days.
Alex Palma is a student at La Salle University in Philadelphia, PA. Palma and his classmates were shut out of their school during Sandy's Atlantic tirade.
"Well, my university was closed Monday and Tuesday. There were no classes at all," Palma said. "A couple of my classmates went home to New York, but couldn't get back to Philly because of the storm."
As Sandy ripped through the streets of Philadelphia, powerful winds caused the biggest problems for people in the city. The winds reached speeds upward of 30 miles per hour and knocked over everything that wasn't tied down.
"I was outside at one point when the winds started coming up, they were really strong," Plachkov said. "I was walking my dog, and the winds were pushing him all around the street. It was really funny."
It's nice to see there was anything to funny to take away from such an experience, but its no laughing matter when people have their cars and homes crushed by trees.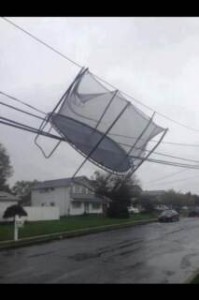 Trees were being uprooted from their foundations due to the wind and people were paying the price.
"Neighbors and people on my street had trees fall on their houses." Palma said. "I don't think anyone got hurt, but it sucks to see something like that happen to them."
With Sandy coming to a close, students in the East Coast are beginning to recover from the damages and missed time. Every student who went through the storm can tell a story like Plachkov and Palma. SRJC students can learn from the experiences of these two students by taking full advantage of their time. It's almost as important to appreciate beautiful Northern California weather, as it is to take care of your schooling. Learn to appreciate both, because it's hard to tell when disaster may strike.