The Oak Leaf election blog 2020
This is The Oak Leaf Editorial Board's rolling coverage of election night 2020. Check here for updates.
9:13 a.m. Saturday
Vice President Joseph R. Biden crossed the 270-vote threshold to beat President Donald Trump and win the White House, according to the Associated Press. The win is historic for inclusion, on two fronts. 
While Biden will be the second Roman Catholic president, his running mate, Sen. Kamala Harris,  will be the first woman — and first Black woman and first South Asian — to be vice president.
Gov. Gavin Newsom will appoint a new senator to replace Vice President-Elect Harris. 
Reporting by Nick Vides
10:23 a.m. Friday
Vice President Joe Biden is now leading the vote count in Pennsylvania by 13,371 votes. Biden is also leading the vote count in Georgia, however they will hold an automatic recount due to the close percentage of votes according to CNN and Fox News.
It is currently unlikely President Trump can mount an electoral college comeback with only a small amount of votes left to count across the board.
Biden, on the verge of presidency, will address the nation tonight.
Reporting by Nick Vides
1:33 a.m. Friday
Vice President Joe Biden is now ahead in the vote count by 917 votes in Georgia according to CNN. Vote counts are trickling in from Georgia instead of coming out in large waves. Expect this number to fluctuate throughout the early morning hours.
Reporting by Nick Vides
11:53 p.m. Thursday 
President Trump's total vote count in Georgia is currently ahead by 665 votes as more mail-in votes have been counted according to CNN. Vice President Joe Biden's totals in Pennsylvania are also rising to match Trump, however he is currently 18,229 votes behind.
Arizona is still in Biden's corner as his totals are ahead of Trump's by 47,052.
The Nevada Deputy Secretary of State for Elections Wayne Thorley stated that no new totals will be released from his state until Friday morning.
Reporting by Nick Vides
12:05 a.m. Thursday
Vice President Joe Biden's numbers continue to close the gap in Georgia as he is now 23,000 votes behind President Donald Trump according to CNN. In Pennsylvania, Trump is ahead by 164,000 votes with 89% of the votes counted.
In Arizona, Biden's totals are slipping as votes are being counted. With Trump's comeback in the state growing as mail-in votes are counted, CNN and MSNBC reported Trump supporters surrounded ballot-counting locations, chanting, "Count the votes!" 
But in states where continued counting showed the President's lead diminishing rather than growing, his supporters took a different approach to their protests. While surrounding ballot counting locations in Michigan, Republican voters chanted "Stop the count!" in an attempt to freeze the count of mail-in ballots which shifted Michigan from red to blue overnight. 
Reporting by Nick Vides
5:14 p.m.  Wednesday
Vice President Joe Biden has won the state of Michigan according to CNN. This all but locks up a win for him if he is able to win Nevada and hold onto Wisconsin after the recount. The vote gap in Georgia is also tightening and is a "jump ball" according to CNN's Chief White House correspondent Jim Acosta. 
Reporting by Nick Vides
10:49 a.m. Wednesday. Trump calls for recount in Wisconsin 
President Trump has announced he will immediately call for a recount in Wisconsin as only 300 votes are left to count in the state according to CNN. Vice President Joe Biden currently has won the state.  
Reporting by Nick Vides
12:01 a.m. Wednesday. Chris Christie criticizes Trump over claims of election fraud
Former New Jersey Gov. Chris Christie criticized President Donald Trump over claims of election fraud during his White House speech.
"There's just no basis to make that argument tonight," Christie said. "I disagree with what [Trump] did tonight."
"It's a bad strategic plan decision. It's a bad political decision."
Reporting by Cass Stewart
11:50 p.m. Tuesday. President Trump cries election fraud, will involve Supreme Court despite 6 states undeclared
President Donald Trump claimed victory during a White House speech, despite the fact that Arizona, Nevada, Wisconsin, Michigan, Georgia and Pennsylvania have yet to declare a winner. The president trails former Vice President Joe Biden 238-213, according to FOX News. 
Trump inferred there will be voter fraud as the days progress, saying he will involve the Supreme Court to "stop the finding of 4 a.m. votes" in Pennsylvania, a problematic claim considering officials were prohibited from counting mail-in votes until election day, leaving potentially hundreds of thousands of votes as yet uncounted. 
Reporting by: Nick Vides
11:18 p.m. Tuesday. The Senate and House Results
Major victories in tonight's Senate race include the re-election of Lindsey Graham (R-SC), Mitch McConnell (R-KY) and Cory Booker (D-NJ). 
Democrat John Hickenlooper flipped a Senate seat with his victory in Colorado. Republican Tommy Tuberville (R-AL) similarly flipped a seat after defeating incumbent Doug Jones.
In the House, Representatives Alexandra Ocasio-Cortez (D-NY) and Ilhan Omar (D-MN) won re-election. Republicans picked up two seats in Florida with the victories of María Elvira Salazar and Carlos A. Gimenez. 
Marjorie Taylor Green (R-GA) ran unopposed for her House seat. She is the first elected QAnon believer.
Other firsts in the House include the elections of Ritchie Torres (D-NY), the first openly gay Black member of Congress, and Madison Cawthorn (R-NC), the first member of Congress born in the 1990s at 25.
Sarah McBride won in her race for State Senate in Delaware, making her the first openly transgender person elected to that position. When sworn in, she will become the nation's highest-ranking transgender elected official.
Reporting by Cass Stewart 
10:46 p.m. Tuesday. SRJC news
Caroline Bañuelos and Mariana Martinez lead in the Santa Rosa Junior College Board of Trustees election. Out of the 99,551 votes cast so far, Martinez has 32.24%, and Bañuelos has 30.31% with 184 out of 261 districts, or 70%, reporting. Incumbent Don Edgar is a distant third with 18.06%. The top 2 vote getters will earn a seat on the Board.
Reporting by Michael Combs
9:47 p.m. Tuesday. Thompson and Huffman re-elected
In California election news, Rep. Mike Thompson (D-5) and Jared Huffman (D-2) have won their respective districts by over double digits, according to The Sonoma County Registrar of Voters. State Senator Bill Dodd has also won re-election. In State Assembly news: Jim Wood, Cecilia Aguiar-Curry and Marc Levine have won their respective districts. 
Reporting by: Nick Vides
9:03 p.m. Tuesday
The presidential election will come down to Wisconsin, Michigan and Pennsylvania, unless there is a surprise in Nevada, according to CNN, Fox and MSNBC. The Oak Leaf will look to those four states to decide the election as well. 
According to the Wisconsin Elections Commission, almost 1.9 million people in Wisconsin returned an absentee ballot. This means that only time will tell the winner of this election as increased numbers of mail-in ballots are causing a slow down in vote counting.
Reporting by: Nick Vides 
7:56 p.m. Tuesday
According to CBS and CNN News, President Donald Trump still has a small lead in Wisconsin and Michigan as of 7:56 p.m. PST. However, it is important to note that both states are showing only 38% of precincts reporting.
According to CNN and Fox News, Trump has picked up Louisiana, Kansas, Alabama, Arkansas, North Dakota, South Dakota, Mississippi and Missouri.
Arizona is slowly turning in Vice President Joe Biden's Favor. The state may turn blue for the first time since 1996. Biden has won New Mexico, Colorado and Illinois.
Reporting by: Nick Vides
6:20 p.m. Tuesday
With polls closing on the East Coast, the presidential race is tightening. As of 6:20 p.m. PST our Editorial Board's prediction map is holding true. According to CNN and Fox News, President Trump has now won the states of Oklahoma, Kentucky, West Virginia and Tennessee. Vice President Joe Biden has picked up Massachusetts, Delaware, Washington D.C., New Jersey and New York. 
According to CNN, Florida is a true toss-up state with Trump currently in the lead with 92% of the votes in. The state of Georgia is also a toss-up leaning in Trump's favor while North Carolina is leaning towards Biden. 
There are currently trends in Michigan in favor of Trump, however the state has under 17% of the total votes counted.  
Reporting by: Nick Vides
5:05 p.m. Tuesday
It is Election Day 2020, and tensions are rising throughout the United States. As of 5:05 p.m. PST, according to CNN and CBS News,  President Trump has won the first state tonight, claiming Indiana and its 11 electoral votes, Trump is also winning in Kentucky as expected. 
Former Vice President Joe Biden is expected to win Vermont and Virginia, according to CNN and Fox News. Florida, Georgia and North Carolina are neck-in-neck as the votes are counted. The Oak Leaf Editorial Board has predicted Biden winning against Donald Trump, 284-254.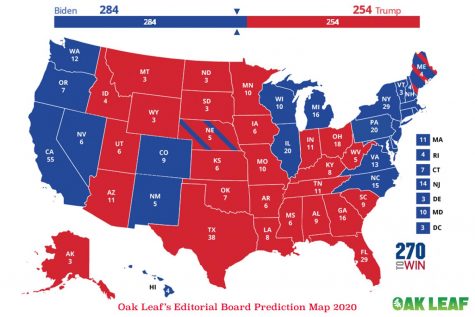 Reporting By: Nick Vides