Politics still polarize families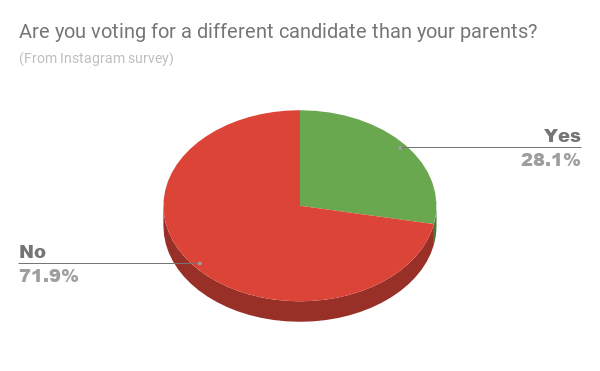 Mikayla Simpson thought she had lost her red "Keep America Great" hat in the spring of 2019. Then, to both her surprise and anger, she found it three months later hidden in her mother's closet. 
Simpson, a former Santa Rosa Junior College student who now studies business marketing and business law at Drake University in Iowa, has clashed with her mother many times on politics, even resulting in her mother grounding her. 
"When [my mom] was visiting me in Iowa, the guy who was doing our internet was wearing a Trump hat, and when we started talking about Trump, she got really mad and went out of the room," Simpson said.
Americans hear it every day: "We're divided." "We don't get along." "We can't have a conversation." 
What we hear about most often is disagreement on a large scale — California vs. Kentucky, city vs. rural vs. suburbs. But it's more intimate than that. Plenty of families like the Simpsons are polarized too.
In a survey conducted on Instagram, more than one in four of the 144 respondents said they are voting for a different candidate than their parents.
"I of course love my parents, and I try not to let politics interfere but it can be hard," said Nicholas Newton, 22, an SRJC political science major.
Both of Newton's parents are Republicans voting for Donald Trump, and he is certain he won't be voting for Trump. Newton, whose father wears Trump socks and wants to hang up a Trump flag, can at least agree with his dad on social issues, but he has had trouble seeing eye-to-eye with his mother.
"We got into an argument when my mom took a Black Lives Matter sticker off my sister's car," Newton said. "She thinks it's prejudiced to say that and that it excludes other lives, but I tried to explain to her what it really means."
One of the most controversial topics in America is religion. It can play a substantial role in politics. But people in modern America are less religious than previous generations.
In another survey conducted on Instagram, The Oak Leaf asked, "In regards to the Presidential Election, does religion influence your vote?" Of the 90 respondents, 10 people — or about 11% — answered no. 
For Melody Karpinski, 31, a practicing Christian, her political conflict with her parents is centered around their shared religion.
"As for my parents, their choice to vote for Trump primarily has to do with their Christian beliefs," Karpinski said. "I also am Christian, but do not feel Trump represents those values as much as he is working hard to secure evangelical-values voters."
Karpinski, a graduate of SRJC and Point Loma Nazarene University, said she struggles to discuss the upcoming election reasonably with her parents. She feels like Trump's rhetoric has made her parents more extreme in their political beliefs. This is a source of frustration for her. 
"While I was raised Christian, conservative, pro-life et cetera, it was always in a more balanced environment, encouraging critical thinking and independently making choices based on beliefs. Now a lot of Christian leaders are saying, 'If you don't vote for Trump you aren't voting for God's choice.'"
Simpson, whose mother hid her "Keep America Great" hat, doesn't know if she and her mom will be at odds again after the election. According to her, they haven't argued much this election season save for one or two instances.
"We were on the phone earlier and I was talking about how funny the debates were and she kind of just got snippy," Simpson said. 
Simpson is aware of the effect politics has on her relationship with her mother.
"I think it could go back to normal eventually, but possibly not, and I really don't like it because I enjoy politics and I like to be involved and I feel like it's holding me back from it because the more I get into it the more upset she is."