The Oak Leaf endorses Mike Thompson and Jared Huffman for Congress
Rep. Mike Thompson and Rep. Jared Huffman's deep understanding of their respective districts and those districts' needs have earned them The Oak Leaf's endorsement for re-election on Nov. 3. 
Thompson, a senior Democrat and ranking member of the Ways and Means Committee who represents California's 5th Congressional District, believes that climate change and fighting the coronavirus pandemic are the biggest issues at stake on the ballot. 
"I think overall the most important issue facing people today is climate change. I don't think it's too late to change our ways, but we are certainly behind the curve," Thompson said. "If we blow it on climate change, everything else is for naught." 
Thompson, a co-author for the Green New Deal, has a long congressional track record of fighting for meaningful change in the face of our changing climate. "The Green New Deal is aspirational; it's a blueprint for getting us to where we need to be," he said.
In regards to the coronavirus pandemic, Thompson believes that there are two major problems: the economic side and the healthcare side.  He has voted for all relief packages to help with the economic side of the pandemic. Thompson has also written and introduced legislation to expand telehealth and make it a permanent option for those who are weary about going to a hospital and possibly exposing themselves to COVID-19.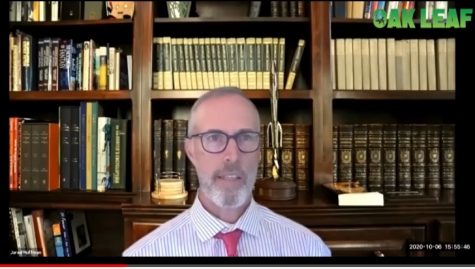 Jared Huffman, who represents the 2nd California District, has been a long-standing progressive voice for changes to reduce the impact of manmade climate change.
He worked with Sen. Kamala Harris on The Wildfire Defense Act and advocates for urgent measures to address climate change, the issue he perceives as most important to him. "I think it's the one thing that is existential here," Huffman said, "As far as I am concerned, we only have one planet, so all of these other things, we have time to keep working on them."
On the issue of police brutality, Huffman said he believes in police reform that reimagines not defunds police. "Common ground starts with people like me and people who look like me talking a little less and listening a little more, and I have really tried to do that," Huffman said.
Huffman is disturbed by the issue of white supremacy in our country, a phenomenon he thinks President Trump has stoked. "We've got a lot of work to do, he said. "You don't ask nicely for people to stop being racists. You demand it. But you've got to do it strategically and peacefully."
Huffman's opponent, Republican Dale K. Mensing, declined an endorsement hearing because of an ongoing family illness. Thompson's opponent, Republican Scott Giblin, did not show up for his scheduled endorsement hearing.