Athletes get fired up about relief efforts
Following the North Bay wildfires' destruction of several communities, homes, and wineries, high-profile athletes are stepping up their games with generous donations.
Klay Thompson, shooting guard for the Golden State Warriors, donated $1,000 for each point he scored in the Warriors' past three home games. The foundation has raised more than $350,000 in donations.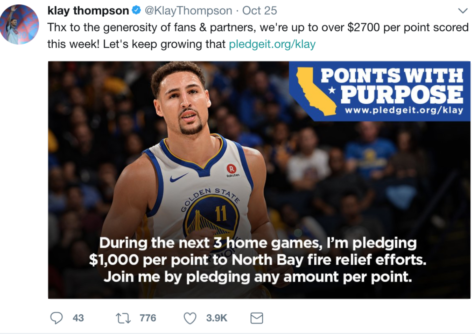 "I will be donating to Redwood Credit Union Fire Relief Efforts. Let's stick together, because a lot of loved ones and families have been displaced and lost from these terrible events," Thompson said.
Jared Goff, quarterback for the Los Angeles Rams and a Novato native, has started a Gofundme campaign for fire relief. The page is currently at $40,000 of $50,000 goal.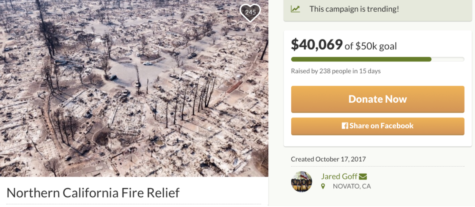 "Being from the North Bay Area the recent fires in the Sonoma, Napa, and Santa Rosa area have hit literally close to home for me," per Goff's GoFundme page.
"Like many others from the area, I know many families that have been seriously affected by this tragedy by losing loved ones or entire homes. I wanted to start this fund to try and help some of those families and people in need at this time."
Jonny Gomes, former MLB player and Santa Rosa Junior College alumni, started his own Gofundme relief page. The page is currently at $50,000 with a goal of $1 million.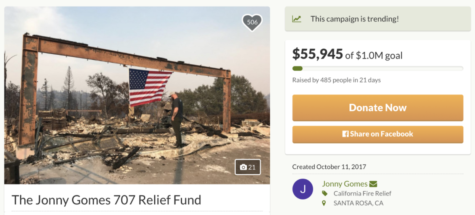 "I've played professional baseball around the globe, but the 707 area code of Northern California is my home," Gomes said. "My friends are there. My family is there. I grew up playing ball in the fields and streets of Santa Rosa, Petaluma, Sonoma, Napa and beyond. That's why you see '707' proudly displayed on my cleats. These people are my neighbors."
Organizations have also stepped up in the midst of the fire, providing help for victims and trying to get people back to their lives.
The Oakland Raiders released a statement declaring support and fundraising efforts. "The Raiders family expresses our deepest concern for everyone affected by the North Bay fires," said President Marc Badain.
"The Raiders have held training camp in Napa for the past 22 seasons and have formed a strong bond with communities in Napa and Sonoma counties. The Silver and Black ask the entire Raider Nation to help spread the word on how everyone can assist the region in its recovery."
The Oakland Raiders have made a one million dollar donation through the Red Cross.
The San Francisco Giants also released a statement after the fire. "We want all the communities affected by these horrific fires to know the Giants and all of the Bay Area teams are here to support you as you recover and rebuild in the days, weeks and months ahead," said President and CEO Larry Baer.
"You are part of our family and we are holding all of you close to our hearts."
The San Jose earthquakes President Tom Fox said, "The world has faced an unimaginable amount of tragedy and devastation in the past few months and the fires in the North Bay hit particularly close to home. We're happy to do our part, along with the other pro teams in the region, to help rebuild our community stronger than ever."