Aiming for safety with Rep. Thompson
Mike Thompson, U.S. Congressman of California's Fifth District (which includes Santa Rosa and much of Sonoma County) and chair of the House Gun Violence Prevention Task Force, makes a daily effort to combat gun violence in the nation. He facilitated the Gun Violence Prevention Discussion panel on April 21 at Santa Rosa Junior College's Bertolini Student Center.
Thompson said gun control supporters must "make life very uncomfortable" for the Republican Party, who does not permit the Democratic Party to a hearing or vote in the current legislation.
In record time, pressure brought by Parkland student demonstration drove Florida state Senate to pass gun control legislation called Marjory Stoneman Douglas High School Public Safety Act (SB 7026).
Preventing firearm reform is "in fact a Republican issue," despite disliking partisanship in meetings of this nature, said Thompson.
Thompson, who has served as chair of the committee since Sandy Hook in 2012, is one of 208 federal representatives proposing the Public Safety and Second Amendment Rights Protection Act of 2015 (H.R. 1565). The bill is designed to close loopholes in the current background check system (the first line of defense), while staying consistent with the U.S. Supreme Court's ruling in the  District of Columbia v. Heller decision to preserve the right to bear arms, with safety regulations. The bill would reduce federal funds in noncompliant states. Only 14 Republicans are co-sponsors.
"You never solve a problem with legislation," Thompson said. "You don't fix it—you address the problem."
Thompson said he prefers the term "assault weapon platform" because legal definitions for "assault weapons" often allow loopholes. For example, a "bump stock" accessory enables semi-automatic weapons to rapid-fire just like a fully automatic weapon.
According to Thompson, the H.R. 1565's policy is not radical compared to California's established laws. California gun laws have the most resources, highest standards and strictest regulations. Only California and six other states include background checks for firearm transfer. States meeting the federal law minimum only mandate background checks for authorized purchases.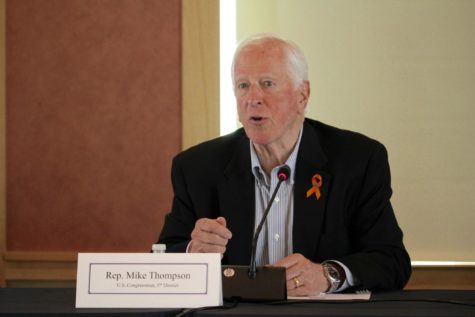 Mental health criteria in gun regulations are outdated and the current administration's efforts to backtrack the Obama-era Affordable Care Act will grant even less access to public mental health services. Thompson said he is positive mental illness is one symptom of American gun violence, but it "should not deflect from gun issues."
Donald Trump's election safeguarded the Second Amendment. This led to a national decline in gun sales and the gun maker Remington recently filed for bankruptcy. The National Rifle Association's power has also diminished.
The mind-twisting statistics are correlated to the Democratic Party's stigma towards gun control.
Gun control skeptics labeled gun regulation a "slippery slope" towards sweeping reform to ban firearms; an assault weapons ban will be tough, but focusing on the Second Amendment is political distraction to the gun violence issue, said Thompson.
Panelist and SRJC computer studies instructor Jeffrey Diamond, restated a point from Supreme Court Justice Stephen Breyer in response to the Heller decision, saying limitations must be examined within its ever-changing context.
Capitalism allows consumers to support businesses that align with their principles, according to Diamond.
Dick's Sporting Goods pulled assault-style rifles off its shelves following Parkland's shooting, saying it was the right thing to do. The weapons were recycled, instead of returned for profit.
Diamond said SRJC missed an opportunity to make a statement on International Walk-Out Day March 14. He praised the institution's active-shooting training, but suggested annual renewals.
SRJC police Lt. Robert Brownlee recommended three principles for community members to follow in an active shooting situation. The first principle is run and remove yourself from the situation, the second option is to hide. The last tactic is fight if it can't be avoided.
"See something, say something" is a law enforcement motto that encourages community members to warn authorities of suspicious activity.
Panelist and Student body president Evelyn Navarro said feeling unsafe can detract students from political and social activism. Navarro recommended strengthening ideas by webbing communities through an inclusive conversation of important issues.
Panelist Jonah Gottlieb, a student at Credo High School, has held walk outs, town halls and serves as a club president whose mission is to inform students of political and social issues.
Every student at Credo High School participated in its first walk-out against gun violence. Activism towards gun reform can be "for purely selfish reasons," to protect our own lives.
One of the 17 Parkland victims shared a mutual friend with Gottlieb. The long-distance friends met just four days prior to the massacre at a gun law prevention workshop in Washington D.C.
"[Gun violence] is almost a daily occurrence; we become numb to it," said SRJC President Dr. Frank Chong when he introduced Thompson.
Rep. Thompson agreed with Dr. Chong's sentiments about becoming desensitized to gun violence. "Someone told me there was just [a shooting] yesterday. I looked at my phone and I said, 'there's just one right now,'" said Thompson, referring to a Waffle House shooting in Nashville April 23.
Young leaders pioneered the Voting Rights Act and led the way out of the Vietnam War; Thompson said young leaders will also be the ones to reform gun control laws.
"It can't just be a congressional effort, it has to be a community effort," Thompson said.
Contact your nearest congressional district to influence the upcoming election.