Wrath of God on the quad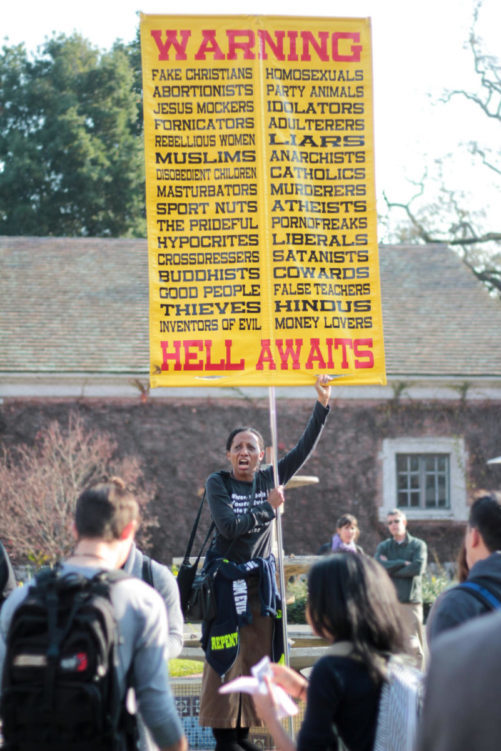 A provocative Christian group returned to Santa Rosa Junior College Dec. 13, shouting profanities and gospel to passersby from the Bertolini quad water fountain. The group comes to the campus annually to spread its religious message.
Cry to God is a group committed to educating students about the "wrath of God" through biblical text. Three of the four members preached while the other filmed their interactions with students.
They carried signs and wore outfits with religious symbols and phrases such as "God's Wrath."
One of the protesters, Sister Evangelisa, said she is passionate to inform students of her religion. "After their own lust they shall heed teachers who have itching ears," Evangelisa said. "They shall turn away from the truth and be turned to fables; that is the generation we live in now."
Evagelisa said demonstrations on college campuses educate and "save" the students and faculty. "I feel I am doing my duty as a Christian," said Evangelisa. "You don't know the heart of every student here. You don't know if they're going to go home and say 'God, reveal yourself to me.'"
The four protesters made several attempts to interact with students, and eventually shouted profanities at individuals on the quad, including SRJC student Abby Hamilton, 19.
"I think this is bullshit," Hamilton said. "College is all about being open to different sexualities, genders, religions, etc. This is just pure hate."
Hamilton and several other students yelled their own profanities at the demonstrators in retaliation.
"I'm proud to be lesbian and if this person is going to hate me for it, then that isn't the right way to practice Christianity," said Hamilton.
Student Government Assembly (SGA) officers and the Santa Rosa Police Department were also present to ensure the safety of students. Evelyn Navarro, president of the SGA, opposed the opinions of Cry to God.
"I believe in the freedom of speech across campus," Navarro said. "People have the right to speak in opposition of this demonstration, but I don't think the demonstration is done in an effective manner. It's upsetting students to the point where they are using psychological resources on campus."
SRJC President Frank Chong also spoke out against the group.
"This is free speech, but we try to control the time, place and manner of when it happens," Chong said. "This is not an effective use of free speech because I don't think their purpose is to really proselytize. I think their purpose is to provoke.".
The InterVarsity Christian Fellowship demonstrated against the outside Christian group.  President Nick Wickenburg, 21, said the the group's claims misrepresented the Christian message.
"Cry to God is an organization that focuses primarily on the wrath of God that comes on to people who don't do God's will," Wickenburg said. "This has been the main message for their demonstration, and the one's in previous years. In their hate mongering they are missing the point; God is a god of love who has compassion for people and desires for them to have a personal, intimate relationship with him."
Although Cry to God is vocal about their passion for God, Wickenburg said the majority of Christians do not agree with them.
"As a Christian, I am sorry that this group has come and that they've given a false representation of who God is," said Wickenburg. "True Christians don't act that way," said Wickenburg."
About the Contributor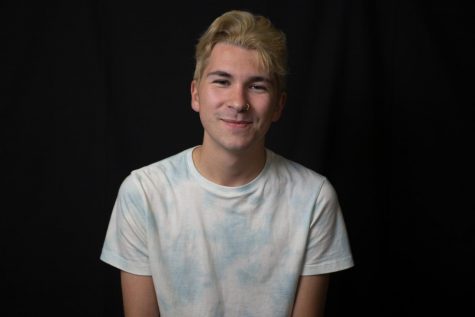 Dakota McGranahan, Co-Features Editor
Dakota McGranahan is the Co-Features editor this Fall 2019 semester at the Oak Leaf.