Telephone Scammers Target SRJC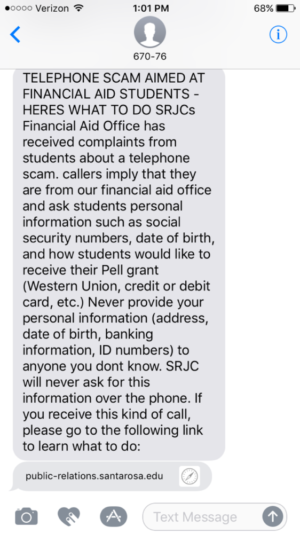 Every two seconds, there is another victim of identity fraud, according to an article published by CNN, and twenty-two percent of college students have their identity stolen annually.
This morning, Santa Rosa Junior College students were caught off guard by an e-mail regarding a Financial Aid scam.
SRJC Students were reached via text message and email, and the Financial Aid office reported that six students received phone calls acting as members of the Financial Aid Office in an attempt to get personal information, such as the student's social security number and bank information. Scammers also attempted to obtain credit and debit card information.
"Never provide your personal information (address, date of birth, banking information, ID numbers) to anyone you don't know," E-mail says, "SRJC will never ask for information over the phone."
Additionally, Director of Student Financial Services Jana Cox stated that since the reports filed this morning, there have been no further incidents.
Cox warns students about giving out personal information, stating that anyone attempting over the phone is likely a scammer.
"We will never call you and ask about your disbursement," Cox said. "We [also] don't give financial aid award information over the phone."
Communications and Marketing Director Ellen Maremont-Silver said reports were initially filed yesterday and confirmed that the SRJC computers were not hacked and that victims of fraud are randomly picked by demographic.
Maremont-Silver also had advice for students in the future: "Just hang up if you're suspicious at all, and you should be if they ask for your social security or other personal information," she said. "It's just likely someone trying to rob you, they see what they can find, and [eventually] go to the next person."
Luckily, all six students did not give out their personal information to the thief.
This is the first reported incident of identity fraud at SRJC.
Any information reported now or in the future will be given to SRJC police, which will then be reported to the Federal Trade Commission (FTC) as they investigate these complaints.
The email also provides a link for students to report any other attempts. Visit http://public-relations.santarosa.edu/content/alert-telephone-scam-targets-financial-aid-students-what-do-if-they-call-you