¡Viva la Música! SRJC Orchestra and youth mariachi ensemble bring high energy to Burbank Auditorium
An evening of high energy and music awaited those who attended Santa Rosa Junior College's sold-out Viva La Musica concert Friday night. The event was part of SRJC's 2023 Spring concert series.
The SRJC Orchestra, directed and conducted by Cynthia Weichel, was met with excited cheers and applause as it presented an array of music highlighting works by Mexican composers. Sharing the stage with the SRJC Orchestra was Mariachi Cantares de Mi Tierra, an all-youth mariachi ensemble led by music specialist José Soto.
"It is a pleasure for me to be back at this college where I started my music education with my first violin teacher [Cynthia Weichel], and it's a dream for me to be getting support from my teachers and to be back and play with them," Soto said.
For Weichel, sharing the stage with one of her former students held special meaning. 
"It was a huge success. I wish they [Mariachi Cantares de Mi Tierra] would have played more," she said. "I adore José and I want to support him, his dreams and whatever he wants to do."
During his years as a violin student at SRJC, Soto shared his dreams with his then-violin teacher, Weichel. "He'd spend part of his lessons playing violin and part telling me about his dreams, what he wants to do in life," Weichel said. "I said, 'You have to go out and make your dreams come true, and I'll help you in whatever way I can.'"
One of Soto's dreams was to give back to his local community. Fortunately, back in 2015, with the help of his former teacher and now mentor Cynthia Weichel, he obtained a grant from the Luther Burbank Center for the Arts (LBC) and started a Mariachi Camp held at Lawrence Cook Middle School (now known as Cesar Chavez Language Academy). Two years later, Soto created a year-round Mariachi program at the LBC.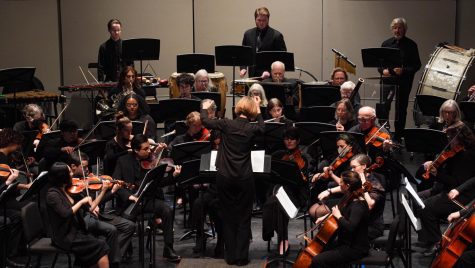 Covid stymied the original plan for collaboration between the SRCJ Orchestra and Mariachi Cantares de Mi Tierra. Needless to say, when events returned to SRJC in the wake of the pandemic, Weichel made an important phone call.
"The very first thing I did is I called José and I said, 'We are making this happen now,'" she said.
The SRJC Orchestra and Mariachi Cantares de Mi Tierra played a variety of notable Mexican folk songs, such as Juan Gabriel's famous ballad, "Amor Eterno (Eternal Love)," Rene Mejia's arrangement of the complicated love story "Cien Años (One Hundred Years)" and Mexico's "second national anthem," "El Son de la Negra."
For members of the orchestra, playing a different style of music was a joy.
"I've never had an experience where I collaborated with mariachi," SRJC student and clarinetist Connor Murray said. "It was a blast, it was great, it was a lot of fun. The orchestra doesn't usually get to play styles outside of classical, so it was a real treat to play with a mariachi group and more of a Latin style."
After closing the night with "El son de la Negra," the crowd demanded an encore. Mariachi Cantares de Mi Tierra happily gave the audience one last performance with "El Balajú," a Mexican folk song with ties to the state of Veracruz in Mexico.
"I'm open to doing this again," Weichel said. "He's poured his life into bringing this to the community. It's an honor and a privilege to support him and those kids."
For more information on SRJC concerts and recitals visit https://music.santarosa.edu/events.