15th Annual Sonoma County Student Film Festival back in Ellis auditorium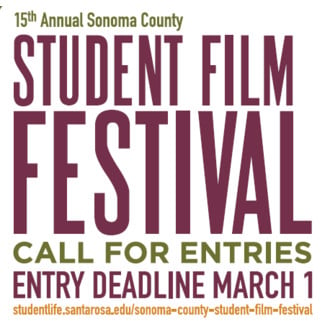 After a three-year hiatus due to the COVID-19 pandemic, the 15th annual Sonoma County Student Film Festival is back in person showcasing student short films March 31 in the Carole L. Ellis Auditorium on the SRJC Petaluma campus. 
Submission to the SCSFF is free and open to all students in Sonoma County who are currently or previously enrolled as full-time or part-time students during Spring 2023. Submissions close on March 1 and films must be submitted through https://filmfreeway.com/SCSFF to be considered.
"It's a great opportunity for students to share projects that they've worked on. Their creativity may or may not be something that their peers or community knows about them, so it's a nice opportunity to showcase themselves and to celebrate the skills that they have," said Candy Owens, SRJC Petaluma Campus coordinator of student engagement programs. 
For the first time since 2019, students will have the opportunity to present and watch their short films on a new 4k DCP projector, part of a spring 2020 renovation in Ellis auditorium. SRJC Digital filmmaking instructor Brian Antonson looks forward to having the SCSFF back in person. 
"Getting people together in a dark room with a 35-foot screen, great acoustics and playing your media, it's a real rush for the filmmakers to have that experience. Media, we're not making it for ourselves; we're making it to share with people," Antonson said. 
Unlike most film festivals, the SCSFF does not require a fee to submit a film, thanks to funding from SRJCs Student Government Assembly and from past ticket sales. 
Recently, the SRJC digital filmmaking program was awarded a grant through SRJC's Career Education department to fund student applications to film festivals. Students can apply for this program that will fund up to three submissions per student to any film festival in the country or world. 
The SCSFF runs from 6:30-9:30 p.m. and opens with a reception, followed by the student short film screenings and then a question and answer session with student filmmakers. 
At the end of the night, three films will be awarded "best in show" and will then move onto screen at the prestigious Film Fest Petaluma, an annual film festival that features shorts from filmmakers worldwide at the Mystic Theater in May. For more information or to purchase tickets to the 15th annual Sonoma County Student Film Festival on March 31, visit https://studentlife.santarosa.edu/sonoma-county-student-film-festival. For more information on Film Fest Petaluma in May, visit https://petalumafilmalliance.org/filmfest-petaluma/ .