All earth seems to smile: Reflections on Day 2 of Outside Lands
On the second day of San Francisco's premiere music festival, and for the second day in a row, the sun made a surprise headlining appearance.
I entered the festival around noon with Alex, Oak Leaf editor-in-chief, and we rushed to the second furthest stage while shedding the longer layers we thought we would need that early. The grounds were calm, as the storm of 75,000 estimated attendees was still yet to arrive in full.
As we walked, I listened to The Linda Lindas open the main stage for the day, and I was impressed. The band comprises four girls aged 11, 13, 14 and 17, but they sound far beyond their years. Their spry brand of punk rock, rainbow-colored outfits and drawn on whiskers made their show as sweet as it was badass.
Salem Ilese, 22-year old singer and TikTok star, opened the Panhandle stage. Her unique sound blends Gen Z pop sensibilities with hard rock and other heavy influences, like the bubblegum to Billie Eilish's licorice.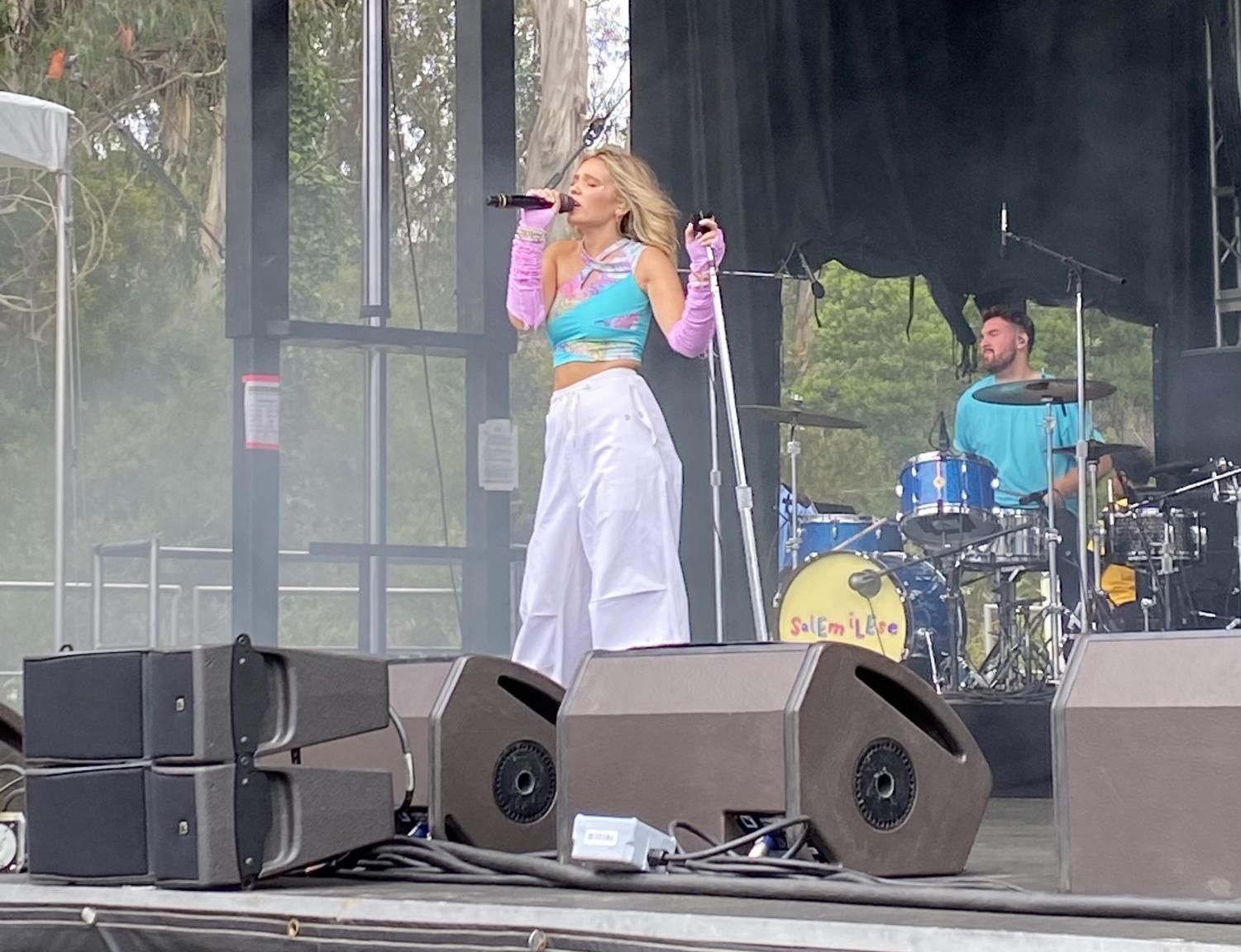 That's not to say her music is cookie-cutter; Salem's lyrics are a definitively youthful take on pop culture, dating, the internet and even something most artists don't dare talk about — politics.
Halfway through her set, she did a remix of her most popular song "Mad At Disney" with its ire aimed instead at the U.S. Supreme Court for their decision to repeal Roe v. Wade. She followed it up with "Moment of Silence," a song decrying reproductive rights bans, gun violence, and this country's refusal to address either.
Salem's bubbly energy was reflected back at her by the crowd, who were overjoyed to learn that the singer's mother and father were in the audience cheering their daughter on. Her mother also brought homemade bracelets. Alex and I were lucky enough to be given bracelets by Salem herself after our interview, which will be featured in The Oak Leaf's upcoming festival recap.
We watched emo rocker KennyHoopla's set from the media room, and it was a fun look at an up-and-coming alternative rock darling, but then we needed more food. For lunch, I ate a hot dog from Quik Dog that opened my eyes to a whole new world of hot dog cooking; instead of being cooked whole, it was cut in half and laid on the extra wide bun, allowing it to be cooked faster and lay flatter on the bread. It tasted incredible, to boot.
Local Natives played next, and their indie rock songwriting was similar in structure and content to more than a few other groups. The band's members certainly seem talented, but nothing in their set convinced me I should go out of my way to hear more of their music.
Mac DeMarco's Land's End set featured tracks from all over his decade-long discography, including four songs I would count among my favorites: "Salad Days," "Ode to Viceroy," "Chamber of Reflection" and his masterpiece, "Passing Out Pieces." As we watched his set, I ate a slice of cheesecake from Oui Oui! Macaron and a bacon grilled cheese from BaconLand — both delicious.
Rapper Jack Harlow took the main stage next, and while we didn't stay long, it's easy to see that Jack has three things most musicians would die for: charisma, a bloc of adoring fans and the eyes of the mainstream. His set, like Lil Uzi Vert's on Friday, was a huge draw for the younger people on the grounds, and thousands of them.
To get away from the crowd, we made our way to the Panhandle stage for the end of a performance by Thuy, a Vietnamese-American pop star from the Bay Area whose crooning strongly evokes the music of Ariana Grande. Her crowd was a devoted one that sang many of her songs back to her.
The best part of the day was seeing Japanese-British hyper-pop dynamo Rina Sawayama at the Twin Peaks stage. Earlier this week, I listened to songs from every band playing the festival this year, and her music was new to me. "XS" stuck out to me as one of the best tracks of my research, so I decided to hold off on listening to her other music so it could wow me in person.
And wow me it did. She made her way onto the stage in a designer dress and sunglasses looking like the coolest person alive, and she kept up that impression for the entire show. Her vocals inspired awe and her choreography was stunning, but the instrumentals had enough power to hold attention on their own; with production from legendary hyper-pop producer Clarence Clarity on songs like "Dynasty," "STFU!" and "Akasaka Sad."
Her popular song "XS" didn't come at the end of her set, but it was the best part of the show. Sawayama's 2000s pop-inspired rocker is an intoxicating cut already, but it explodes as a live song and was one of the best single song performances I've ever seen. While Sawayama's whole set was jaw-dropping, "XS" made me most feel like this would be the closest I'd ever get to seeing Britney Spears or Madonna in their prime.
Next, we made our way to Cocktail Magic's SilverGirls95 pop-up, a Golden Girls-themed bar equally inspired by vaporwave culture and '90s nostalgia. Alex got a St. Olaf Fizz, and I got Blanche's Sweet Tea, because Blanche is the best Golden Girl. While they weren't particularly strong, they tasted great. With drinks in hand, we sauntered to the mouth of Polo Field to watch Green Day through some trees.
After Rina Sawayama's show, Green Day had little-to-no chance of impressing me much. In fact, despite enjoying Green Day's show more than I expected to, I'd still say Sawayama would have been a more compelling headliner on all counts.
It would have been cool to see Green Day play "Welcome to Paradise" and "Brain Stew," but we left for a more important engagement to end our night: French DJs Polo & Pan at the Sutro stage.
The duo's energetic and spaced out music, combined with vivid colors and shapes broadcast on screens behind them, was exactly what the festival's trippiest attendees were looking for. Polo & Pan knew it, too; before their show, one of the two DJs — heaven knows which one — said that he hoped everyone had "a safe trip."
Before the show ended, we set our sights on the nearest exit. We snaked through a long, dark dirt road corridor only lit occasionally by overhead strobes and spotlights. Green Day's punk rock was on our left, Polo & Pan's futuristic beach music was on our right, and the end of a long and exciting second day at Outside Lands was straight ahead of us.