Award-winning director Fabio Frey shows SRJC filmmaking students how it's done
An award-winning director spent three days on-set filming, editing, cutting and coaching with Santa Rosa Junior College students to make "You Don't See Me," a short film that will premiere at the Petaluma Film Fest on April 30.
Fabio Frey's debut feature "My Dead Dad" was a Mill Valley Film Festival official selection last year and will soon be available on HBO Max, so students were eager to absorb his expertise.
"There was no hesitation. He just knew what he was doing," said cameraman Andrew Carniglia.
Frey said he hoped the students got a taste of being on a professional set.
"Obviously we made the short as good as we can, but my main motivation was to try to pass on the knowledge that I had to learn the hard way," Frey said.
Nicole Veum, 36, worked with Frey as the assistant director. She said this is her first time in such a role, and this experience may have helped her find her life's passion.
"I've had lots of jobs. I've been a massage therapist for almost 15 years and dog grooming for 10 years. But I've never been like 'Yes, this is exactly what I want to do with my life.' This gave me that," Veum said.
Carniglia, 18, has already directed a few short films of his own but knew this experience would help him decide if he wanted to move forward in the film industry.
"After being behind the camera for two days, I definitely want to do this," Carniglia said. "I like being the director more, but if I can't direct then I'll go behind the cameras."
Cameraman Max Gibson, 25, graduated from UC Davis and left his full-time marketing job to pursue his love of filmmaking at SRJC. He said he enjoyed operating a camera, and he thinks he might want to push forward as director of photography in the future to have more say on how a scene comes out.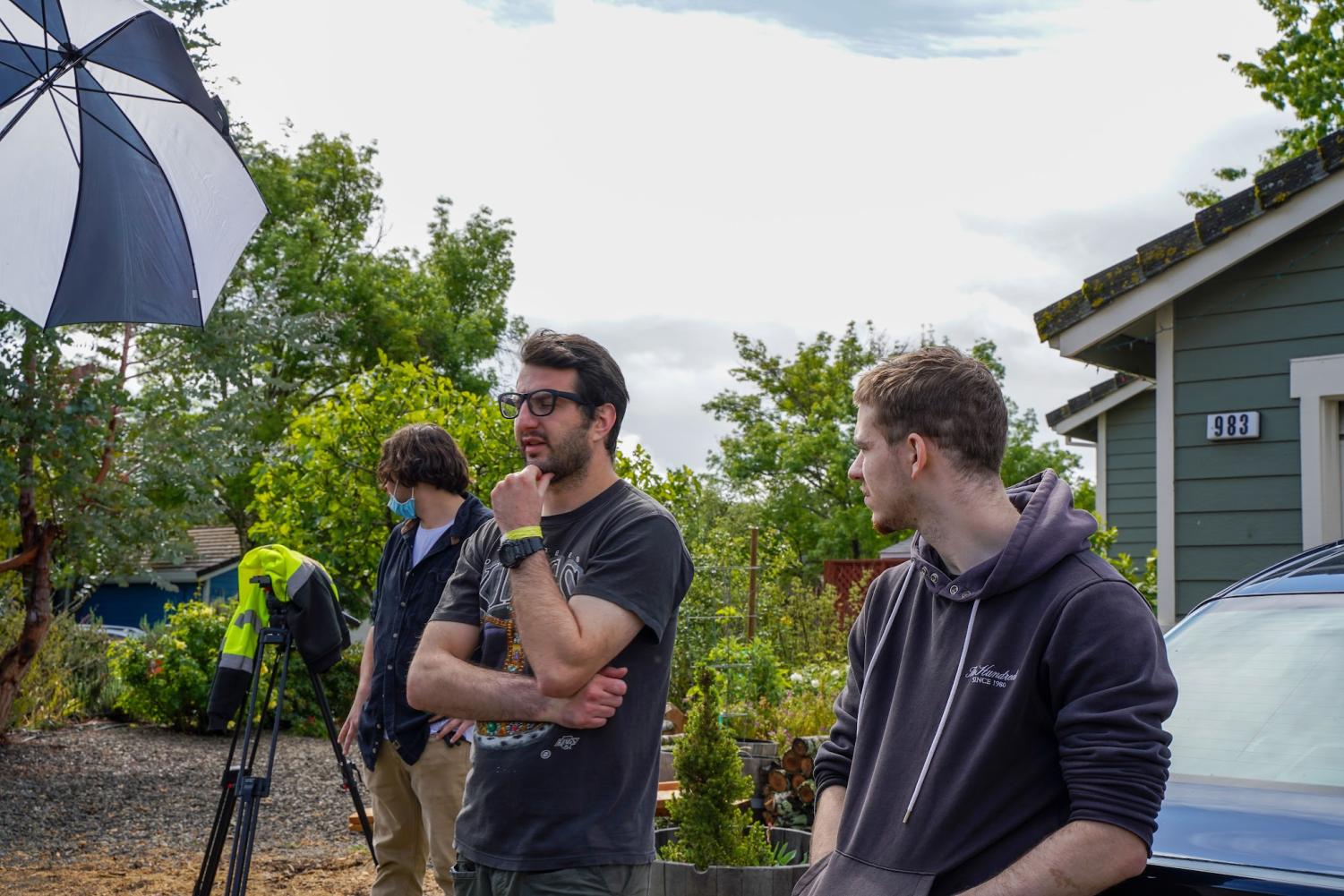 Film editor Finn Higgins, 21, said by working on a project of this scale, he got to explore editing as an art form like never before.
"You get materials like video and audio files like an artist gets paint," Higgins said. "I take these raw materials, which in itself tells a story, and polish them up to make them more appealing to the audience."
Sonoma County native, actor Matt Farren, 23, traveled from Los Angeles to be in the film. He moved to LA to major in screenwriting at Loyola Marymount University because he thought he had to be where films are made to learn about them. He realized this isn't the case after a few recent projects and his time working on the film.
"To make films all you have to do is have a team of people who believe in you and support what you want to do. That's the way to get into the business. It's not about proximity. It's about having a community who wants to do it with you," Farren said.
Farren was amazed at the work and dedication the students put into the project. He said that people tend to think the filmmaking process is action packed, but it takes hours of time to shoot five minutes of video.
Veum said she and the students jumped right in despite not knowing what would be expected of them.
"We weren't getting paid; we were all there for the experience and everyone showed up and gave it their all for three days. They showed their true colors," Veum said.
As assistant director, Veum was constantly checking what needed to be done on-set, learning the importance of specialized crew roles, and even reminding the director to drink enough water.
Gibson said he appreciated how well the crew meshed together.
"I got to do a lot of back and forth with the other camera operator, Andrew, about what was working for him or me and what our settings were," he said. "It was nice having someone there to bounce ideas off of."
Higgins said working with Frey was an enlightening preview of the professional film industry.
"He would tell actors to be happy in one take and sad in another. It really gave me the opportunity as an editor who creates the first rough-cut to tell a story that I wanted based on the reactions that I chose," Higgins said.
After he was done editing a scene, Higgins said he would send them to Frey who would then tell him if something needed to be shortened, lengthened or polished.
Veum said Frey didn't dumb anything down just because he was working with students.
"He had high expectations and treated us how I believe the film industry would have treated us. So we were able to have the experience without the potential consequence of getting fired if we don't do something right," Veum said.
Gibson said Frey provided a good mix of fast-paced decisions and then slowing things down to make sure everything was exactly how he wanted it to go.
"He was intense in the right way," Gibson said. "He understood it was a student film and gave us a lot of leeway, but also advice on how the industry goes and what's expected of you on a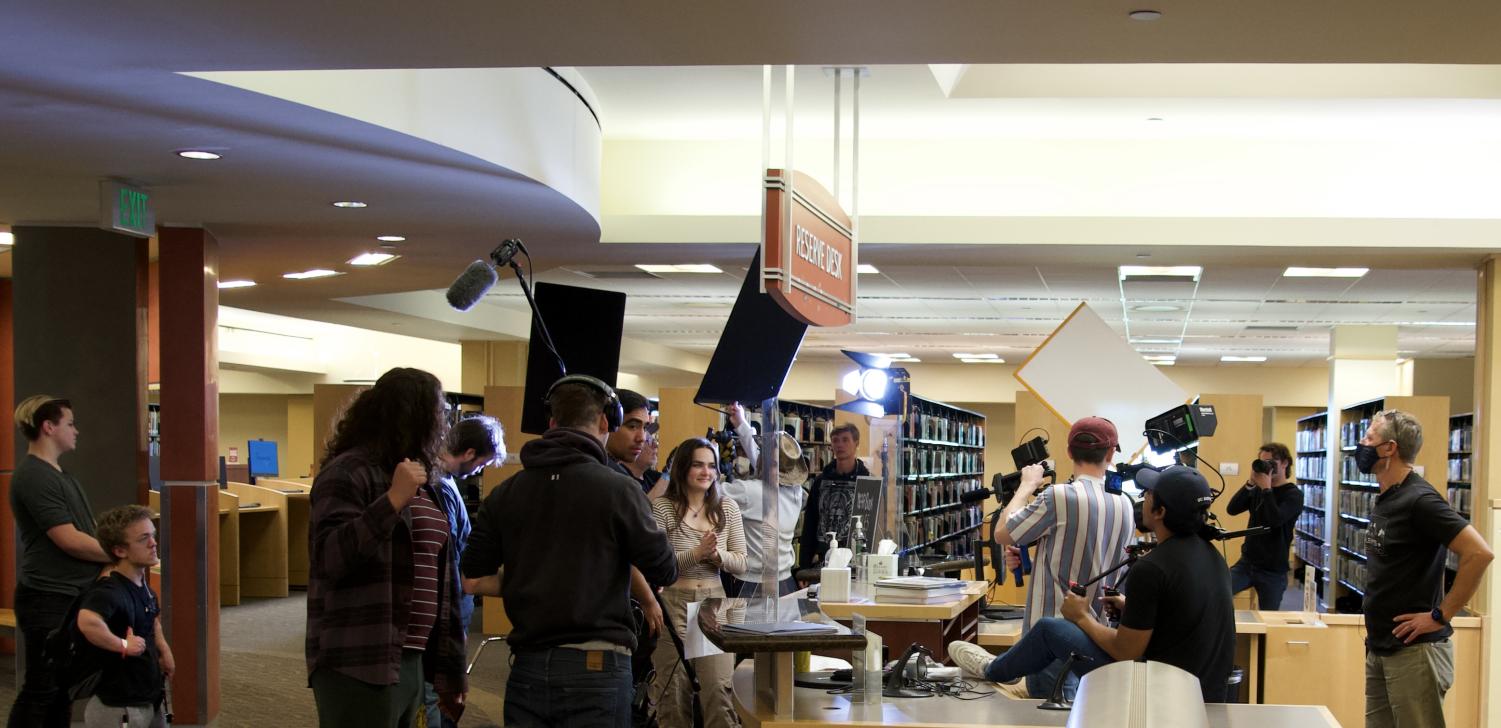 professional set."
Working with an SRJC class full of students with a variety of backgrounds reminded Farren that everyone has different things to learn about filmmaking, something he felt Frey was also mindful of.
"There were moments on the set where [Frey] used a specific shot for teaching. Because it's not always second nature. Sometimes you have to be creative to make a scene look natural," Farren said.
SRJC film production instructor Brian Antonson said working with Frey made the set feel like a real film rather than a classroom.
"He treated the whole production seriously and treated the cast and crew like they were professionals who were there to make a film," Antonson said.
Initially, he was nervous the students wouldn't react well to a professional criticizing them.
"My students are still learning. Many of them have only taken two or three filmmaking classes. So we just kind of threw them into it, and hoped they could rise to the challenge," Antonson said. "And they did. They were fully invested."
Frey said he got involved in the project after he met Mike Traina, communication studies department chair who is in charge of Film Fest Petaluma, at the Mill Valley Film Festival last fall. Traina later asked Frey if he would be willing to direct the short film with SRJC students.
This is Frey's first visit to the North Bay, and he converted his minivan into a camper for the trip.
"The JC was working with a limited budget. I don't like flying, so I said, 'If you cover my gas, I'll come out here," Frey said. "I drove from Mississippi, which turned into a photography trip."
The film will screen at 7 p.m on April 30 at the Mystic Theater. Visit the festival's website for more information.