JANE Dispensary staff aims to "shed the stigma around cannabis"
Looking for a dispensary that's close to Santa Rosa Junior College, features boutique items and offers special student pricing? JANE Dispensary opened last semester on 2074 Armory Dr. and offers a 10% discount to students. 
As you walk in, a security guard greets you and asks to scan your ID. The shop's interior is beautiful and cozy, surrounded by glass display cases with various local and big brand cannabis products. JANE has everything you would expect at a dispensary and a few fun fresh additions not as common in other dispensaries, like medicated pop rocks, coffee grounds, chips and other snacks.
The medicated pop rocks in the flavor "Stoned Fruit" taste as good as you think. The feeling of popping crystals brought back memories, and the peach and passionfruit flavors added a new twist to the iconic popping candy. I almost forgot it wasn't just candy.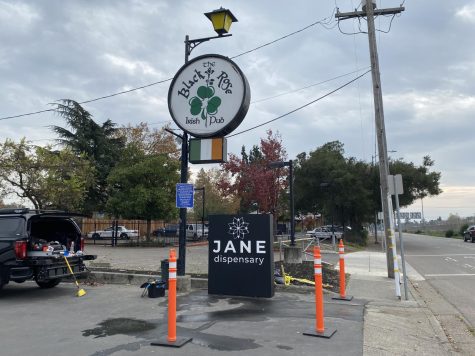 I decided to try GDP from State Flower, which is popular among the staff. I fully agree with their praises. The pre-rolls that came with the deal, also State Flower, were average, but I don't have high expectations for free pre-rolls anyway.
The budtenders at JANE are knowledgeable and highly trained, according to Director of Operations Leigh Anne Baker. Employees take time one-on-one with each customer, answering any questions they may have and pointing them in the right direction for their specific needs. 
"We pride ourselves on education," she said. 
Baker said JANE aims to "create a safe and beautiful space" surrounding cannabis use. "We are trying to shed the stigma around cannabis," she said.
The dispensary is still new, but JANE aims to have at least two brand collaborations in-store per week, with a focus on local brands.
If you are over the age of 21, you do not need a medical recommendation to shop. However, if you get your medical card through JANE, they'll pay you back with in-store credit equaling the price of the recommendation. That, along with their 20% discount for first-time patients and permanent 10% student discount, makes JANE a worthy competitor among the many boutique dispensaries in Sonoma County.
JANE Dispensary is open everyday from 10 a.m. to 7 p.m. You can shop in-store or order online on their website at this link for pick-up.