SRJC instructor and film producer hopes to inspire with his latest film "Rickshaw Girl"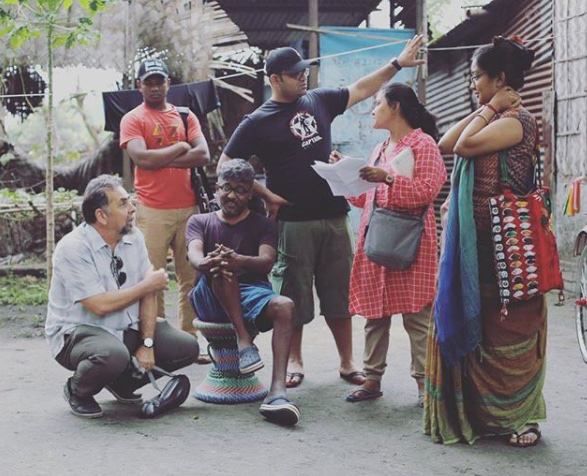 If you told film producer and Santa Rosa Junior College screenwriting instructor Eric J. Adams that the film he was starting six years ago would involve spending two weeks on airplanes traveling to and from Bangladesh and wouldn't debut until 2021 after a global pandemic, he would've smiled, chuckled softly and shaken his head. After more than a decade working in the film industry, he's learned to prepare for the unexpected. 
A producer plays one of the largest roles in a film's creation, starting from finding the source material to the moment it is available for a worldwide audience. Adams played that outsize role for his film, "Rickshaw Girl," which debuted at the Mill Valley Film Festival Oct. 9. The film's creation and screen adaptation is credited to Adams' discovery of the novel by the same name.
"It certainly wouldn't have happened had I not found the project and created the package that got us funds, that got us the director, that got us the actors and everything," Adams said. "That's what a producer does. I mean, all I did was my job as a producer." 
After growing up in New York and later moving to the West Coast, Adams started his first job out of college as a radio news director and then later worked in magazines and newspapers as a freelance writer.
Adams wrote a true crime novel, "Loss of Innocence," published in 1991, that started him on a path of creating media reflective of contemporary social issues. 
"I've always had the ideal, which I hope I've manifested, that I want every single film that I do to be meaningful in some way," Adams said.
After writing a screenplay for "Loss of Innocence" but ultimately failing to turn it into a film, Adams co-wrote another screenplay, "Archie's Final Project," or as it was originally called, "My Suicide." The fictional comedy-drama about a teenage boy's bold cinematography project debuted in 2009 and won 21 major international film festival awards.
His second feature film, the 2014 drama-thriller "Supremacy," captured the true story of a neo-Nazi who took hostage a black man and his family, and featured Danny Glover and Mahershala Ali.
"It'd be really easy just to do a horror movie or an action movie," Adams said. "But those kinds of films at the end of the day wouldn't satisfy me."
Adams' love for screenwriting grew from his writing talents, and he felt a calling toward film in particular. He saw the value in storytelling and the ever-present need for it in the world. 
"We tell stories because everyone wants to know how they can be better human beings, and stories are the medicine for that," Adams said.
After years of bringing stories to life through film, one of the most exciting and rewarding parts of Adam's career still is being able to watch them in a theater with an audience and feel the excitement. "It's really a powerful and humbling experience," he said.
His third and latest feature film, "Rickshaw Girl," centers around the story of a girl who lives in a remote village in Bangladesh and dreams of moving to the big city of Dhaka and becoming an artist. By dressing as a boy, Naima takes a job driving a rickshaw to earn money for her family and her painting dreams.
"We shot it all in Bangladesh. I was the only American in the whole production, and I spent a lot of time there," Adams said. "The people are wonderful." 
As the film's producer, Adams oversaw the script adaptation, hired the cast and crew and raised money for its production. He also finished the film in editing and post-production and was responsible for the movie's distribution.
"There's a saying, 'If you want to be a writer, you need a pen. And if you want to be a painter, you need a brush,'" he said. "'And if you want to be a filmmaker, you need an army.'"
COVID-19 had a big impact on the film and its debut. "Rickshaw Girl" was supposed to be released in 2020, but the delay ultimately ended up helping Adams and his team. 
"We were ready to release it, but we were never really happy with the end," he said. "So we all came together and said, 'Let's just work on the ending,' and that really helped us have a much better film."
"Rickshaw Girl" landed on the selection for multiple international film festivals and has won five awards, including the Audience Favorite award in the family film category of the Mill Valley Film Festival.
Adams said he owes his ability to balance his work and personal life to his surroundings and his family. He said Sonoma County has allowed for a calmer lifestyle compared to the fast-paced and stressful film community in Southern California. 
Adams and his wife also enjoy seeing the world. "The only extravagance we have in life is travel," he said with a smile.
Both of Adams' adult sons followed his lead and are artists. One is a writer and director who debuted his feature film "Up the 5" in 2020, and the other is a musician in a nationally-touring band called Royal Jelly Jive.
As for future projects, Adams has more feature films in the works, but he wishes to keep them under wraps for a while longer and continue to teach at SRJC.
Being a screenwriting instructor has not only allowed Adams to teach his metier to students, but also to sharpen his own skills. Four years ago, he went back to school and earned a master's degree in film studies at Sonoma State. He began teaching at SRJC in 2020. Adams finds value in being around young creative people at the JC and working with students who have similar mindsets and aspirations as he does.
"My advice to young filmmakers and writers, and to all students, is to remember you're not embarking on a journey to finish something; you're embarking on a journey to learn a craft," he said. "You have to remember that it's about the voyage, not the final destination."