Five staycation ideas that will mentally transport you to another country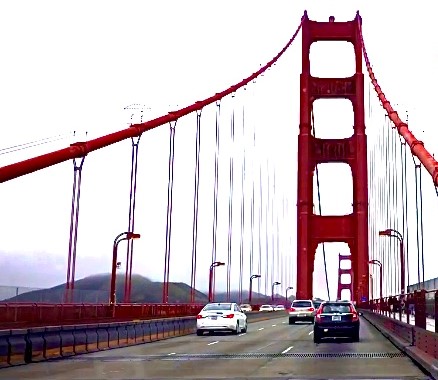 If you do not feel safe traveling due to COVID-19, you can still have a luxurious summer to remember in the Bay Area. These five staycation spots will make you forget you're only an hour away from home.
Amsterdam-like museums in San Francisco
You don't have to go all the way to Amsterdam to get your dose of fine art this summer.
Van Gogh Exhibition
You can analyze the likes of Van Gogh at the new immersive Van Gogh Exhibition in San Francisco rather than going all the way to Amsterdam's Van Gogh Museum.
This exhibition features projections of several Van Gogh pieces that cover all 360 degrees of its walls. It feels like you're living in his paintings, covered in flowers and thick layers of paint. With the immersive layout, this exhibition will naturally cut you off from the outside world and open your mind to something new and inspiring like a foreign environment where all the stimuli is new.
SFMOMA
Instead of traveling all the way to Amsterdam's Moco Museum, you can ponder the likes of capitalism through the lens of Andy Warhol at the SFMOMA.
Watching society via TV and Zoom for a year straight has been draining. But now you can leave your humble abode and instead look at commentary about society via art. You will get so lost in the vast array of art at the SFMOMA you'll forget you're even in California anymore. It's time to leave your house and gain a deeper view of the world with the help of Frida Kahlo and Cindy Sherman, who will make you question everything.
A quaint European town just one hour away
Do you want to live out your rom-com fantasies of going to a little town in Europe and coincidentally finding the love of your life who shows you all the little cute shops and restaurants in their hometown and ends up walking with you by the water? We can't promise that you'll find the love of your life, but we can promise you a sweet little town.
Sausalito
Seaside air, little shops full of knickknacks and an abundance of seafood. Might as well call it Nice, France.
Sausalito offers safe walking streets for tourists to browse shops that sell everything from clothes to souvenirs to year-round Christmas decorations. You can stop by the Trident restaurant for lunch or dinner with an unbeatable view of San Francisco, or get some fresh salt water taffy at Munchies of Sausalito and enjoy the chewy treat on a rock overlooking the Bay.
San Francisco's Chinatown
In every travel show about China, street food is the hot topic. You can get the same fill of szechuan and stir-frys without a side of jet lag in San Francisco.
Soup dumplings are a must when in Chinatown because you really won't find anything like them at your local grocery store. They look like a typical dumpling from the outside but when you bite into them, the umami flavor from the broth seeps into your mouth creating a flavor explosion.
Steamed buns are just beautiful when it comes to texture and flavor. Soft on the outside with a dense meat mixture on the outside. Another traditional street food that you can eat while walking to your next food destination.
Anything on a stick counts as streetfood to me. Try the candied fruit on a stick, which is fruit dunked in a liquid sugar mixture that hardens as it dries. It adds an extra kick of sweetness to the fruit that's sure to finish off your meal with a bang.
A tropical vacation just off your nearest coast
If you were hoping for a Hawaiian all-inclusive getaway this summer but instead got a stay with your parents and an all-inclusive pass to their refrigerator, this one's for you.
Water sports
Rent paddle boards or kayaks at Sausalito's Seatrek and paddle them around the bay on the tranquil water. This will give you time to reflect on the past year with some fresh air feeding your soul. Make sure to go across the street to Lappert's Ice Cream, a Hawaiian ice cream and coffee shop, after your boating session. I recommend the macadamia nut ice cream because you'll never find anything as decadent.
You could also learn how to sail in San Francisco at Spinnaker Sailing. Not only will you have a ton of fun, but you'll also learn a new skill.
An extravagant day of fabulous wines
Ok, so you might have already gone wine tasting before, but have you ever really been wine tasting? As in, have you rented a limo with your best — or most vaccinated — friends and gone to a few of your favorite wineries in Wine Country? Probably not.
Luxurious wine tour
At this point in the pandemic, we have learned that life is short and precious, so why not spend one day of it drinking with your vaccinated besties? But make sure to drink responsibly. This means you obviously have to rent a limo or a car and driver. Then look up all your favorite wineries in Wine Country and make reservations. This step is important because most wineries require reservations due to COVID-19. You could also hire someone to plan your day out for you if you don't know exactly where to go. A few affordable yet stunning options include Castello di Amorosa which is $45 per person, V. Sattui also at $45 per person, and Napa Valley Distillery offers quality spirits at $30 per person, a great opportunity for any non-wine drinkers. You can also stop by Cadet to get three two-ounce pours of wine for just $20.
Now get dressed up in that dress or party shirt you were saving for a picturesque vineyard in Italy because let's face it, you're probably not going there this summer. The final step is vital. Have tons of drunk banter in the back of the limo with friends as you leave Castello di Amorosa and head to Spottswood. By the end of the day you won't know whether you're in California, France or Italy.