Top 5 trends at the 93rd annual Academy Awards
Although the stars have been cooped up inside for the past year they did not forget how to serve fashion looks that will go down in history. They either had to dress to the nines or not dress up at all so you best believe these stars took the phrase "go big or go home" to the next level by setting the trends of the season. These were the top 5 trends at the Oscars.
Cutouts
The nominees were not afraid to show some skin in the spotlight. Cut-outs were all the rage at Sunday's red carpet event. 
Zendaya went for a yellow pleated Valentino gown with a midriff cutout in the shape of a half diamond. To go with the springtime look, her hair was in crimped waves. She accompanied it with silver necklaces and rings from Bulgari and Jimmy Choo heels. She also wore a yellow mask as safety was the number one priority at the big event.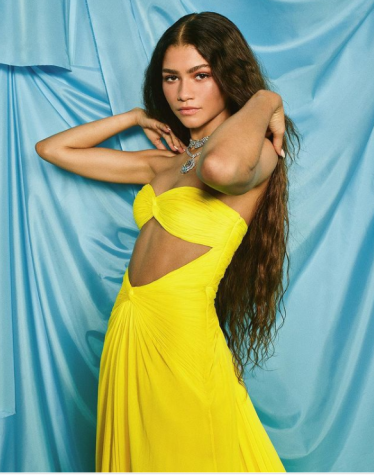 Vanessa Kirby showed the slightest bit of midriff with her half circle midriff cutout in her blush pink Gucci gown with an attached train. The little details brought her look to life. Her red lipstick turned heads while her necklace so elegantly cascaded down her upper back. Although Frances Mcdormant took home the award for Best Leading Actress, Kirby led the ranks in terms of elegance.
Alexander McQueen strikes again and the fashion house could not have chosen a better victim. Viola Davis exquisitely wore an intricate laser cut plunging neckline dress — the delicate work Alexander Mcqueen is so well-known for. The masterpiece of a dress was paired with ivory sandals adorned with glass bugle beads. Davis is the now the most Oscar nominated Black actress due to her nomination this year for "Ma Rainey's Black Bottom" and this mesmerizing dress was the perfect fit for such a powerful woman. 
Gold
Apparently stars thought they could manifest an Oscar win by dressing like the award.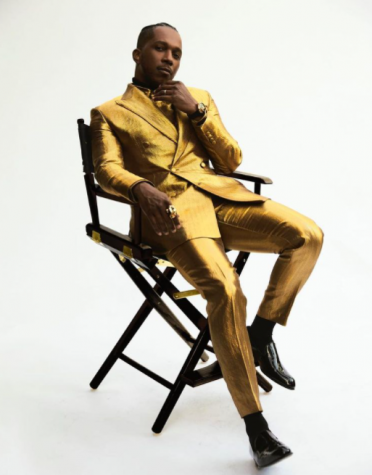 Is that an Oscar? No, that's just Leslie Odom Jr. dressed in an all gold Brioni tux. The 24-karat gold thread used for the custom suit is unique to Brioni. Although Odom and his wife just had a baby 4 weeks ago, they both stunned on the red carpet. 
Paulina Porizkova brought back old Hollywood glamour with this gold figure hugging Dolce & Gabbana gown which she has had for 15 years. What could be more vintage than that? Although her boyfriend, Aaron Sorkin, didn't take home an Oscar for any of the 6 categories his film "Trial of the Chicago 7" was nominated for, he took home the best prize of all, Parizkova in an Oscar themed dress. 
We can't forget to talk about shoes in this fashion roundup. Although questlove showed up in a simple black suit, he added some funk to his outfit by throwing on some gold crocs. Yes, you read that right. Crocs. This unique shoe choice stood out on the red carpet and blinded with high fashion realness. Am I considering crocs as high fashion now just because Questlove did it? Yes.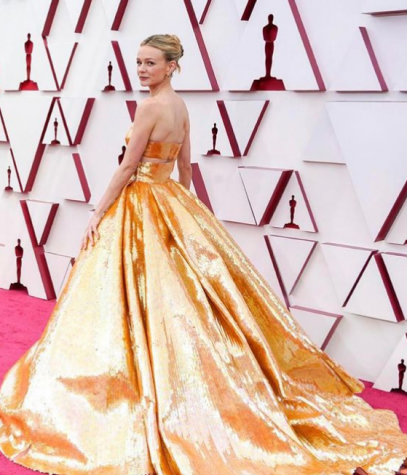 Carrey Mulligan opted for a two piece Valentino set. Her larger than life gold skirt paired with her minimalist strapless top, also gold, was perfect for the grand atmosphere of the Oscars. Although she did not win Best Actress in a Leading Role, her Oscar-like gown was award worthy in itself.
Andra Day sported a 100% metal Vera Wang dress which Wang worked on with a welder. It had an off-center  triangle cut out showing off her left abdomen. This gold number so effortlessly draped across Andra and was a show-stopper especially paired with her elegant updo. 
Her stylist, Wouri Vice said, "It's going to be a conversation piece." It clearly was. 
Andra Day almost turned down the part of Billie Holiday in "The United States vs. Billie Holiday," which got her a nomination for Best Actress, because she felt that she could not live up to the iconic singer. Thankfully, she had a change of heart and the world got to see her in this one of a kind dress.
Red
Why would you just walk the red carpet when you can match it?
Amanda Seyfried wore a red Armani modern princess dress that cinched in at the top and poofed out at the end. No one could miss her with the large amount of tulle used to create the mermaid shape that was meant to mirror an upside-down hibiscus flower. She added an old Hollywood element by pairing the dress with an "S" wave hairstyle, reminiscent of the ones her character sported in Mank.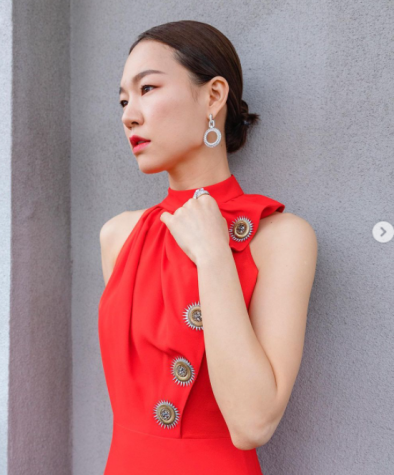 Amanda brought the skirt but Angela brought the sleeves — over the top fabulous sleeves. Just think of a red Cinderella dress but the sleeves are 10 times as big. She made this Alberta Ferretti gown pop even more with a solid blue eye shadow that elegantly complimented the dress rather than sending us back to the 80's. 
Han Ye-ri stunned in a red straight-cut high-neck gown embellished with little gold suns on the bodice. She paired this elegant Louis Vuiton dress with a slicked back updo and dainty gold circular earrings. The newcomer lived up to the critical fashion expectations of the event and appeared on several best dressed lists. 
Plunging Neck 
Lower necklines were a common addition to gowns, as they added definition to a look.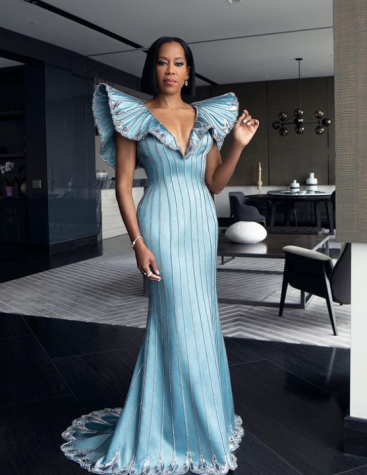 It's hard to say whose sleeves were bigger, King's or Bassett's, but both are Hollywood royalty. Regina King wore a figure hugging frozen-blue satin Louis Vuitton dress with a plunging neckline and rhinestones galore. She was like a little angel floating onto that oscar stage and I thought she might literally fly away with those wing-style sleeves.
Tiara Thomas also went for an angelic look in an all white Jovana Louis pant suit detailed with white feathers. Her plunging neckline featured a long diamond necklace with a flower in the middle. Just like her voice, her presence was breathtaking. 
Emerald Fennell was radiant in her green and pink floral dress. Fennell described herself as, "Susan, your pottery teacher who has a business opportunity for you which is absolutely not a pyramid scheme." She might be a bit too fancy for clay splatters but leave it to Fennel to spit immaculate words just as she did for her oscar nominated screenplay, "Promising Young Woman."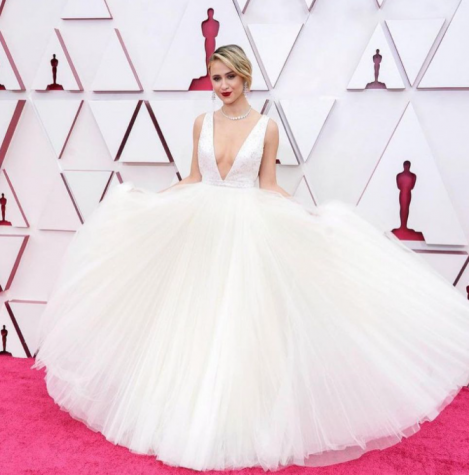 Maria Bakalova followed the same modern princess vibes Seyfried did. She stunned in her 100 meter tulle dress accompanied by an extremely plunging neckline and sparkly bodice. Her stylist, Jessica Paster explained that Bakalova is very superstitious and did not want to choose a dress before nominations came out. But when she found out she was nominated Bakalova wanted to go for a romantic theme for her dress to contrast the intense character she played in "Borat Subsequent Moviefilm," in which she was nominated for best supporting actress. 
"We wanted a princess moment, we wanted a romantic story and that's what we got," Paster said. 
Accented Collars
Don't worry, we are getting to the tuxes. These celebs made an effort to pop the collar — through the use of color and texture. 
Matching black Dolce & Gabbana tuxedos with a yellow collar was the outfit of choice for these "Two Distant Stranger" stars. However, this is just the surface of their fashion choice. On the inside lining of the tux, the names of police brutality victims were written in yellow. A pop of color has never been more meaningful.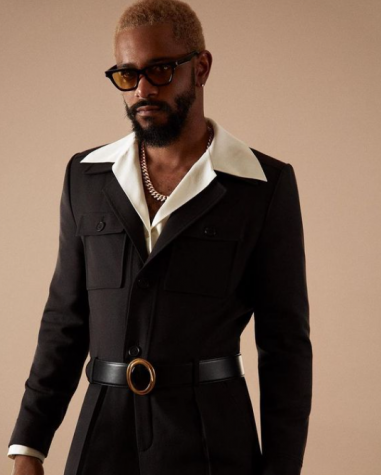 This groovy 70's esque black Yves Saint Laurent jumpsuit seemed to be even more retro due to its popped-out white collar. Plus, it was another plunging v-neck look. He did not win best supporting actor for his role in "Judas and the Black Messiah," but his fashion sense dominated the red carpet. 
Texture is the new color? In this case, yes. The contrast between Lil Rel Howery's black matte collar on top of his velvet brown suit was like butter for the eyes. The velvet bits of the Zenga tuxedo glistened in the light and were contoured by the black accents in the collar, shirt and tie.