Sonoma County Student Film Festival: A virtual showcase of student talent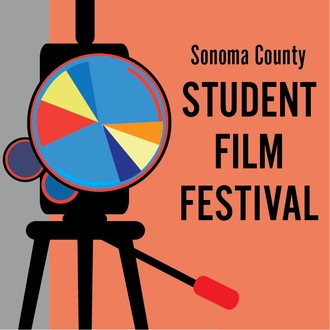 COVID-19 halted film production around the globe; however, local filmmakers found innovative ways to continue telling stories while social distancing. 
Nowhere was this more apparent than in this year's 13th annual Sonoma County Student Film Festival, held virtually by Santa Rosa Junior College on April 9.
The festival, hosted by communications studies film production instructor Brian Antonson included a screening of selected student films and a follow up Q&A session with their respective directors.
The festival gathered student filmmakers from all around Sonoma County and displayed how these filmmakers were able to put together movies ranging from various topics such as loss, isolation, mental health, social critique as well as discussions on navigating filmmaking through COVID-19. 
"As we know, Covid has been a very isolating experience for many people," Antonson said. "For filmmaking it's difficult because it is inherently a team sport. It requires a crew to make a film. But one of the lessons Covid has taught us is that we can tell stories with very little — an engaging story shot on a cell phone can totally work." 
Indeed, this year's films made the most out of the minimalist approach the pandemic necessitated. Films like James Domizio's "Out For Delivery" and Crysta Andrews' "Boogie Bar"  exemplify this. 
Domizio's film "Out For Delivery" follows the story of a delivery driver who needs to make enough money to pay for his virus test. The noir-style film also treads on the themes of isolation, social critique and American paranoia. "American capitalism has always been an unsustainable, alienating and dangerous way of life," Domizio said.
"Delivery drivers are one of the groups most affected by the dangers of the virus, and film noir is about the constant state of paranoia of American suburban life, so it was a perfect match." 
Domizio and his girlfriend Alex Fuller shot the film, and they are the only two cast members. "I wanted to expand the story into a longer film, but coronavirus made it too difficult to shoot in interesting public spaces, so we only shot it as an eight-minute short," Domizio said. 
Andrews' stop-motion also made the most of quarantine in her short "Boogie Bar." Shot only by Andrews, the film follows the story of a bar host who is also a ghost. "The inspiration for 'Boogie Bar' came from a combination of my love for horror/ghost films, and a short film I'd seen recently, which took place in a bar. The ghosts character's basic shape and movement was inspired by the Star Wars character R2-D2," Andrews said.
On filming through the pandemic, Andrews said, "Creating a stop-motion film in the context of COVID-19 was definitely an advantage in my case, since this was an ideal environment to be socially distant. I didn't have to come in contact with anyone.  I've been a huge fan of stop-motion animation all my life and have always wanted to make my own one day. "
Four of the student films were chosen to move onto Film Fest Petaluma, Sonoma County's international film festival, set to begin on April 23 to May 2. The SRJC winners are Domizio's "Out For Delivery," Max Belove's "Summertime," and Andrew's "Boogie Bar." Also selected is "Space Things" by Santa Rosa High student Matty Denison. 
To watch the full catalog of the films screened for the student film festival click here.
In the interest of transparency, Domizio and Fuller are the current editors-in-chief of The Oak Leaf.