For your consideration: An Oscars-themed dinner
And the Oscar for best food design goes to — well, there isn't one —  but let's make them wish there was. The Oscars are just around the corner with the star studded event set to commence April 25. Although COVID-19 restrictions are in place, you can still do the Super Bowl of Hollywood justice per your food choices. Here are some options for your dinner menu to pick and choose from inspired by Oscar nominees. Bring on the smorgasbord for one. 
Cocktail Hour
Just because you're at home this year doesn't mean you have to skip cocktail hour. These are just a couple of options to choose from depending on what your taste buds are up for. 
(Da 5) Blood Orange Kahlua Cocktail:
This flavor explosion of a drink is inspired by "Da 5 Bloods" which is nominated for Best Original Score by composer Terence Blanchard. The Kaluo Rum portion of the drink is inspired by Daniel Kaluuya's nomination for Best Actor in a Supporting Role.
Combine 1 sugar cube, 1 ounce of Kahlua rum and 4 ounces of blood orange juice in a shaker  and shake until the sugar is fully dissolved. Pour into a glass with ice and dilute with sparkling water to taste.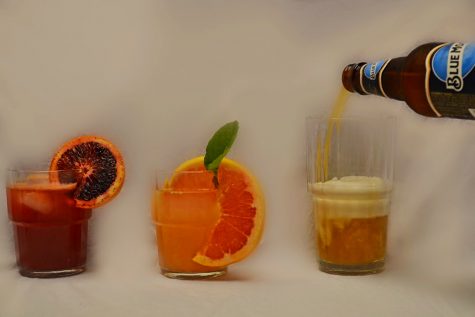 Greyhound:
More of a gin person? Opt for a classic greyhound to refresh your palette in this hot spring weather. "Greyhound" composers Warren Shaw, Michael Minkler, Beau Borders and David Wyman have been nominated for Best Sound.
Fill a rocks glass with ice, add 1 ½ ounces of gin and top with grapefruit juice. Garnish with a slice of grapefruit if you're feeling fancy.
Beer:  
If you're not a cocktail drinker, opt for a beer to celebrate the Danish film "Another Round," featuring Mads Mikkelsen drinking lots of good Danish beer. "Another Round" is nominated for Best International Feature Film and Best Directing due to Thomas Vinterberg. 
If you want to celebrate an abundance of films all in one drink then go for a Blue Moon Belgian White Beer in honor of Best Live Action Short Film nominee "White Eye" and Best Adapted Screenplay Writing nominee "The White Tiger." Plus, Best International Film nominee, "The Man Who Sold His Skin," is based on Wim Delvoye, a Belgian artist, played by Koen De Bouw, a Belgian actor.
Cocktail Hour Snacks
Pair one, or all, of these cocktails with a salty snack. 
Olives: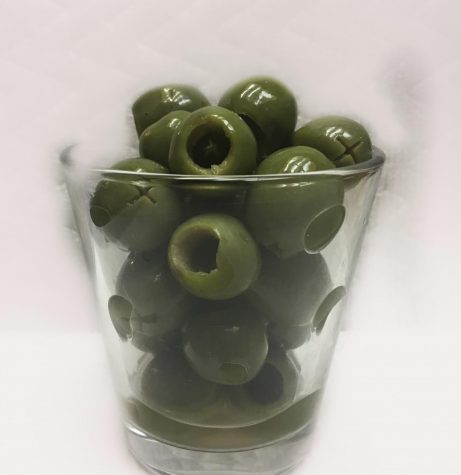 Make sure to pick up some cocktail olives for Oliver Tarney, one of the four sound artists nominated for Best Sound due to their work on "News of the World." A light snack to ensure you are ready for the feast to come. 
Fish Platter:
If you are looking for something a bit more complex and gourmet then put together a little fish platter for yourself to celebrate Greg Fisher, nominated for Best Visual Effects for his work on "The One and Only Ivan," and Scott Fisher who is also nominated for Best Visual Effects for his work on "Tenet."
Just grab a board and place some lox, mackerel, herring, cream cheese, onions and an assortment of your favorite bread and crackers. You can pick at this board throughout your cocktail hour. 
Appetizers
For the first part of your sit down Oscar-worthy dinner, here are a couple diverse options depending on your flavor palette and taste in film.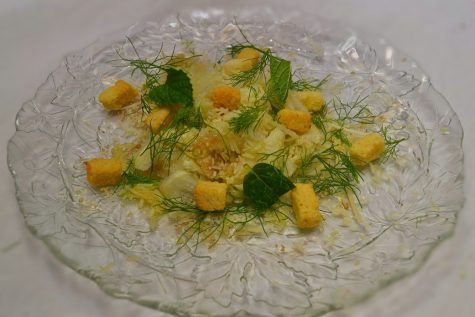 Fennel Salad:
Although the Oscars were pushed back to the spring season this year we can still bring a winter dish to the celebration, especially to commemorate Emerald Fennell's nomination for Best Director for "Promising Young Woman." 
Shave some fennel, add croutons, parmesan, mint and a squeeze of lemon to enjoy a low-effort refreshing appetizer.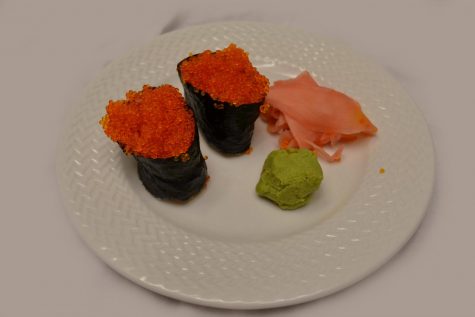 Roe:
If you don't have time to thinly shave fennel, hit up your local sushi place to order a roll topped with roe, inspired by the director of Best Live Action Short Film nominee "Two Distant Strangers," Martin Desmond Roe. 
One or two pieces of tobiko nigiri or a roll finished off with these little salty fish eggs will act as a satisfying amuse bouche to sushi lovers. 
Entrees
Now that you're done with the opening act, you can move on to the main course with one of  two quick, easy options.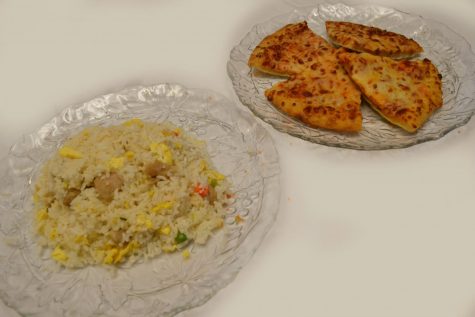 (Amanda Sey)fried Rice:
Fried Rice is another quick meal that you can either whip up or pick up so you can spend the rest of your day decorating and getting dressed up for Hollywood's biggest night, as one does. Although Seyfried is pronounced sai-fruhd, I'm sure she will understand if we have to tweak the phonics to celebrate her nomination for Actress in a Supporting Role for her role in "Mank." 
Make some rice, scramble some eggs and sauté some garlic, onion and veggies before lightly frying your fresh rice in vegetable oil. Combine the rest of your ingredients and heat together with soy sauce and a bit of oyster sauce to taste. Finish off the heat with a drizzle of sesame oil and top with sliced scallions and sesame seeds.
Domino's pizza:
Again, for those who would not consider themselves kitchen savvy, I got you. Just order Domino's to commemorate Lauren Domino, one of the producers of Best Feature Documentary nominee "Time." 
Make it a deep dish pizza to celebrate the six nominations for "The Trial of the Chicago 7," including Best Picture. 
Desserts
And for the grand finale there are again two to choose from but I recommend just having both. Go big or go home.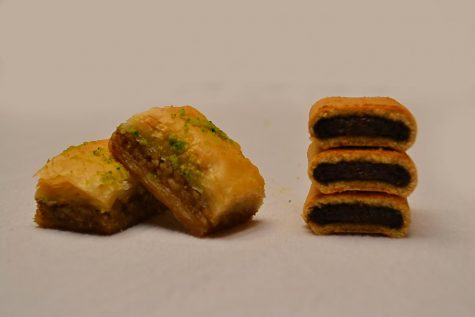 Baklava:
Enjoy this Turkish dessert as an ode to Bulgarian actress, Maria Bakalova, and we only have to modify
the phonics of her last name slightly this time. This classy and unique dessert is a fitting way to cap the black tie event. 
Fig Newtons:
But, for those of you who ordered in Domino's and paired your olives with a low maintenance beer, there is an alternative for you. You could end your night with Fig Newtons in honor of James Newton Howard, who is nominated for Best Original Score for his work on "News of the World." Fig Newtons might be a plain dessert but they are a classic just like the Oscars. 
After the confetti settles and the stars have their names engraved on their awards, hopefully you will have had a feast fit for Oscar royalty. Now is the time to kick off your dressy shoes and take a deep breath. Congratulations. You made it through another fabulous Award Season.