"Los Dioses": Anuel AA & Ozuna live up to the hype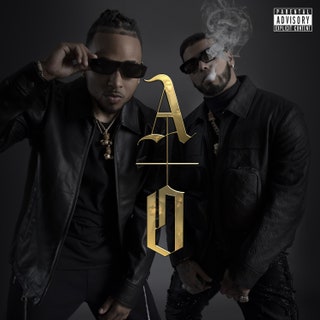 "Los Dioses," the latest collaboration between reggaeton and Latin trap superstars Anuel AA and Ozuna, delivers a familiar sound that builds on their god-like command over popular Latin music.
Los Dioses is Spanish for "The Gods," and is a recognition of Anuel AA and Ozuna's musical mastery.
This Spanish collaboration between the Puerto Rican artists debuted at No. 1 on Billboard's Top Latin Chart and simply solidifies their dominance over the scene. Although not as ground-breaking as the album title implies, it adds to the extensive Latin trap/reggaeton canon that hails from the Caribbean.
They cover familiar themes such as women, living a fast life and having expensive taste. There's Bugattis and Lamborghinis, "nenas buenas" and "malas," and dirty-dancing perreo-inducing beats.
Reggaeton enthusiasts can appreciate "Antes," "Nunca," "RD" and "Nena Buena," as they exemplify the genre's danceable rhythms. In contrast, "Perfecto" and "Contra el Mundo" are slower ballads similar to the ones Ozuna is known for.
Before I listened to this album for the first time, I knew Anuel AA and Ozuna would deliver at least one song with the ability to transport listeners to a pre-pandemic time when club-goers unapologetically moved their bodies to the heavy rhythms. "La Maria" immediately stands out in this respect; the classic trap beat forces me to mindlessly nod my head to the rhythm before the lyrics begin their ode to cannabis.
"Perreo" is catchy and easy to sing along to. However, the song lyrics are simplistic as they repeat "perreo" over and over again. I can imagine the song playing on booming speakers as a brief interlude into the other, more substantive songs.
The more I listen to "100," the more I fall in love with it, despite glossing over it the first time. Sometimes it takes more than one listen to truly hear a song. After a few plays, I was hooked and I could not get it out of my head. The solid reggaeton beat is coupled with lyrics about prohibited love and giving 100 out of 10 to your "nena." While "100" debuted on Hot Latin Songs at No. 16, expect it to climb the charts in the coming weeks.
Anuel AA and Ozuna's attempts to mix a corrido and a reggaeton sound in "Municiones" falls short. The polka-like bass takes away from the drug-laden lyrical content about a mission to spread "merchandise." I can see its appeal, as it attempts to expand the realms of reggaeton, but this song feels unnatural.
Overall "Los Dioses" is a solid album for reggaeton-enthusiasts and is a great soundtrack for a night of perreo. Be prepared to bounce around to the dance-inciting rhythms and take yourself on a ride to the Caribbean with the gods, Anuel AA and Ozuna.