Bad Bunny is at his peak on "El ÚLTIMO TOUR DEL MUNDO"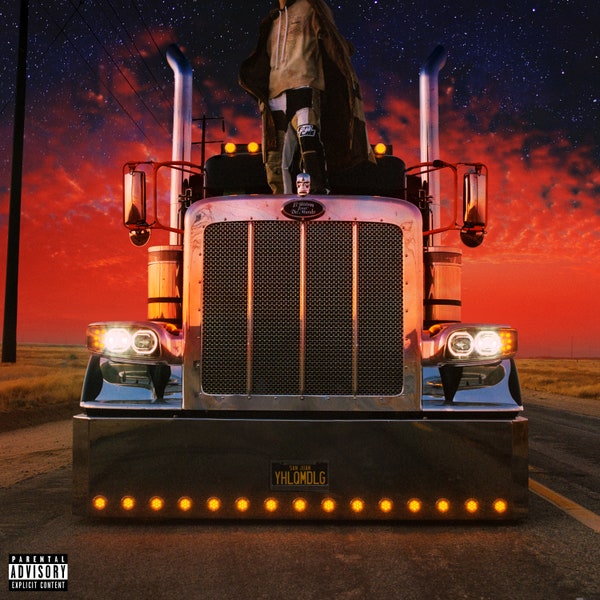 Reggaeton artist Bad Bunny has taken the world by storm this past year with two record-breaking studio albums and one compilation album. The pandemic didn't put the brakes on his music but rather gave him the turbo he needed to get to the top.
The Puerto Rico native went from creating music on SoundCloud in 2016 to collaborating with worldwide superstars Cardi B, Drake and J Balvin and performing at the Super Bowl with Jenifer Lopez and Shakira. 
Eight months after releasing his second album, "YHLQMDLG," an album that screamed perreo to his audience, Latin Grammy Award-winning Bad Bunny returned with a more mellow yet angsty third solo studio album, "EL ÚLTIMO TOUR DEL MUNDO," in November 2020.
Bad Bunny knows his fans were disappointed they could not fully celebrate his last album dancing in the clubs, so his new album is more stay-at-home focused. In an interview with Billboard, Bad Bunny said, "It's completely different from 'YHLQMDLG.' ['EL ÚLTIMO TOUR DEL MUNDO'] is a more sentimental album, more chill, the kind of thing you can listen to in your room."
His new album brings in alt-rock influences without losing the classic reggaeton tone and his trap talent. He continues to stay true to himself while breaking barriers and exploring new sounds.
The album opens with "EL MUNDO ES MIO," a track that begins with 50 seconds of an eerie and suspenseful ringing, pulling you in until the beat drops  — Bad Bunny's way of reminding fans that despite the haters and disbelievers, he continues to do what he wants. The world is  his.
He moves on to "TE MUDASTE," a fan-favorite where he reminisces about a past relationship by looking at a photo. He appreciates all the times they danced and had sex and now he wonders what happened to her and if their paths would ever cross again.
The themes of money and success continue to ride along this album like they did in "YHLQMDLG" with the album's third and fourth songs. In "HOY COBRE," Bunny raps about being the top Latin artist in the world and being able to spend money without any care. Meanwhile, "MALDITA POBREZA" features the sounds of early '90s Latin pop mixed with trap beats, and it gives him a chance to explain the hard work necessary to make that kind of money. He also recognizes the bittersweetness of his success; he can see how college graduates can't find jobs and are struggling to pay for the basic necessities.
He sings, "I want to buy my girlfriend a Ferrari, but I can't because I have no money. This damn poverty," and tells a story about a common wish to find an easy way out of poverty. It never ends well. 
Rosalia joins Bad Bunny as his first collaboration on this album in "LA NOCHE DE ANOCHE," two voices that, surprisingly, blended smoothly like Neapolitan ice cream. Bad Bunny recalls a past sexual encounter with a woman he thought he could take over the world with, but despite how crazy they were for one another, they disappointed each other after their one-night stand. 
He apologizes to that mystery woman in "TE DESEO LO MEJOR," where he acknowledges how he messed up. A soft bass strums as he sings, "I again didn't do what I promised I would do, I again let you down, I again lied to you, I continue to be the bad guy." Despite his actions, he wishes her the best and hopes she's over him because she deserves to be happy.
"YO VISTO ASI" was the rebel-rock anthem we needed from Bad Bunny and a complete breakthrough from the reggaeton genre, although it was not his first time in the rodeo of rock. He played-around with rock beats in "Hablamos Mañana" on "YHLQMDLG," but the drums and the guitar didn't shine as much as they do on this new track, where Bad Bunny takes on the fashion critics who claim he doesn't dress man-enough. He will dress how he wants, and nobody is going to change him.
The ballad "HACIENDO QUE ME AMAS" talks about being in a relationship that's about to end. He reminisces about the honeymoon phase: going on movie dates and having dinner for two. He knows there's hurt that needs healing, and he pleads for this woman to return his heart even if it's broken. 
Bad Bunny is a wrestling fanatic, and "BOOKER T" is a badass spunky freestyle where he compares himself to the WWE champion of the same name. He raps about being composer of the year for the American Society of Composers, Authors and Editors and the criticism he received from other artists who didn't believe he deserved it, but he jabs back at them because they don't write their own songs. He continues to boast of his chart-topping success, awards and how he is at the peak of his career.
He follows up with "LA DROGA," a punk trap song where he raps about being obsessed with someone who plays with his heart. Even though he knows she isn't good for him, like a drug he keeps relapsing for her.
The first single off the album, "DAKITI," is the explosive record-breaking song heard around the world. For two weeks, the single broke barriers as the first Spanish-language song to top the Billboard Global 200 chart. "DAKITI" uses eclectic vibrant beats to get his audience moving and really has us all imagining we are dancing with him in Puerto Rico. 
After his upbeat megahit, Bad Bunny transitions to a slower tempo with "TRELLAS," a futuristic ballad where he sings about being a hopeless romantic. With acoustic guitar strums and cricket background sounds, he sings about looking all over the universe, even having relationships with aliens, to be able to find the love of his life. 
The last collaboration of the album is with underground R&B singer Abra in "SORRY PAPI." Another woman empowerment song, similar to his hit "Yo Perreo Sola" from "YHLQMDLG," Bad Bunny sings about wanting to be with this amazing girl and give her anything to be his, but ABRA responds that women don't need a man's riches to conquer her heart. Women can do what they want, and are capable to have their own money and success as well.
"120" begins with a soft R&B beat but as the chorus hits, the intense trap beats come in — a classic Bad Bunny move. Bad Bunny is not new to songs about high-speed expensive cars but in this one he sings about being enchanted by a woman that he would risk anything for her. At the outro, he uses soundbites of the acceleration of a Bugatti Chiron Sport '110 Ans Bugatti,' one of his most recent car purchases and a staple for many music videos.
The album's last original song is "ANTES QUE SE ACABE," a feel-good anthem in a time when there is so much negativity in the world. Bad Bunny sings about how despite our bad days, it's a part of life and we need to look at the positive things that make us happy before our lives end. After the rainy days, the sun comes out and we need to enjoy life to the fullest. Bad Bunny incorporates a smooth trap beat with electronic beat drops at the chorus that can't help but put a smile on your face with its  positivity.
Bad Bunny ends this pre-Christmas album with "CANTARES DE NAVIDAD," a song by Puerto Rican band Trio Vegabajeño, that takes us back to the classic holiday songs of his roots.
"EL ÚLTIMO TOUR DEL MUNDO" is a rollercoaster of emotion, with songs that fuel our adrenaline to get up and move and others that have us crying in our cars reminiscing about past loves. This album explored new sides of El Conejo Malo but still stayed true to his reggaeton trap roots. Whether you understand his music or not, you feel his passion through the details in every song he composes. Bad Bunny is at his peak, and he will be there for the long-haul.