SRJC theater presents a pandemic miracle with "It's a Wonderful Life"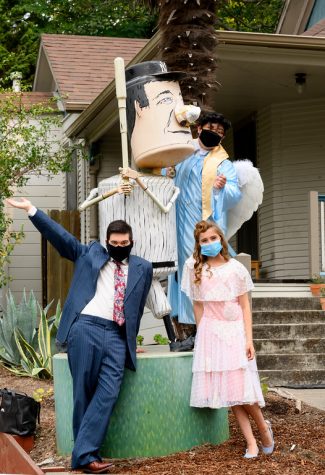 SRJC's Theater Arts prevailed through this unprecedented pandemic year of remote learning and arranged an innovative and heartwarming production with "It's a Wonderful Life." Its final showings are this Friday and Saturday.
Suicide, a love triangle, bankruptcy, a wish gone wrong and a miracle come true make this play captivating from the very first minute.  
The combination of animation and live Zoom performances bring new life and music to a classic story about George Bailey, a man with a good heart and bad luck who needs the help of his guardian angel, Clarence Odbody, to understand the impact he's had on his community. 
Director John Shillington and the play's producers truly capture the essence of the stage, despite having to mesh each actor's Zoom boxes and green screens to create a coherent scene. Multiple actors from different homes are able to sing, dance and act in unison because the backdrops are seamlessly synced to provide a full-screen background. 
Some may think that the stage's grandiosity is lost when watching from a computer, but the actors take full advantage of performing a few feet from the camera. Each smile, grimace, glance and glare oozes charisma from the screen. 
George, played by Noah Sternhill, immediately engages the audience in the opening scene as he stares into dark, icy waters with a look of doom. The gloomy atmosphere is complemented by the black-and-white effect and somber song. 
The gloom contrasts sharply with the next scene — a bright and colorful heaven, where Clarence, played by Alexx Valdez, inspires second-class angels to get their wings. Valdez's infectious laugh and "beep-bops" are sure to steal the audience's affection by the play's end. 
Each actor's personality shines with every song performed. In a duet, George and his future wife, Mary, played by Maryanne Boaz, elevate the song with sideward glances, wide eyes and flirtatious smiles to tell an awkward teenage love story
No matter the part, all of the actors are passionate about their roles and let their personalities shine in every scene. This includes SRJC resident Dr. Frank Chong, who plays town pharmacist Mr. Gower. 
The original songs also add depth to the original story.  In George's duet with his Ma, played by Crystal McDougall-Purdy, she sings a humorous and heart-warming account of how she met his father, which provides background for George's upstanding character. 
Setting George's hometown, Bedford Falls, in black and white creates the small-town America feel of the original movie, but there is a noticeable sharpness to each character from modern Zoom cameras. The contrast reminds the audience that this is a college production, which adds to the humor and fourth-wall breaks nicely. Keep an eye out for some light references to pandemic experiences. 
Throughout the scenes in Bedford Falls, the production's subtle use of color adds emphasis to the magical realism in the story, and the attention to detail shows the heart the producers put into the play. 
This film was set in the utility era of the mid-1940s. SRJC costume designer Kira Catanzaro and student makeup artist Britt Kruljac do a phenomenal job at emulating the times with pinstripe suits, fedora hats, deep blush and lipstick, which add to the black-and-white scenes for that classic film ambiance.   
Audience members can interact with each other and show support for the cast and crew via the YouTube chat function before the play and during the 10-minute intermission. Once the performance starts, commenting stops to help prevent distraction among the actors. 
During the troubling year of 2020, many have experienced isolation and frustration, but this play helps eliminate those feelings for a brief moment in time. "It's a Wonderful Life" emphasizes the importance of empathy, compassion and optimism, messages pertinent today;   even in the worst situation, there's always hope things will get better. Themes of community and camaraderie show that even during troubling times, compassion trumps all. 
Showtimes are at 7:30 p.m. on Dec. 4 and 5. Tickets for the production will be sold as online donations at SRJC Theatre Arts. Patrons will receive an email with the Online Performance Access Code and instructions the day of the show. 
The box office manager is available during box office hours: noon to 4 p.m. Wednesday through Friday at (707) 527-4307. The manager is also available by email one hour before curtain to field log-on questions at [email protected].