Get home ASAP, A$AP: Rocky's "First Day Out" track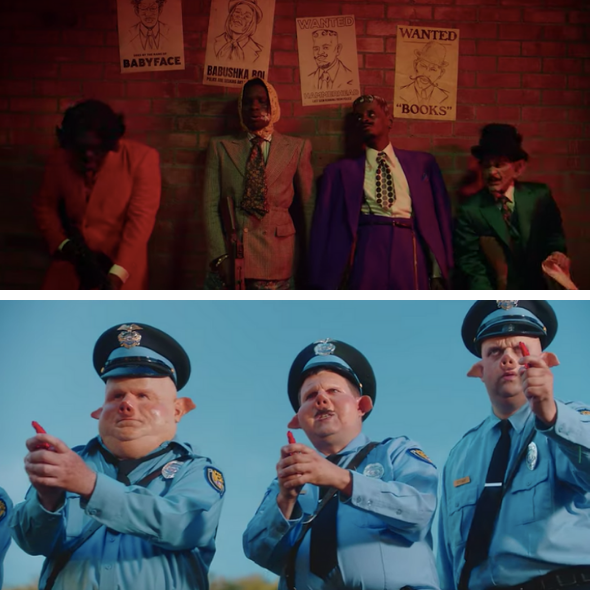 A$AP Rocky's "Babushka Boi" is a vibrant song beautifully produced with a vivid and hard-hitting video. 
New York rapper Rakim Mayers, 30, known by his stage name A$AP ROCKY, released the song on Aug. 2 after facing assault charges and published both the new single and video just 26 days later, on Aug. 28. The anti-police message was no surprise after Rocky's recent encounter with Swedish police.
The futuristic beat and eerie sounds, mixed with the sound of a wolf howling, has an odd similarity to musical stings heard in a Disney movie that grabs the listener's attention. When the beat drops, Rocky's distinctive vocals are heard, ecstatic and bounce like melody right on beat. The creative "chopped N' screwed" beat seemed to be experimental, highlighting the minimal percussion, making it an easy and fun listen.
In the video, Rocky is seen with accomplices from a bank robbery, covered with masks on the run from cartoon police officers portrayed as pigs, hammering home the stereotype. The video ends with the pigs being turned into sausages and eaten by other pigs, hinting at the expression of a "dog-eat-dog" world.
Rocky continues to distance himself from modern day rappers with his one-of-a-kind lively sounds and personalized adlibs. Rocky is known for expressing his thoughts and it shows in "Babushka Boi" tying in current political issues. "Money, power, that's excessive money problems, that's expected" repeated as the second hook of the song expresses the concept of greed and the troubles faced after.
Compared to Rocky's previous work, the song lacks lyricism creativity. The continuous pulsation of the beat is met with an underwhelming chorus, where listeners would be expecting a verse comparable to the exciting rhythmic sounds of the beat, but instead slightly disappointed. 
Despite Rocky's simplified and repetitive lyrics on this track, the all around smooth flow fits the beat rhythmically and hits vocals perfectly with the instrumentals. Not to mention the fantastic production. Although "Babushka Boi" isn't Rocky's best project, he remains charismatic and enjoyable as usual keeping relevancy and creating a great song to listen or vibe to.