College's collection of hundred-year-old pottery on exhibition
The Jesse Peter Multicultural Museum at Santa Rosa Junior College has curated a Native American exhibit focused on the ancestral Puebloan civilization, with the college's oldest collection of Puebloan pottery—dating from around the 900-1300 A.D—on display.
The museum is located behind Doyle Library in Bussman Hall.
"We have a number of pots from the Ancestral Puebloan society that are some of the oldest cultural items in the museum," said Rachel Minor, the museum's curator.
Some of the artifacts are hundreds of years old and include both intact pottery pieces as well as shards in the display.
The pottery was used to cook and store food and water, according to Minor.
The pottery was encased in two glass cases to protect it from the elements. One case holds intact pieces of pottery and the other holds broken, yet elegant, shards. The pottery features unique brown ceramic base material with complex tribal designs etched in geometric patterns.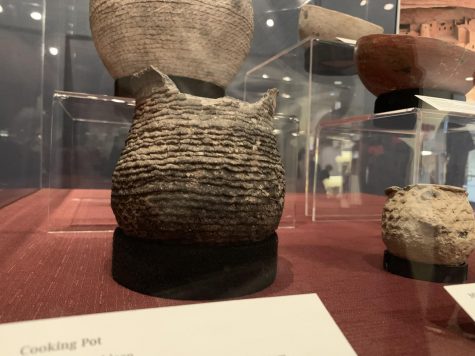 The pottery was collected in a series of excavations by SRJC's own Jesse Peter in the early 1930s in Arizona and New Mexico, according to Minor. Peter was the first curator and director of the museum, from May 5, 1940, until his death in 1944.
The museum also includes exhibits from other Mesoamerican civilizations such as the Aztec and the Mayans, and South American indigenous groups of Peru and the Amazon.
The museum offers a conference room that can be accessed by students or faculty for meetings, as well as tables where students can do their homework.
The museum is open to students Monday through Thursday from 10 a.m. to 4 p.m.