Fern Bar: Sebastopol's newest nightlife destination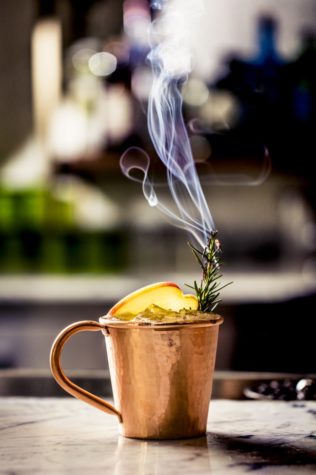 Fern Bar is a much-welcome haven for anyone craving a bit of bigger city atmosphere. As a fusion between the popular Lowell's and the trendy Nectary, both in Sebastopol, Fern Bar takes the farm-fresh high-dining experience of Lowells and the imaginative juice recipes of the Nectary, and presents them in a fresh atmosphere that is all its own.  
Upon entering, the interior decor manages to momentarily delight and confuse. There is a balance of whimsy, coziness and professionalism that creates an almost Disneyland-like illusion of being on a set. Is it a bar? Is it a terrarium? Is it a living room deep in the woods?
Couches and armchairs line one side of the room next to a hearth and low coffee tables. The open kitchen is visible on the adjacent wall, behind the bar, where mixologists shake, pour and create with artistic zest. A small stage  for nightly live music sits unobtrusively in a corner, wedged between bookshelves, with an upright piano. It can only fit two or three musicians at once and looks more like the corner of your favorite relative's house than a professional stage.
Tables fill the rest of the space, and extra seating is found in back rooms that aren't noticeable on first glance.
The service is genuine and the bartenders give off an air of craftsmanship that is fun to watch.
The lighting is pleasantly dim and colorful, adding mystique to the novelty items placed carefully on the walls and high on shelves.
Stuffed owls and birds of prey take flight from the ceiling and walls around the room. Plants hang and dangle from available spaces, hinting at the refreshing feeling of dining on an outdoor patio.
Fern Bar is the first to say that it is a bar-focused restaurant. Drinks are the main course, and the food is supplementary. Food and drink prices are on the higher side but are relatively reasonable. Beer and cider range from $8-$10, wine from $11-$15, and all cocktails are $13. The food is in the style of Lowell's— small farm-to-table dishes that are more about creativity than portion size.
Appetizers range from $6-$15 and include novelties like pickled quail eggs, aged fries and a wild mushroom and purple rice "umami bomb." Main dishes range from $15-$30 and include fried chicken, beef tartare, cod and lamb—all spiced with experimental and delicious additions such as watercress aioli, cured egg yolk and blood orange.
The Fern Bar offers a handful of desserts, including churros with chocolate sauce and a lavender mousse with juniper granita and parsley oil.
The bar is full, with a satisfactory beer and wine list, and cocktails both alcoholic and spirit-free. With a partnership between The Nectary owner Gia Baiocchi and bar manager Sam Levy (formerly the bar manager of Michelin-starred Meadowood in Napa) cocktails are where Farn Bar really shines. Fern Bar cocktails arrive in beautiful shades of natural colors, adorned with flowers and topped with cappuccino-like egg-white foam. Some highlights are the flower sour, a mezcal-based drink with creme de violette, hibiscus, butterfly pea blossom, jasmine water, lime and egg white, and their Long Thailand Iced Tea, a vanilla vodka drink with falernum, coconut water thai tea, coconut cream, pineapple and orange. The non-alcoholic cocktails are just as delicious and innovative, combining kava root, matcha and a variety of self-titled 'elixirs.'
Fern Bar thus far is living up to the excitement that surrounded its opening in December. For larger city transplants, it provides the kind of original and clever dining experience you would find in Los Angeles or San Francisco, while keeping the easy and relational charm that is unique to a close-knit town like Sebastopol.
If you are looking for a big meal on a budget, save Fern Bar for another night. Come here when you are looking to sink into a place that provides an experience that is more outside of the box. Come when you are looking to try something new, with an ingredient you have never heard of, rather than when you are trying to fill your belly.