In The "Trench" With Twenty One Pilots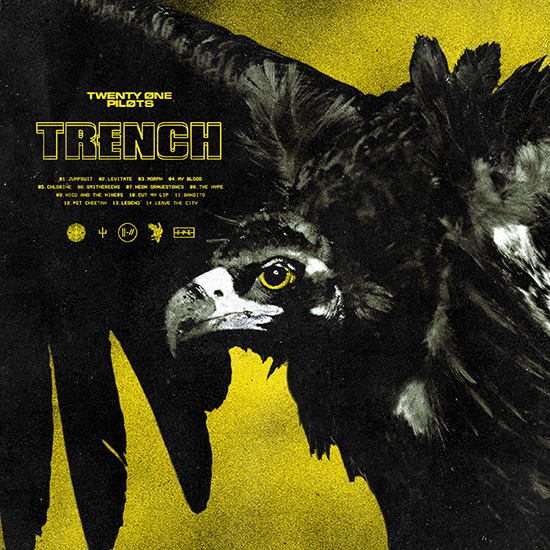 Released, Friday Oct. 5, "Trench" is the fifth studio album from alt-rock Grammy-winning Twenty One Pilots. This is their first studio album in the last three years and after a year-long silence on social media, it seems that they have something to say.
Anyone who listened to the duo's last album "Blurryface" will recognize their signature sound. The lyrics however have more of a specific theme this time around. While "Blurryface" and it's triple platinum tracklist had an anthem for everyone facing a struggle emotionally, "Trench" is more about when someone is stuck between two hurdles in life.
According to an interview with MusicFeeds.com, Tyler Joseph says this album is for those who are on a journey.
"When you're travelling inside of Trench, it's similar to really being in between two places, whether that's in between jobs or in between school or in between seasons of life; something that I think a lot of people can relate to." said Joseph.
The duo put this album together with the theme of a journey, and all its aspects. For example, in the song "Legend", Joseph says goodbye to his grandfather who passed away in March of 2018. Additionally, the song "Neon Gravestones" challenges us to delve further into the topic of suicide preventions.
It's refreshing to hear a band writing songs with struggling people in mind and still manage to keep the music fun and entertaining. There's a hard rock edge in the beginning, but they've also brought out the ukulele for "Nico And The Niners", which garnered them many new fans after the last album. The variety of sounds they produce is one of the reasons the band topped the charts last time around and it will be no surprise if they do it again. Their song "Stressed out", made it to number two on the Billboard top one hundred and the group won a Grammy for "best pop duo/group performance" in 2017.
Anyone who found a personal anthem on the last album is sure to have a similar experience with "Trench". Twenty One Pilots seems to have a knack for giving the hopeless a voice and for that reason, I give it four stars out of five. There's serious potential for these artists to crack open the alternative music industry and turn heads with their message. However, since the albums sound is almost identical to viral sensation "Blurryface", it seems they haven't quite worked out the kinks.
On July 11, the group released singles "Jumpsuit" and "Nico and the Niners" with their music videos following later that month. In August, two seperate songs, "Levitate" and "My Blood" were leaked to different sources only to be taken down and released as singles for the album within a day.
Twenty One Pilots will start their world tour, titled "Bandito" after a song on the new album, on Oct. 16. The tour launches from Nashville, Tennessee and won't have a show in California until their Inglewood show on Nov. 10 and the Oakland show at the Oracle Arena on Nov. 11.