How The Garcia Girls Lost Their Accents: An immigrant's tale
"How the Garcia Girls lost their Accents," a play based on a book by Julia Alvarez, follows a Dominican family that struggles to make it in the United States in the early 1960s. There are four daughters: Carla, Sandi, Fifi and Yolanda.
The play, directed by SRJC instructor  John Shillington, is spoken in verbatim, meaning the dialogue is a word-for-word reading from the book's first two chapters. It makes the dialogue sound goofy but doesn't hinder the performance.
The first act focuses on the family trying to fit in. They get backlash from their neighbors for being loud and speaking Spanish; one elderly neighbor calls them Spiks. Sandi, the second oldest Garcia sister, delivers witty monologues. The first act is funny because you see it from a child's point of view, making the narration light-hearted.
The second act focuses on the third eldest sister, Yolanda. This act is more of a coming-of-age story navigating Yolanda's time in college. She is naive about relationships but falls head over heels in love with the charismatic Rudy. She loves him but is hesitant to get physical, which lodges a wedge in their relationship when Rudy wants sex. The second act reflects the culture clash that Yolanda experiences and that any immigrant experiences. She struggles to understand the slang and innuendo in her classmates' conversations.
The actors do well at delivering a series of serious monologues as well as keeping a comedic twist. Older Yolanda reflects upon her college years as if she's advising her younger self. Sandi's monologues are funny and playful. The supporting cast cleverly fills multiple roles from waiters to college students.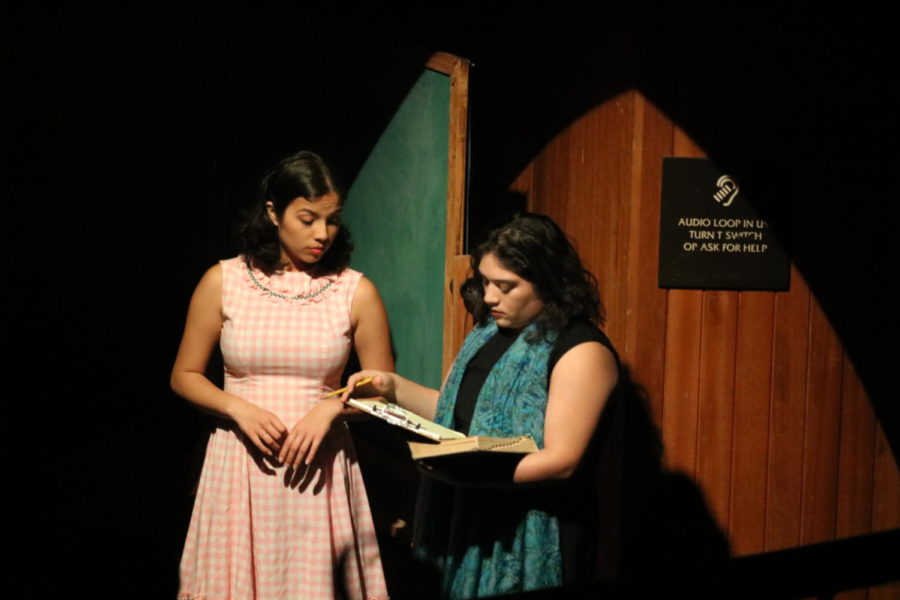 Stage management was excellent. Even though crew members were working with a small stage and dim lighting, they pulled it off. Props were simple and used for multiple scenes, such as a table used for both the dormitory bed and a restaurant table. The backdrops were images of 1960s photographs projected onto the walls. Sound effects were clear and delivered in sync with the actors.
This play is definitely worth your time and money. The audience erupted with applause in the end with a standing ovation. In a time when immigration is treated as such a controversial topic, "How the Garcia Girls Lost Their Accents" portrays a Latino immigrant family in a positive light. "How the Garcia Girls Lost Their Accents" is funny and endearing as it delivers simultaneously both a coming-of-age story and an immigrant's story.