Eminem's surprise "Kamikaze" album, bombs.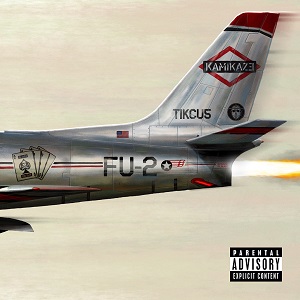 I have great respect for Marshall Mathers, but after listening to his new album "Kamikaze" after the Beyonce style surprise release on Aug. 31, I was so disappointed in him as an artist that I wanted to turn it off by the third track.
I give this album 2.5 out of 5 stars, and most of that is because he, at least partially, wrote every song on the album. He is one of the greatest freestylers out there and his talent is unwavering. This album however, was so vastly different from his past projects that I had to double check it had actually been released under his name.
I've been an Eminem fan since the early 2000's, and he was largely responsible for my introduction into the world of hip-hop and rap, but it would have been more believable if I had been told this was someone else's album, featuring Eminem.
In an ego-driven interview with Rolling Stone, one of the many producers of "Kamikaze," Illya Fraser a.k.a. "Illadaprodcer," was asked if this was the return of Slim Shady. Fraser responded by saying, "To me it is. Right away he comes out just blowing bad, spittin,' This is Eminem! Top five, dead or alive. I want to hear him go bad. And I got what I was looking for."
Fraser worked on the first several songs of the new album and while listening to them, all I could think was, this isn't Eminem, and it sure as hell isn't Slim Shady. Some of the lyrics are reminiscent of his earlier work, specifically in the imagery. The first song on the album is called "The Ringer" and in the first verse he says:
"Ain't no mistakes allowed, but make no mistake, I'm 'bout
To rape the alphabet, I may raise some brows"
There are already reviews of the album condemning Eminem for using language that many consider offensive. However, this is a standard for him as well as the entire rap industry. The reason an entire generation listened to him was because his music was shocking and obscene. Eminem's habit for dissing the top rappers currently in the industry is also apparent, but many of those rappers seem to consider it an honor to be mentioned at all.
That aside, the music and the beats of the songs, the building blocks of any great hip-hop track, were very different from what has made his music amazing in the past, but not in a good way. It's the exact same type of music being released by everyone else. While that music works great for other artists, it's not what we have come to expect from the "Real Slim Shady." Working with new talent is admirable, but not if it means sacrificing the talent fans anticipate when buying his albums.
The first song I listened to that wasn't completely disappointing, was "Stepping Stone." In a style Eminem does best, the song is supposedly an apology to friends and influencers that he feels he used as stepping stones in his career. An apology song is nothing new for him though, some of his greatest songs like "Headlights" and "Mockingbird" were apologies to his family. Out of the 13 tracks on this album, it's shocking that only one song sounds like him.
Also featured on "Kamikaze" are two skits, both being phone calls between Eminem and his producer, Paul Rosenberg, regarding Eminem's anger towards critics of his previous album. He's done these types of skits before, and while they are somewhat nostalgic, it's also been done too many times on previous albums.
"Revival" came out in 2017 and was criticized as lyricly strong, but musically weak. "Revival" had several impressive collaborations with artists like Beyonce and Ed Sheeran. It sounds like he carried a theme into "Kamikaze." Collaborations and out-of-character backing tracks are looking to be Eminem's future.
When I heard that Eminem was going to be involved in the music for the upcoming Marvel movie, "Venom," I knew that Eminem's music would best represent these complex characters. The last handful of Marvel movies have had amazing soundtracks that beautifully reflect the mood coming from the characters without sounding like a theme song. Kendrick Lamar's "Black Panther" and the following album for said movie being a perfect example of this.
Eminem has done the opposite. The song that he wrote and produced for the anti-hero's solo movie debut, sounds like it was simply performed by him. It feels like a cop-out for the rapper and the arrival of the film on Oct. 5 will reveal if this song is the backdrop for a slow-motion explosion scene, a montage of Venom defeating the bad guys, or just a space filler played during the credits.
This album sounds like an experiment for Eminem to play with new sounds and styles. It feels like he got halfway through the album and said "f*ck it", and released his project uncompleted. This album comes across as if the people he collaborated with have never heard of Slim Shady, let alone his first nine albums. The first few songs on the album, as well as the collaborations with Jessie Reyez have already charted highly, so there are obviously people who like the new album, and that's great. However, it is certainly not Eminem's greatest work and for him to release something mediocre on a surprise album, was very disappointing.